Founded by Marion Assuied (ex-CEO of French beauty brand BY TERRY) and nutritionist Valérie Espinasse, Inur has launched with a collection of natural skincare presented in 100% recyclable packaging.
The Inur products contain skin-nourishing ingredients combined with pre and probiotics that are clinically proven to actively work with the skin's own natural system.
With activated aloe vera and pre and probiotics, Inur Purity Day & Night Cleanser removes impurities, pollutants and make-up while revitalizing and hydrating to deliver a bright, dewy finish.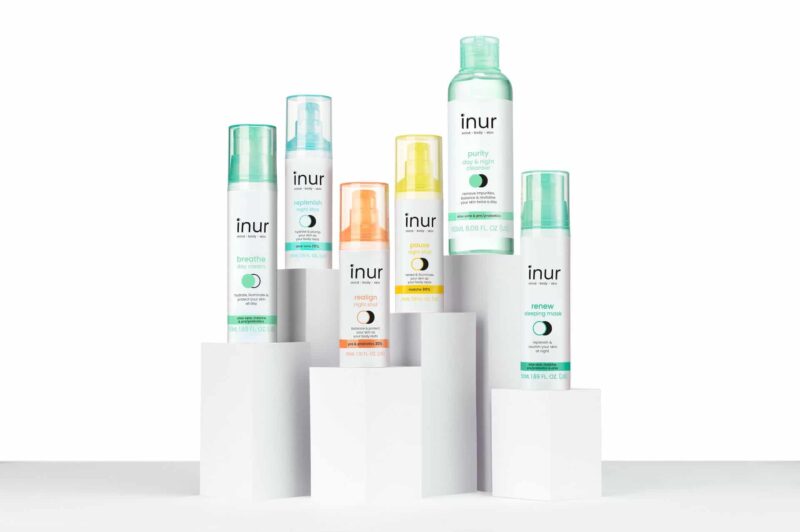 Breathe Day Cream hydrates and illuminates, protects the microbiome and nourishes skin. Harnessing the benefits of matcha and aloe vera with pre and probiotics, its makes skin feel replenished, softer and more supple.
Pause Night Shot is a rejuvenating serum to revive skin for a youthful and radiant glow upon waking. It blends the antioxidant properties of matcha and natural vitamin C to help skin feel smooth and firm while reducing dullness and fine lines.
Realign Night Shot is a balancing serum for sensitive, oily and blemish-prone skin that reinforces the skin's barrier to give a more even tone, free from redness and irritation. Pre and Probiotics contribute to the skin's balance and softness.
Suitable for dry, sensitive and blemish-prone skin, Replenish Night Shot gives deep hydration and plumper-looking skin thanks to hydration-stimulating aloe vera and hyaluronic acid. Skin will feel smooth and soothed, and the complexion will look unified.
Renew Sleeping Mask is a powerful overnight mask which restores, revives and refreshes with aloe vera, matcha, pre and probiotics, and AHA to give a radiance-boosting glow, while protecting the microbiome.
Alongside the new skincare products, Inur has also launched a full holistic programme of nutrition, exercise and lifestyle coaching for body, mind and skin.