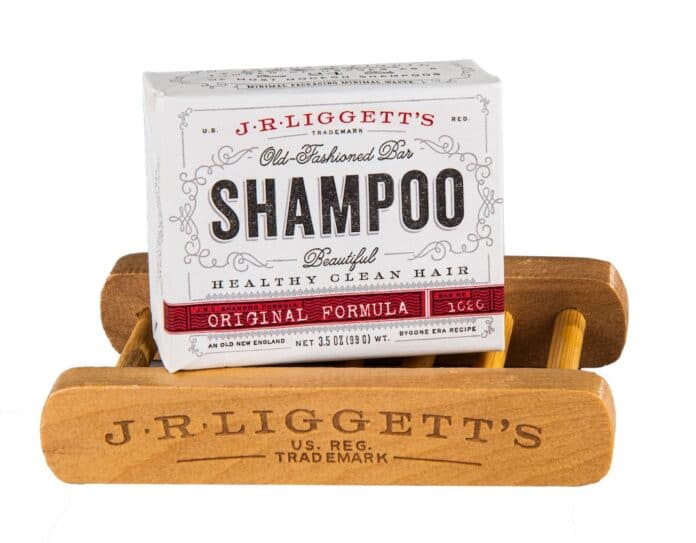 Zero waste US brand J.R. Liggett's has entered the UK market with its natural and vegan hand-made shampoo bars.
Suitable for people with severe allergies and sensitivities, J.R. Liggett's plastic-free bars are 100% detergent and palm oil-free and are available in six varieties in 99g bars and 18g mini bars:
Original – with a light rose oil fragrance, this is the company's first bar, introduced over 40 years ago, and has a mild 'clean' scent derived from essential oils
Herbal – similar to Original but with a refreshing scent derived from rosemary, lavender and cedarwood essential oils
Tea Tree & Hemp – a fragrance-free formulation which is very mild and soothing to the scalp. Tea tree oil has antiseptic properties to soothe an itchy scalp and helps prevent dandruff, psoriasis and head lice. Hemp Oil strengthens hair and stimulates growth
Jojoba & Peppermint has a light peppermint fragrance and is designed to hydrate skin and hair as it mimics the body's own natural oils, and contains vitamin C, B, E, copper and zinc to strengthen and reduce hair loss. Peppermint oil is included for its antiseptic and antimicrobial properties, which help to cool the scalp, eliminate dandruff, fight headlice and relieve irritation
Moisturizing – this fragrance-free bar is packed with moisturizing mango butter, virgin coconut oil, almond oil, vitamin E and aloe vera to refresh dry and damaged hair.
Coconut & Argan Oil – the newest addition to the range, this fragrance-free formulation contains virgin coconut oil to condition, moisturize and aid damaged hair and stimulate growth, while argan oil softens hair to make it silky and shiny.