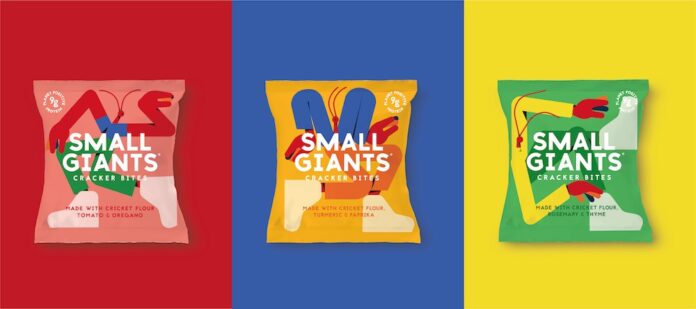 Small Giants is launching in October with a range of 100% natural sustainable snacks made using cricket flour and designed to open people's 'eyes and mouths to the benefits of insect-based snacking'.
The bite-sized savoury Small Giants Crackers are made with 15% cricket flour, which gives an umami taste as well as a boost of protein and vitamin B12, extra virgin olive oil and wheat flour to provide fibre, texture and crunchiness.
Oven-baked, the Small Giants Crackers come in 40g packs and are available in Tomato & Oregano, Turmeric & Smoked Paprika and Rosemary & Thyme.
Commenting on the launch, brand co-founder Francesco Majno, says: "Small Giant Crackers are the best way to try insects for the first time … and fall in love with them! While people are starting to understand the reasons to include edible insects in their diet, they may be put off by the yuck-factor, but once people try our revolutionary snacks they love the taste and the taboo is broken!
"As attitudes towards edible insects are changing, we want to bring excitement, innovation and new consumers to the savoury snacks market which has seen little change in recent years. We've created a planet-positive insect-enriched snack that tastes great and offers a genuine alternative to those wanting to cut their consumption of animal-based foods and find an alternative source of protein."