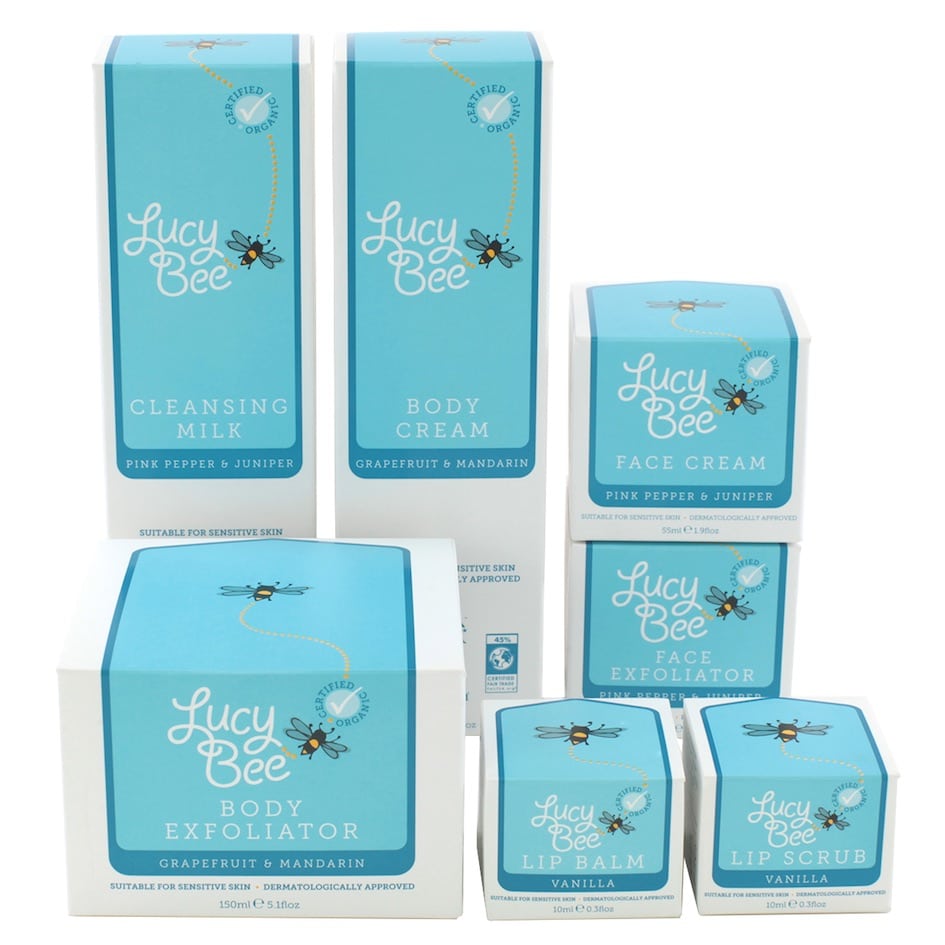 Lucy Bee has launched its first organic skincare offer along with a four-strong line of organic soaps.
The 100% natural skincare range contains Lucy Bee ingredients such as Coconut Oil, Coconut Sugar, Dead Sea Salt, Turmeric, Cacao and Cinnamon, and comprises: Face Cream; Face Exfoliator; Cleansing Milk; Body Cream; Body Exfoliator; Lip Balm; and Lip Scrub.
"I've always been very interested in what I put into my body, but that hasn't always been the case with my skincare, as I struggled to find natural products that were effective and still had a luxurious feel and smell," says brand founder Lucy Buckingham. "After two years of working on the range, we have finally created what I have always wished for whilst still keeping it completely natural and cruelty free."
The skincare products are suitable for sensitive skin and have been dermatologically approved. They are free from palm oil, synthetic preservatives, petroleum, silicones, alcohol, formaldehyde, PEGs, sulphates, SLS, artificial dyes, soya and gluten.
The range is packaged in glass jars, glass bottles with plastic pumps and aluminium lids – all of which are recyclable. The carton is FSC certified and the card inner and carton is recyclable, compostable and biodegradable.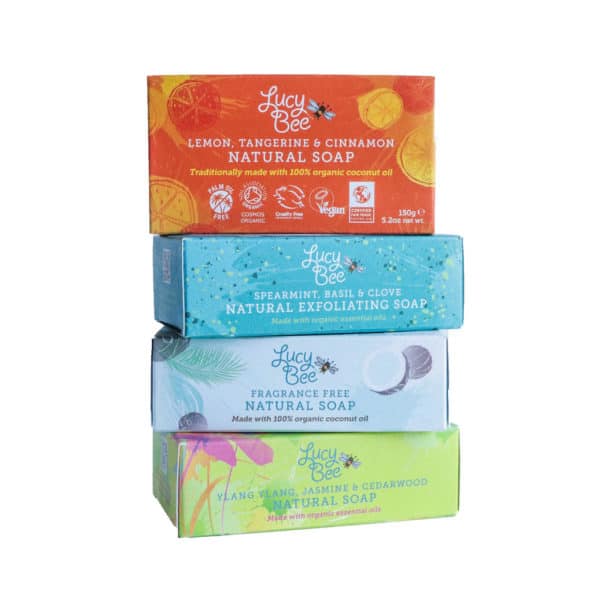 Lucy Bee has also released a range of four organic, vegan, fair trade and palm oil-free soaps made using 100% coconut oil.
Fragrance Free Natural Soap is designed for people with eczema and psoriasis;
Ylang Ylang, Jasmine & Cedarwood Natural Soap aims to rejuvenate and balance with a light, calming scent; Lemon, Tangerine & Cinnamon Natural Soap is said to awaken skin with a zesty, citrusy fragrance; and Spearmint, Basil & Clove Natural Exfoliating Soap uses crushed coconut shell to naturally exfoliate the skin.
"When we first started discussing the soap range, a lot of people said to us 'you can't bring out a soap that doesn't have palm oil in, it won't lather, it won't work'," says Buckingham. "We heard it all, but we persevered and followed what we believed in. I've always used liquid soap as I found bars dried out my skin and left it feeling sticky, but hand on heart, the coconut oil in these bars leaves my skin feeling moisturised and clean."
The soaps are also free from sodium lauryl sulphate, sulphates, artificial fragrances and dyes, preservatives and petroleum.
Both the skincare and soap ranges have been certified by COSMOS Organic, FairTSA, Vegan Society and Cruelty Free International and have been awarded the No 1 Best Buy by the Ethical Consumer Guide.