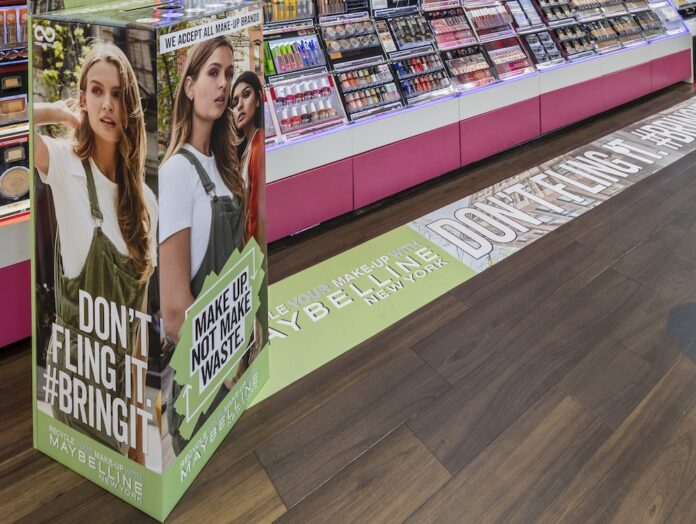 Global cosmetics brand Maybelline New York has embarked upon the UK's biggest make-up recycling scheme to date, in collaboration with TerraCycle.
Specialist in-store recycling bins have been located in more than a thousand Tesco, Superdrug, Boots and Sainsbury's stores across the country, where consumers can drop their make-up empties from any brand.
The move follows research carried out by the L'Oréal-owned brand into the recycling habits of make-up users,  45% of whom said they were unaware it was possible to recycle make-up, with 42% admitting they wouldn't know where to start. This, despite the fact that 83% would describe themselves as sustainably-minded or environmentally-aware. However, of those who have never recycled make-up, 30% would like to do so.
Consumers can find their nearest recycling bin on the Maybelline website where they can take their old make-up – including compacts, palettes, mascaras, plastic lipstick tubes and foundation bottles. TerraCycle then collects the waste from store to be cleaned and recycled.
"Make-up wearers have told us they want to recycle their finished products but they didn't know if make-up recycling was even possible," says Vismay Sharma, country managing director of L'Oréal UK & Ireland. "We're now making it very easy with the launch of Maybelline make-up recycling stations, found in over a thousand convenient locations across the country and accepting any make-up brand. With the influence and scale of one of the country's most loved make-up brands behind the campaign, we aim to lead the way in creating long term beauty recycling habits in the UK."
Adds Stephen Clarke, head of PR and communications for TerraCycle Europe: "TerraCycle is delighted to have partnered with Maybelline on this exciting new instore make-up recycling programme. Consumers simply use the interactive maps on the Maybelline or TerraCycle websites to find their nearest participating store, then drop off any of the accepted empty makeup packaging of any brand to the clearly marked instore recycling stations. Once the recycling station boxes are full they are sent into TerraCycle where they are separated by polymer type, cleaned and then extruded into plastic pellets which can then be used by manufacturers to make a wide variety of products."