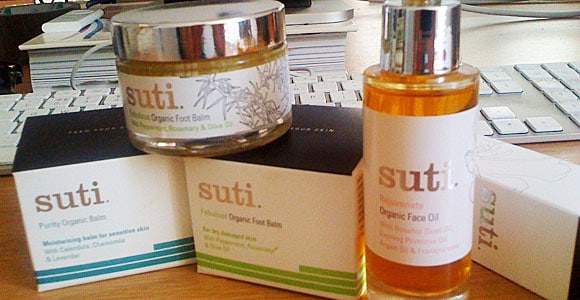 The news headlines may be dominated by austerity – but there's always room for a little luxe on the natural beauty desk.
And this week it arrives in the form of suti – a luxury holistic skincare collection that launched earlier this year. But how will it benefit your customers and clients?
Let's find out.
Suti is formed on the principle that if you can't eat it – you can't put it on your skin. Which, if you think about it, is a pretty good rule to live by.
The whole range is independently produced and expertly hand blended using only the freshest, most potent and organically grown plant and flower extracts in 100 per cent natural formulations.
The emphasis is on an indulgent, high-end feel backed up by essential oils, botanical extracts and cold pressed vegetable oils and butters.  Highlights from the range include:
Rejuvenate Organic Face Oil – £28 for 30ml
Any facial oil that promises to balance body and mind has got to be welcome, especially one that can be worn underneath a day cream. Heading up the ingredients are neroli and tangerine to help ease everyday stresses and focus busy minds. At the business end evening
primrose oil, sandalwood and frankincense heal damaged skin and lock in moisture.
Fabulous organic Foot Balm – £16 for 50ml
With a month or so left of summer there's still plenty of mileage to be made out of getting customers' feet flip-flop fabulous. Any good foot balm needs to deodorise, cleanse and soothe tired tootises, which this formulation achieves naturally with olive oil, avocado and calendula.
Purity Organic Balm – £22 for 50ml
The second balm in the range, this pretty pot is aimed at any area that needs intense moisturisation – including lips, elbows and knees. Shea butter is there to calm irritated skin while a blend of sunflower, sesame and apricot kernels nourish and protect.
For a look at the whole range see www.suti.co.uk