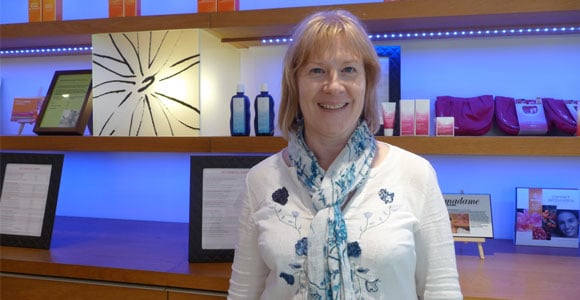 Holistic therapist Kathy Scott from Yorkshire was lucky enough to win a pampering session at Weleda's Parisian Espace salon with the Natural Beauty Yearbook. Find out how she got on right here…
"My observation about working in the health and beauty industry these days is that possibly things are getting just a little too 'gimmicky', fish eating your feet, diamonds exfoliating your face, chocolate and shells on your body?
When all is said and done I've found that more is said than done, and there's nothing so special as a therapist with good hands and good products. Weleda do both.
At Espace, Genevieve, my therapist, gave a perfect full body massage, firm, not too firm, controlled and considerate, not rushed or forced, using natural herbal products that left my skin soft, clean, relaxed, refreshed and bright – plus no worries about the nasty side effects of artificial additives or petrochemicals.
There are no gimmicks in Weleda's presentation either. The salon is bright, light and airy, with light oak wooden flooring and furniture, steering away from the white clinical and dark wood Eastern styles so prevalent and somewhat dated these days. The colours are bold without being garish and the look is clearly modern, with simple lines and delicate coloured lighting, but at the same time tempered with Parisian chic.
What really gives the salon an edge is the acknowledgment to the source of Weleda's products and success – nature. Black glass vases with clear glass globes containing herbal plants line one wall in the reception and a floor to ceiling feature with water trickling through a vertical botanical garden gives a wow factor without being pretentious.
The therapists wear simple white cotton t-shirts and trousers, making it easier for them to work comfortably.  But most impressive of all is the heating. So often, I have been massaged by therapists who are exhausted by the stuffy heating systems and lack of air, but there is a need to keep the client warm. Weleda have managed to keep the treatment room warm, but fresh. So they look after the client and their staff.
So, if you find yourself in Paris, book yourself at Espace Weleda, 10 Rue Franklin D Roosevelt and remind yourself of the purity and effectiveness of excellent massage."
Click here for more information on Espace Weleda.