Experiential skincare shop House of Green Beauty has relocated to larger premises in a move that sees NINI Organics founders Alex Nicolaou and Nicole Stanton (pictured) partner with Glow Organic's Mel Jenkinson.
The new and improved 'one-stop green beauty destination' offers a range of organic, vegan, cruelty-free and environmentally-friendly skincare – mainly NINI Organics, along with a few other niche brands – and Glow Organic's 'gorgeous collection' of green beauty make-up.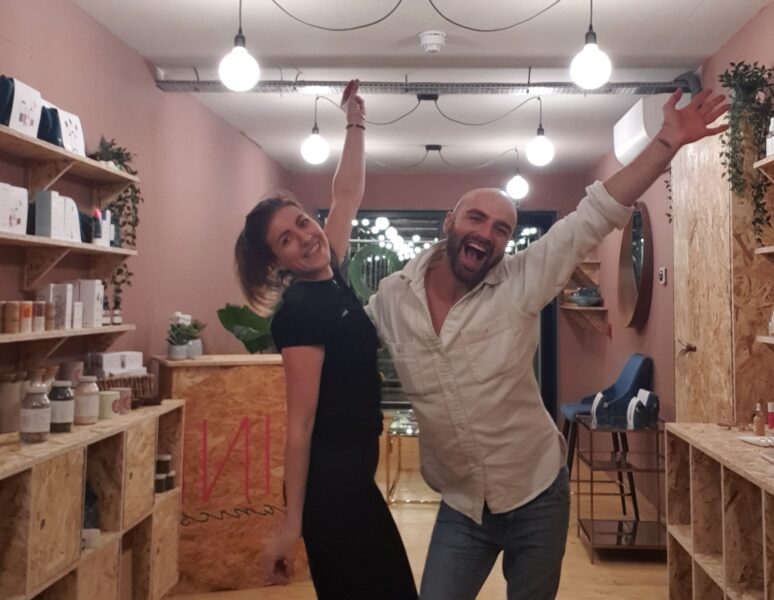 Close to Chelsea and Victoria, it's new home is in Ebury Edge, a creative hub run by Meanwhile Space CIC, the social enterprise behind the store's original location in Blue House Yard, Wood Green.
"The location is more our clientele for green beauty," says Nicolaou. "Wood Green was a destination shop so we had a lot of customers travel to get there. With the new one – although it was only able to open for three days (before lockdown) – it already felt like the locals thought it was very exciting and I saw a lot coming in, as well as some of our existing customers."
For the interior of the store, Nicolaou upcycled fittings from the old shop but changed the colour to a 'warming brick reddish, so it's really nice and cosy'. "When I first opened up the House of Green Beauty, my 100% vision was for it to be an experience, and that's what it is, it's literally a green beauty experience. When you walk into the shop you feel welcome and at home. You're faced with a really welcoming space with lots of plants and greenery and then beautiful products displayed beautifully. And myself being there, the founder being there, guiding people through the journey. In one line: It's a green beauty experience like no other."
When I first opened up the House of Green Beauty, my 100% vision was for it to be an experience, and that's what it is, it's literally a green beauty experience
Explaining how the collaboration with Jenkinson came about, Nicolaou says: "We've been friends for years and I said: 'We might be moving to a new shop in Chelsea – totally our customer – would you be up for it? It would be super-affordable, you'll have three metres of space – a whole wall – to do what you want'. And she said, sign me up! So it's a partnership now – it's still House of Green Beauty, but it's NINI Organics X Glow Organic. It's worked out beautifully well and we're both very excited for it to recommence."
Jenkinson adds: "We are so excited to partner with Alex and House of Green Beauty to offer a physical destination for our customers to try our products. We understand the frustrations customers have when buying makeup online, so this partnership enables us to offer a full interactive and immersive experience into the world of  green beauty. Alex's knowledge of skincare and my experience with make-up and beauty brands, we can offer a full 360 approach to helping customers switch over to a more conscious beauty collection."
As well as consultations (currently taking place over Zoom), there will be treatments, including makeovers and 30-minute express facials, by both Nicolaou and 'guest facialists'. "In the old store people really fell in love with the Green Switch [where he helps clients de-clutter their make-up and skincare routine] – and I'm excited to bring that back when we reopen."