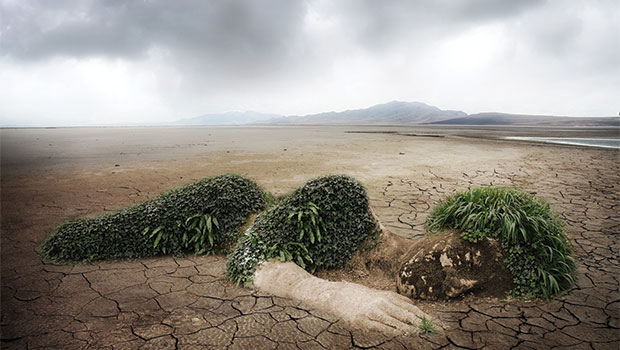 The latest buzzword in skincare is 'anti-pollution', with brands creating solutions they claim help prevent environmental aggressors affecting our skin or repair the damage already done. Jane Wolfe discovers that this 'necessary' sub-category will likely only get bigger
In Asia, where air pollution is a massive problem, there is already a well-entrenched trend of supporting skin against environmental aggressors such as air pollution and the blue light emitted through electronic devices. But now brands in other regions, including Europe, are also recognizing a sales opportunity in this growing global crisis, as consumers become increasingly concerned about the havoc pollution can wreak on skin. 
In fact, worldwide sales of anti-pollution ingredients soared to over US$800 million in 2018 and are predicted to grow another 5% in 2019, according to Future Market Insights. Its recent report, Anti-Pollution Ingredients, predicts this figure will rise further due to a significant increase in personal care and cosmetic brands employing active, functional ingredients to provide an anti-pollution effect. It adds that brands will move from focusing on the skin's surface to increasing investment in developing fresh solutions to penetrate into the cellular level of the skin to prevent the detrimental impact of pollution, such as premature ageing. 
Skincare necessity
But is anti-pollution skincare really a legitimate standalone category or are brands simply using a headline-making and increasingly worrying global concern to reposition existing products as a fresh way of marketing them? 
"I think anti-pollution will be one of the fastest-growing sectors in the next few years and it deserves its own category – if only to highlight awareness of the pollution problem in the cities we inhabit. Over 90% of the world's population lives with pollution levels that do not meet the World Health Organization's parameters, so this is a skincare trend that is actually a skincare necessity," points out The Beauty Shortlist founder Fiona Klonarides. "Anti-pollution skincare is essentially urban skincare. It's an extremely interesting, innovative sector of the entire big picture skincare market and consumers are taking note and learning why skin needs this 'extra category'."
Charlotte Morgan, communications assistant at Naissance – owner of the Unearthd range which offers a Face The Day Organic Day Serum designed to create a barrier against 'urban lifestyle' pollution – has noticed a rising number of anti-pollution products coming onto the market. "It is definitely a growing trend and I believe it will most certainly become mainstream in the coming years." 
"With levels increasing in cities and towns across the world, this is a key aspect of skincare that needs focusing on to help fight and stave off the effects of free-radical damage and pollution," adds Claire Perry, marketing director for Manuka Doctor Skincare, which recently launched a trio of Anti-Pollution products. She believes that customers are becoming more aware of these effects and that pollution is becoming a major concern for them when it comes to skincare. 
Anti-pollution skincare is essentially urban skincare. It's an extremely interesting, innovative sector of the entire big picture skincare market and consumers are taking note and learning why skin needs this 'extra category'
Morgan stresses that skin has a lot to contend with, citing microscopic pollution particles in the air caused by cars and industry, UV rays from the sun, soot, smog, as well as blue light from screens and devices.
"Pollution wrecks our skin in so many ways: dark spots, faster ageing, eczema, atopic dermatitis, photo-ageing, acne – a lot of skin issues can be caused by pollution or aggressively exacerbated by sun, blue light and air particles," says Klonarides. "The soot from traffic we're exposed to daily in a big city can even deepen the nasolabial fold line and make us look older."
Although the big boys are certainly homing in on this trend, it's the natural and organic sector that's perfectly positioned to prosper due to the very nature of the category. "It's a very interesting niche for the natural/organic sector, because by default the ingredients we know and love – antioxidants, herbals, arctic berries, etc – are all perfect for the new anti-pollution formulations," says Klonarides.
"The plant kingdom is filled with fascinating antioxidant ingredients and I see the natural/organic sector primed to incorporate many of these ingredients with anti-pollution claims," Lorraine Dallmeier, director of Formula Botanica concurs. However, she adds: "Whether those claims actually stack up against science is another matter entirely and I suspect that it will take many years for researchers to catch up with the novel anti-pollution ingredients used on the market, but that doesn't mean we can't try them all out in the meantime!"
The anti-pollution tag may also help brands target consumers with whom the dated and somewhat negative term 'anti-ageing' no longer sits comfortably, as many of the ingredients work on similar problem areas. 
A crossover trend
"I'm seeing many big brands start to incorporate anti-pollution skincare into their ranges, but interestingly I'm also seeing quite a few rebrand their existing formulations to make anti-pollution claims alongside anti-ageing claims," says Dallmeier. 
Morgan sees an overlap between anti-ageing and anti-pollution products, as one of the main effects of pollution on the skin is ageing. "However, I believe that anti-pollution is developing into its own sector. Pollutants not only accelerate ageing, they also can cause hyper-pigmentation, oxidative stress, inflammation and breakouts, so anti-pollution skincare is not just another branch of anti-ageing, it is a category in its own right."
"Good anti-pollution products strengthen and protect the skin's natural barrier, so there is a crossover," agrees Klonarides. "Formulas with powerful antioxidants – which we need to protect skin from pollution damage from diesel exhaust fumes and other tiny particles that are skin aggressors – are also by default effective anti-agers. So although it's a much newer trend – and in some ways different from anti-ageing skincare from a marketing perspective – there are plenty of similarities."
I'm seeing many big brands start to incorporate anti-pollution skincare into their ranges, but interestingly I'm also seeing quite a few rebrand their existing formulations to make anti-pollution claims alongside anti-ageing claims
The basic principles of anti-pollution skincare products are that they will either prevent or correct the damage caused by pollution – or both, says Dallmeier. "It always easier to prevent than rectify, although currently very little scientific data exists to demonstrate that skincare can prevent or rectify skin damage caused by pollution levels," she adds.
So what ingredients should consumers be looking for in their anti-pollution skincare solutions? Dallmeier says the three ingredient qualities that are particularly efficacious are: antioxidant, cleansing and oil balancing. "In general, anti-pollution formulators should aim to incorporate high antioxidant levels. Furthermore, living in a highly polluted area means your skin may feel as if it has a thick layer of grime and grease on it, so gentle cleansing products are important. They may also wish to account for higher levels of sebum production by formulating skincare which has a balancing effect on the oil levels of the skin. 
"Barrier repair functionality is also key, as cholesterol levels are low in the skin exposed to pollution. Some people may find that pollution has a drying effect on their skin given depleted antioxidant levels. Finally, formulators should consider the pH of their products and aim to normalize skin pH by ensuring that their formulations sit in the correct pH range of healthy normal skin – somewhere between 4 to 6.5."
Perry references a number of pollution-busting ingredients in the new Manuka Doctor range, including purified bee venom containing enzymes, peptides and amino acids to encourage cell regeneration, collagen formation and reduce damage from external aggressors. Bee venom has also been shown to help reverse the signs of ageing by enabling the recovery of collagen and elastin.
Also used is Marrubium vulgare extract (white horehound) which protects skin cells from pollutants and genetic ravage; Albizia julibrissin bark extract to revive tired looking skin by protecting and repairing the protein structures damaged by glycation; and detoxifying peach flower to help limit free radical damage.
"Anti-pollution products are designed to draw out pollution particles from skin (think clay masks and deep cleansers) and they should protect the skin barrier," explains Klonarides. "These kinds of formulas can lean heavily on antioxidants B3 and/or B-complex, C, D, E, as well as more plant-powered back-up from ingredients like superoxide dismutase, resveratrol, curcumin and ashwaganda. I like glutathione a lot, it's powerful and you can take it orally. And micro-algae and arctic berries are great ammunition against pollution damage too."
Future focus
With environmental lawyers calling air pollution figures released by the Government last September a 'national embarrassment' and the revelation in February that almost 2,000 locations across the UK had levels of air pollution that exceeded safety limits, this problem is not going to be solved overnight, if ever. With this in mind, the anti-pollution skincare category seems set to grow and develop within the foreseeable future. So what are the likely trends that consumers will see on shelf? 
According to Future Market Insights, although the majority of anti-pollution products are currently aimed at women, it is the rapid growth of the men's grooming category that will lead to a boost in demand for anti-pollution ingredients.
Klonarides believes that anti-pollution skincare is an important sector for both consumers and for brands to generate additional product revenues, and she sees innovation coming in delivery formats: "I think we could see a lot more oral supplements, and anti-pollution drinks landing soon – a boom in anti-pollution-specific supplements alongside topical products. There's nothing more powerful than an inside-out approach to keep skin happy."
Citing a study in the International Journal of Cosmetic Science looking at the effects of pollution particulates adhering to hair and causing pollution-related hair loss, Dallmeier expects to see 'the anti-pollution hair care conversation start to take off even more and become the next big thing in anti-pollution formulations'.
Avalon Organics Intense Defense with Vitamin C Towelettes
Kinetic Natural Products Distributor
Tel: 08450 725 825
E-mail:  [email protected]
www.kinetic4health.co.uk
Avalon Organics Intense Defense with Vitamin C Detoxifying Face Towelettes are sustainably-sourced, biodegradable cloth face wipes saturated with pure botanical cleansers to wipe away dirt and makeup while leaving skin fresh, balanced and free of residue. The Intense Defense skincare line is designed to combat pollution and features a powerful medley of Vitamin C, Lemon Bioflavonoids and White Tea, all potent antioxidants proven to neutralise free radicals before they can cause damage, while naturally boosting collagen and elastin production. Avalon Organics contain no GMOs, parabens, harsh sulfates or preservatives, synthetic colours or fragrances, or phthalates. Vegetarian and never tested on animals. 
Alba Botanica Hawaiian Detox Warming Clay Cleanser
Kinetic Natural Products Distributor
Tel: 08450 725 825
E-mail:  [email protected]
www.kinetic4health.co.uk
Alba Botanica Hawaiian Detox Warming Clay Cleanser features the powerful extraction action of anti-pollution real volcanic clay, to quickly clear away problematic impurities, while an infusion of nourishing torch ginger, antioxidant-rich yerba mate, and soothing lotus flower help rebuild natural defences to protect skin from pollution, excess oil and debris. Powerfully effective but hypoallergenic formula which is also clinically tested: over 88% of consumers tested said their skin was less oily and more clarified after using this product*. 100% vegetarian ingredients, no parabens, phthalates or synthetic fragrances. Part of the on-trend collection of anti-pollution products from Alba Botanica.
RESET Vibrancy Facial Elixir
INNER SENSES
Tel: 0333 9874585
E-mail:  [email protected]
www.innersenses.co.uk
Advanced skin nutrition for cellular vibrancy and increasing the skin's resistance to the effects of pollution and stress; Reset Elixir soothes, moisturises and rejuvenates the skin.
Formulated around Schisandra fruit extract – a powerful adaptogen and antioxidant – renowned throughout Traditional Chinese Medicine for its ability to increase resistance to physiological and environmental stress. Reset combines these adaptogenic properties with nutrient and antioxidant rich oils including Prickly Pear, Baobab, Moringa and Strawberry seed. Use daily to help minimise the effects of pollution and oxidative stress, revealing a more radiant, firm and smooth complexion.  97% Organic 100% Natural  Rrp: £52
Antipodes Blessing Anti-Pollution Serum
Kinetic Natural Products Distributor
Tel: 08450 725 825
E-mail:  [email protected]
www.kinetic4health.co.uk
Pollution-proof your skin with Antipodes Blessing Anti-Pollution Serum. This super-light face oil features skin-brightening marshmallow bloom and liquorice root that target micro-pigmentation. Revolutionary antioxidants Vinanza® Grape and Asian ginger combine to help neutralise free radical damage, while kiwi seed oil high in Vitamin C, plus nutrient-rich avocado oil strengthens skin. White jasmine fragrance. Blessing is suited to most skin conditions, especially oil-prone. pH balanced at 6.5, scientifically shown to inhibit oxidative stress in-vitro by as much as 52%, certified vegan by The Vegetarian Society, no animal testing, recyclable glass, sustainably sourced cardboard box and 100% recyclable, printed with vegetable ink.
Lena Wild – Harmony Rescue Mask
Lena Wild
Tel: 07515 117 875
E-mail:  [email protected]
www.lenawild.co
This multiple award winning facial mask combines mineral rich, detoxifying clays and organic plant actives to deeply cleanse, detoxify and brighten skin. Its helps to reduce inflammation and aids in promoting the skin's ability to heal and renew itself.
Lena Wild is environmentally responsible independent skincare brand. We use glass packaging. Our boxes and labels are 100% cotton, made out of the waste of the fashion industry and are fully recyclable. For packing and deliveries we only use recyclable and biodegradable materials. We proudly work with European suppliers to reduce our CO2 footprint. RRP £45
Antiaging Cellular Day Nourish and Night Repair Creams
Nature's Greatest Secret
Tel: 01892 457 360
Nature's Greatest Secret are proud to announce the introduction of our best researched and formulated products ever.  These all natural antiage day and night creams contain laboratory developed natural botanicals that have scientifically proven benefits to skin aging, line and wrinkle reduction. Along with a haunting blend of essential oils known for their skin benefits and Premium Quality Colloidal Silver, these creams are a step forward in luxury, feel and effectiveness.
Botanicals with Proven Benefits – MATTIFYING FINISH – SKIN LIFTING & WRINKLE FILLING  – INCREASES CELLULAR METABOLISM
QUENCHES FREE RADICALS – POTENT SMOOTHING EFFECT – PROTECTS COLLAGEN & ELASTIN  – HYALURONIC ACID BOOST – CLEARS SKIN CONDITIONS
Booming Bob Organic Skin Body & Hair Care
Lescaro Health Limited
Tel: 07866 771627
E-mail:  [email protected]
www.lescaro.co.uk
Booming Bob is an urban and innovative skin, hair and body care range for men and women, where the raw materials in each formulation are put out front in the spotlight rather than hidden on the back of the packaging. Each ingredient is selected for its function, purity and with consideration for its impact on the environment. Organic and sustainable, presented in glass and recycled cardboard and with RRPs between £6.99 and £16.99  – Available direct from Lescaro Health Limited and the Thyme Store.
Urtekram Green Matcha
Healthy Food Brands
Tel: 01403 786460
E-mail:  [email protected]
www.healthyfoodbrands.com
New to the UK market, Urtekram's NEW Green Matcha range! A collection of active anti-pollution cleansing and protection for the skin and hair. Pollution and dust particles in our daily life affect both skin and hair. Using inspiration from a traditional tea ceremony in Japan, URTEKRAM have created their GREEN MATCHA range – an organic series of body care products developed using the Japanese green tea matcha sheets, known for their unique calming properties.
The range is formulated with Urtekram's own Japanese green matcha antioxidant extract and microalgae anti-pollution extract which actively cleans and protects skin and hair from the daily air pollution in a hectic life. The unique formulation of ingredients enables skin to re-balance naturally. A greener alternative – focusing on you. Urtekram have developed a natural scent with inspiration from the Japanese green matcha leaves, Japanese yuzu and pink grapefruit, designed in calm green shades.
The range includes 8 products including a deep cleansing shampoo and conditioner for all hair types which helps to gently remove impurities such as oil, styling products and pollution from the hair. An energizing cream wash provides skin with a silky-soft feel, to help balance and protect the skin against urban pollution. A light and hydrating body milk that is quickly absorbed into the skin. The crystal deodorant helps protect against urban pollution, while the natural mineral salt helps fight bacteria and bad odour. A hand cream containing hexapeptide and hyaluronic acid to hydrate hands.
To add to this exciting new range there is an energizing cellulite scrub formulated with anti-cellulite capsicum fruit essences and fruit ferment extract to energize and remove dead skin cells. In addition, the cellulite oil prevents and reduces cellulite.
All products are vegan, contain no endocrine disrupting parabens or synthetic preservatives and are produced using plant-based packaging.