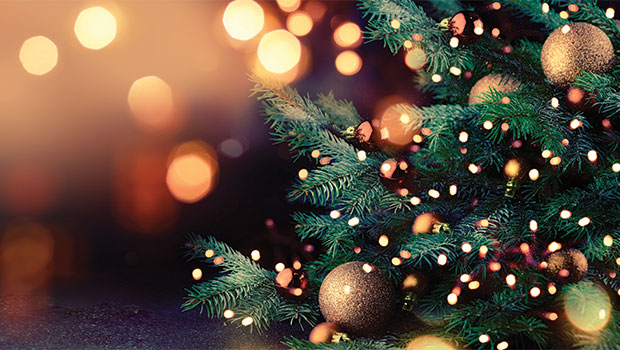 From Fairtrade chocolate to skincare botanicals, Claire Lavelle showcases the best festive retail offers this season 
Divine Milk Chocolate Advent Calendar
It's the season to give, and there's nothing more worthwhile than enabling the farmers who produce your festive cocoa beans to remain in control of their trading practices around the globe. 
This beautiful calendar is full of colour and fun, with an illustrated nativity scene behind each window, and a Divine treat nestled within. It's the ethical chocoholic's dream. Made with cocoa beans from Kuapa Kokoo farmers in Ghana, it's 100% Fairtrade and, says Emily McCoy, a spokesperson for Fairtrade UK, the perfect gift for the conscious consumer. 
"They'll be looking to extend their ethical buying habits into the festive season," she explains. "Fairtrade products offer peace of mind that goods aren't produced at the expense of the wellbeing of others. 90% of people recognize the logo and trust it; it's clear that putting Fairtrade on your shelves this Christmas is smart trading."
The Bay Tree gift sets 
With a heritage of 25 years, this award-winning range of traditionally made chutneys, pickles and sweet preserves ticks all the boxes. Quality ingredients satisfy the most discerning of foodies while distinctive packaging makes for a stylish gift option, elevating any Christmas spread. The Savoury Gift Pack (Hot Chilli Chutney, Gloriously Garlic Pickle, and Perfectly Punchy Piccalilli) peps up cheese and cold meats, while the Mulled Cider Cracker is a novel gift for consumers planning a family visit. The Curry Nights Gift Pack and Mustard Survival Gift Pack help turn Boxing Day leftovers into star dishes in their own right. 
"Fairtrade products offer peace of mind that goods aren't produced at the expense of the wellbeing of others"
Roots & Wings single-serve Christmas cake and puds 
At a time when annual food waste in the UK is estimated to be around ten million tonnes per year, the dinky offerings from this fast-growing organic craft brand are genius. The Christmas cakes are rich in fruit (and booze), and topped with the traditional marzipan and icing, while the puddings are full of zesty spices, and steamed to ensure they're deliciously moist. Beautiful packaging makes these the perfect stocking filler. 
Playin Choc Advent Calendar 
This innovative company has brought out an advent calendar that will have kids of all ages scrambling to open its drawers each morning during December. There are 24 drawers, each containing a 10g organic chocolate with coconut, a 3D puzzle and fun facts card. After each drawer is removed, it can be replaced back-to-front, to reveal a festive scene that becomes complete on Christmas Eve. Plus, the outer sleeve of the calendar can be opened to create a landscape in which the lucky recipient can play with all 24 toys. It's also vegan and made with 100% recyclable and compostable materials. 
Antipodes plant-based skincare and make-up gift sets
This certified-vegan range has two wow-factor gift sets on offer this Christmas, featuring mini versions of the brand's best sellers. Beauty Icons includes: Kiwi Seed Oil Eye Cream, 30ml; Apostle Skin-Brightening Serum Mini, 10ml; and Vanilla Pod Hydrating Day Cream Mini, 15ml. Cult Favourites includes: Vanilla Pod Hydrating Day Cream, 60ml; Hosanna H20 Skin-Plumping Serum Mini, 10ml; and Avocado Pear Nourishing Night Cream Mini, 15ml. Stack 'em high and watch 'em fly! 
Amour Natural Aroma Jewellery 
These pretty necklaces and bracelets from Amour conceal clever felt pads that can be infused with essential oils and worn daily. "The necklaces have done really well over the past two years," says Amour Natural founder, Faye Willmott. "The Tree of Life design always does brilliantly at Christmas. This year, we've introduced the Swirl Aroma and Tree Aroma bracelets. We're excited about how they are going to perform throughout December. They feel like a quality gift at an affordable price, which reflects our ethos exactly."
Green People Beauty Box 
It's a brand that sets the gold standard in ethical and organic cosmetics, so Green People's Christmas haul makes a welcome addition under any tree. The Beauty Box collections feature a trio from across the brand's hero ranges. Choose from Revive & Refresh (quinoa and artichoke hair and shower products), Purify & Protect (a cleanser, exfoliator and moisturizer for all skin types) or Comfort & Clarity (a cleanser, moisturizer and anti-ageing cream). For men, the Grooming Ritual collection features a scrub, shaving gel and cooling moisturizer, made with gentle almond oil and aloe vera. Beauty Sleep Elixir is a stocking filler that will ensure peaceful nights a-plenty, while Cosy Hands Nourishing Skin Treat is a great recommendation for customers looking for a small but special gift.
The Naked Marshmallow
Perfect for sweet-toothed vegans and veggies, the Vegetarian Marshmallow Dipping Kit is packaged in a beautifully designed craft box. Featuring two flavours of vegan marshmallow (strawberry and vanilla) with vegetarian milk chocolate caramel and salted caramel flavour dipping sauces, it also contains eight bamboo skewers (for those who like to share).
The Finest Christmas Chocolates
Booja-Booja
Tel: 01508 558888
E-mail:  [email protected]
www.boojabooja.com
Booja-Booja organic chocolate truffles are the taste of Christmas. From stocking fillers to exquisite gift boxes, the Norfolk company makes premium, delicious treats for every festive occasion. Fresh from its success at the 2019 Great Taste Awards, Booja-Booja Almond Salted Caramel truffles make a popular and scrumptious addition to the popular Four Corners Collection. The handpainted Artist's Collection gift boxes have also been given a new stylish look for Christmas 2019. Multi award-winning, with fabulous free-from credentials, Booja-Booja chocolate truffles are handmade to give, to share and to love. Available from a wide selection of wholesalers, for more details email [email protected]
English Tea Shop's Christmas Advent Calendar
English Tea Shop (UK) Ltd
Tel: 0208 150 0019
E-mail:  [email protected]
www.etsteas.co.uk
A Sri Lankan tea story infused with British tradition. Celebration being a core at English tea shop Christmas is no exception. We are thrilled to announce our all-new 25 envelope tea bag sachet, fully home compostable "Advent Calendar". Our aim is to spread the love of Christmas through an affordable, sustainable advent calendar for everyone to experience our wonderful array of Christmas blends. A premium selection of 13 wonderful Christmas blends bought to life with premium black, white, green teas, seasonal spices and delicious berries. Feel the spirit of Christmas through every sip of English tea shop's seasonal blends.
Essential Luxury Nut Roast Mix
Essential Trading Cooperative
Tel: 0117 943 0800
E-mail:  [email protected]
www.essential-trading.coop
Make Essential's luxury nut roast mix a store cupboard staple this roast dinner season. A premium blend of organic ingredients and a lovingly concocted recipe, containing herbs (Sage, Parsley, Oregano & Fennel), spices (Coriander, Cumin, Pepper, & Ginger) and chopped nuts (Brazils, Walnuts, Hazelnuts, Cashews, & Almonds). Takes under 5 minutes to prepare and around 40 minutes in the oven. Just make sure there's enough for seconds! 
The Friendly Soap Selection Boxes
Friendly Soap Ltd
E-mail:  [email protected]
www.friendlysoap.co.uk
These Friendly Soap gorgeous boxes of goodness are the perfect ethical gift for family and friends, or you could just spoil yourself.  Four of their finest bars go into each selection box under four themes:
Soap – Four of our favourites in one recycled box. Facial – A dream team of facial cleansers. Travel – Don't leave home without this wonderful kit. Hair –  The perfect gift for consigning bad hair days and plastic bottles to the past.  www.friendlysoap.co.uk
Antipodes Beauty Icons and Cult Favourites Gift Sets
Kinetic Natural Products Distributor
Tel: 08450 725 825
E-mail:  [email protected]
www.kinetic4health.co.uk
Unveiling two boxed gift sets from Antipodes. Beauty Icons contains Kiwi Seed Oil Eye Cream 30ml, Apostle Skin-Brightening Serum Mini 10ml, Vanilla Pod Hydrating Day Cream Mini 15ml, whilst Cult Favourites contains Vanilla Pod Hydrating Day Cream 60ml, Hosanna H2O Skin-Plumping Serum Mini 10ml, Avocado Pear Nourishing Night Cream Mini 15ml. Featuring New Zealand native ingredients such as nutrient-rich avocado oil, world-famous manuka honey  and  Vitamin  C  rich  kiwi  seed  oil, all products are certified vegetarian or vegan by the UK vegetarian society, and most products in the sets are scientifically validated. 
Crazy Rumors- delightful seasonal lip balms!
Mahi Naturals
Tel:  0208 886 4001
E-mail: [email protected]
www.mahinaturals.com 
As the weather turns colder and your lips need a little extra TLC, why not try the wonderful seasonal flavours from Crazy Rumors. Limited edition and just for the holiday season – pick up winter favourites Peppermint Twist, Gingerbread and Pumpkin Spice!. Established over 15 years ago in the USA, Crazy Rumors exceptional 100% natural and vegan lip care is still handmade in small batches for the purest and freshest balms. Clean, tasty and ethical, the super moisturising balms include Organic Shea Butter and Jojoba oil with mouth-watering flavours sourced from fruits, vegetables and spices.  The range includes 26 flavoured and 3 tinted balms for a pop of colour. 
Andalou Naturals Body Care Gift Sets
Tree of Life
Tel: 01782 567100
E-mail:  [email protected]
www.treeoflife.co.uk
Introducing our gorgeous new gift packs – choose from uplifting Citrus Sunflower Body Care, soothing 1000 Roses® Body Care or Path of Light® Hand Creams.  ¬ Our Body Lotions and Body Butters¬ are the ultimate skin food, blending emollient rich rosehip and argan oils with shea and cocoa butters to nourish, smooth, and soften the appearance of dry skin. Soothing rosewater and Uplifting citrus sunflower delights the senses as superfruit antioxidants and ultra-hydrating aloe vera help protect and uplift skin's moisture barrier for a luxurious, all-over body treatment. Absorbs quickly for velvety soft skin. This skin conditioning shower gel blends emollient rich rosehip and argan oils with coconut water and gentle cleansing botanicals for fresh, healthy looking skin. The origin of Andalou is 'Path of Light' and best reflects our vision to foster good things in the world and enrich the lives we touch, one responsible product at a time. Each year, 100% of the net profits from every A Path of Light® Hand Cream purchase supports women and girls' education, equality, and empowerment. Gluten Free, Vegan, Cruelty  Free, Fruit Stem Cell Science, Non-GMO Verified