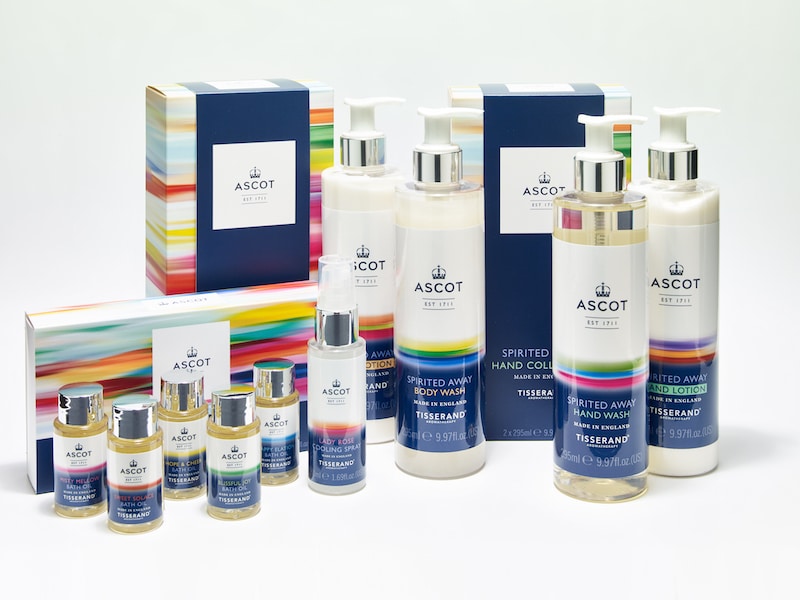 In celebration of one of the most recognized events of the UK summer, Tisserand Aromatherapy has teamed with Ascot Racecourse to produce an exclusive new range of bath and body products.
The products feature the brand's specially created Spirited Away fragrance, which combines invigorating top notes of zesty citrus, the bouquet of white florals, including jasmine and patchouli, and a hint of musky vanilla.
Offered in elegant packaging, which features a blur of vivid colours to mimic the jockeys' silks, the products comprise Spirited Away Body Wash, Body Lotion, Hand Lotion, Hand Wash and Bath Oils. These are also available in collection boxes.
Alongside the new Spirited Away offerings, Tisserand Aromatherapy has also produced a Lady Rose Cooling Spray to calm and soothe skin and provide an aura of tranquillity. It's also great away from the racetrack, says the brand, when summer temperatures leave the skin feeling dry and dehydrated.
"Ascot is such an important and powerful brand, and by partnering with another great British brand like Tisserand Aromatherapy, the collaboration will have massive international appeal. We've created the bespoke luxury fragrance, especially for Ascot; capturing a true sense of occasion and celebration of the elegance," says Robin Russell, chairman of Tisserand Aromatherapy, commenting on the partnership.
"Ascot is pleased to partner with another great British brand Tisserand Aromatherapy, the collaboration sees a very distinctive design which we hope will make the collection appealing to racegoers as gifts or a treat for themselves," adds Juliet Slot, chief commercial officer, Ascot.