Co-founded by Martin Keane and former Dyson product design engineer Andrew Flynn (pictured), start-up POTR has launched the world's most sustainable, self-watering plant pot produced from abandoned ocean waste.
The limited edition origami Ocean Pots are made from 100% recycled fishing nets reclaimed from coastlines across the UK and Europe and come flat-packed. Users simply pour water inside the pot and when the plant is thirsty, it will automatically drink through the cotton cord.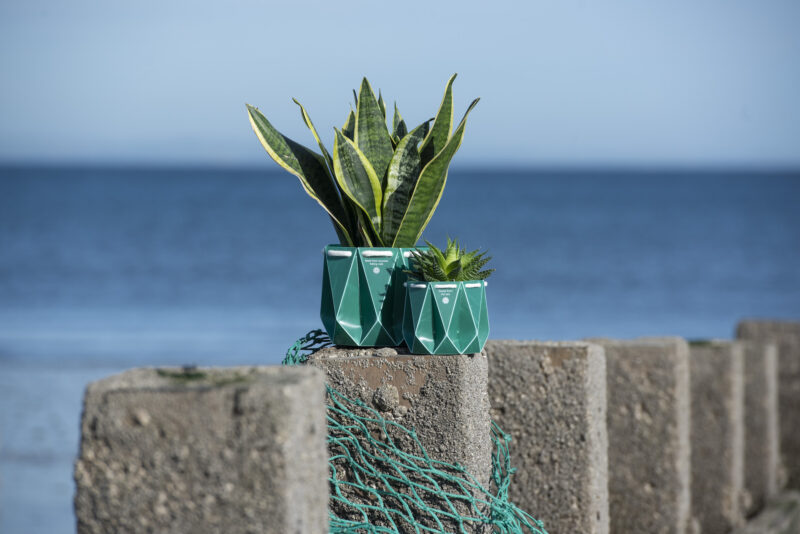 The new product development comes after POTR won the Scottish EDGE award, which secured the founders a £100k investment and enabled them to accelerate their sustainable material exploration – the brand's original self-watering origami plant pots, launched in 2019, were made from recycled polypropylene and cotton.
"From the moment we founded POTR in 2019, Martin and I had the ambition to produce our pots from ocean waste and with help from those who have supported and worked with us, we've finally achieved it," says Flynn.
I believe as a designer I have a responsibility to find solutions which make a positive impact on our planet
"The amount of marine waste washing up on the shores has been growing at an alarming rate and sometimes you can feel a little helpless. However, I believe as a designer I have a responsibility to find solutions which make a positive impact on our planet. Waste material in our oceans can be converted back into beautiful, long-lasting and functional products which has been our aim with POTR.
"We're proud to have produced the world's most sustainable plant pot and with the huge financial support we've recently received from Scottish EDGE, we've been continuing to explore how we can further enhance our pots to be even greener."
Flynn says the ultra-low carbon footprint of the pot isn't just due to the recycled material; the flat-pack layout reduces the carbon footprint by 100 times and the design reduces total material used by over 90% compared with a traditional pot. "This is a holistic approach to sustainable design," he says.
Through sales of the Ocean Pots, POTR is supporting Ghost Diving UK which retrieves discarded fishing gear and other marine debris, using specialized voluntary divers.