Plastic-free personal care brand Awake Organics has added two new cruelty-free, vegan products to its natural hair growth line: Hibiscus-Mint Scalp Scrub and Coconut & Sesame Conditioner.
Awake Organics Coconut & Sesame Conditioner has been created with natural ingredients to support hair growth, nourish stressed hair, detangle and smooth frizz. The rich conditioner treats the scalp and penetrates hair strands without weighing the hair down or leaving a greasy feeling. Containing 'a spa-like blend of pure essential oils' designed to leave the hair soft, silky and healthy-looking, the conditioner is particularly recommended for colour-treated or fragile hair that needs some TLC.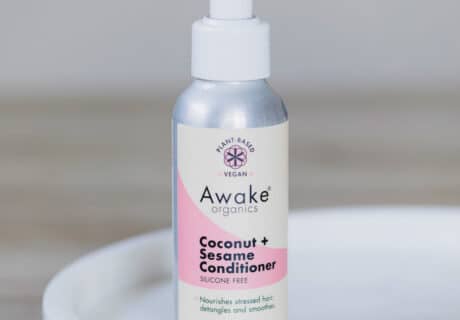 The formula contains coconut oil to deliver a healthy dose of moisture, penetrate the hair shaft and help repair stressed strands; sesame seed oil to support growth and stimulate blood circulation on the scalp and around hair follicles; and antimicrobial and anti-inflammatory lavender flower oil to improve scalp health and speed up growth.
Scalp Scrub, Stimulating Root Care with Hibiscus & Peppermint is described as an 'enticing' scrub formulated to 'revitalize your hair care routine', improve scalp health and promote growth. Used pre-shampoo, the vibrant fuchsia scrub invigorates hair roots, exfoliates and preps the scalp for 'optimal hair growth'. The scrub also stimulates the scalp, softens hair, dissolves scalp build-up and reduces flakes and itchiness.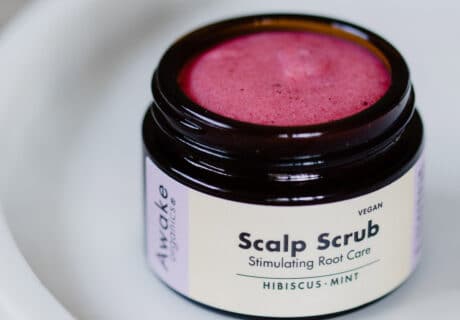 The ingredients include hibiscus flowers/leaves – scientifically proven to stimulate hair growth, this is also naturally acidic and reduces greasiness and excess build-up; refreshing peppermint oil to stimulate growth and keep the scalp healthy; coconut oil to soften and moisturize skin and hair; and castor seed oil which has moisturizing and gloss-giving properties and helps balance the pH of the scalp and repair damage caused by harsh ingredients.
Himalayan Pink Salt is also included to help improve scalp health by exfoliating, loosening and dissolving product build-up and dandruff as well as stimulating the circulation around sluggish hair follicles. It also absorbs excess oil and moisture, which helps prevent dandruff.
The new products join Awake Organics' existing Caffeine & Rosemary Shampoo.