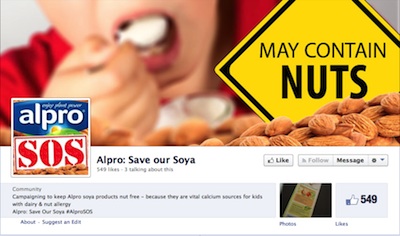 Following the announcement that Alpro is to move production of its nut-based products in-house at the end of the year, necessitating, it says, a 'may contain traces of almond or hazelnut' warning on its soya products (including the Provamel range), a number of concerned parties met with the company at the end of January.
Despite strong reactions from both consumers and allergy groups, Alpro initially had said it remained committed to merged production and it looked like there was no room for discussion. "The decision is made," Alpro UK's commercial director John Allaway told The Grocer at the time. "We are sorry that as a result, individuals with such allergies have to look for another solution."
However, at the end of January the group behind the 'Alpro: Save Our Soya' campaign attended a meeting arranged by Allaway who had invited members to an "open discussion" of the issues around its campaign. Allaway didn't in fact attend the meeting as he had already, and rather abruptly, left the company, but Alpro's heads of production, nutrition, communications, packaging and marketing were there along with Allergy UK deputy chief executive Lindsey McManus, Food Matters' Michelle Berriedale-Johnson and paediatric dietician Lisa Waddell. The group reported on its Facebook page that "After two-and-a-half hours of frank debate the end result was effectively stalemate."
The group hasn't given up hope of a turnabout though, and insists that its fight "is justified and can be won".
Commenting on Alpro's decision, Amanda Pitt, from Bristol retailer The Better Food Company, said: "I think it's thoroughly disappointing. I don't think they're considering the impact on individual customers. I think they're putting their cost-saving exercises over the specialised dietary needs of some of their customers, which I think is disappointing since it's those customers who built that brand. It seems like another nail in the coffin for people with specialist dietary needs."
Ursula Brogan of On the Eighth Day added: "For people who've been using the products regularly, and who find they now can't, I can see that this will be very annoying – it's reducing choices."
Another retailer told NP: "I don't think companies are aware that when they tinker with formulations or labelling that they risk alienating specialist retailers and their customers."
While Alpro has been alienating people with nut allergies and their families, other companies are already moving to take advantage of the situation. Michelle Berriedale-Johnson, founder of the FreeFrom Awards, comments in a blog: "Given the speed at which the 'freefrom', allergy-friendly food market growing, it is to be hoped that another, or maybe several other, soya manufacturers will see the opportunity  Alpro is offering them and step in to fill the gap. More power to them if they do!"
On its Facebook page Rice Dream has already emphasized to consumers that its rice milks are produced in nut-free factories, with its nut milk drinks being produced in a separate facility to prevent cross-contamination.
On its website Alpro states: "Although there is no legal requirement to mention potential cross contamination on labels when all good manufacturing practices are taken to avoid it, we decided to explicitly inform consumers about the integration of almond and hazelnut manufacturing at Alpro production sites". However, the Anaphylaxis Campaign says that since official advice to nut allergy sufferers is avoid products carrying 'may contain traces of nuts' warnings, this labelling practice effectively means sufferers must eliminate products or food groups from their diet.
Alpro has already started to adapt its packaging ahead of the relocation. The company said it had no further comment to make on this issue when contacted by Natural Products.