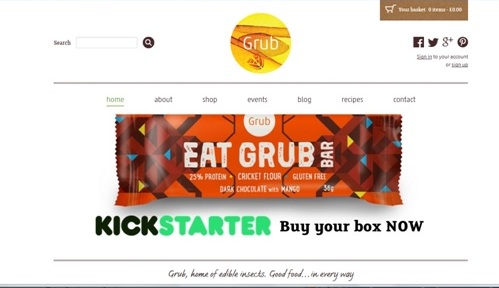 Edible insect innovators Grub is reaching out for funding through a Kickstarter campaign in order to help launch its new Eat Grub Bar.
The protein-packed energy bar is made with cricket flour, organic dark chocolate, mango, coconut, pumpkin seeds and honey, and aims to keep people healthy and the planet happy.
The new bar will be ready to go into production early 2016 with availability in April. Grub has the recipe and design of the product and are asking the Kickstarter community for a little help, with all donators receiving different rewards for their pledges ranging from exclusive boxes of the bar, an invitation to join Grub's tasting team, plus an opportunity to have a slap up insect meal cooked by Seb Holmes, the chef who developed the bar.
Grub already offers Roasted Crickets in Chilli & Lime, English Herbs and Salt & Vinegar varieties, Cricket Nut Fudge and a range of edible insects.
The campaign is live for another eight days. For more information or to pledge, visit http://kck.st/1kDCYOt.