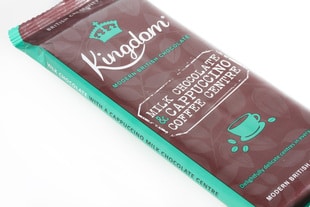 The husband and wife team behind Montezuma's Chocolates have launched a new brand
Kingdom Chocolate positions itself as a "quality, value and innovation-led brand" but also trumpets its British heritage. As co-founder and owner Helen Pattinson comments: "The offering in the quality chocolate bar sector, indeed all chocolate sectors, is hugely dominated by entirely foreign-owned businesses that show little willingness to innovate. We want to offer the British chocolate consumer an innovative alternative, produced by a family business in Sussex.
Kingdom bars come initially in a range of six flavours including Milk Chocolate with Cappuccino Truffle centre, Dark Chocolate and Orange Marmalade, Milk Chocolate with Peanut Butter and Milk Chocolate with Rhubarb & Vanilla Truffle centre. The 100g bars, which carry the tag line 'Modern British Chocolate' have an RRP of £1.89.