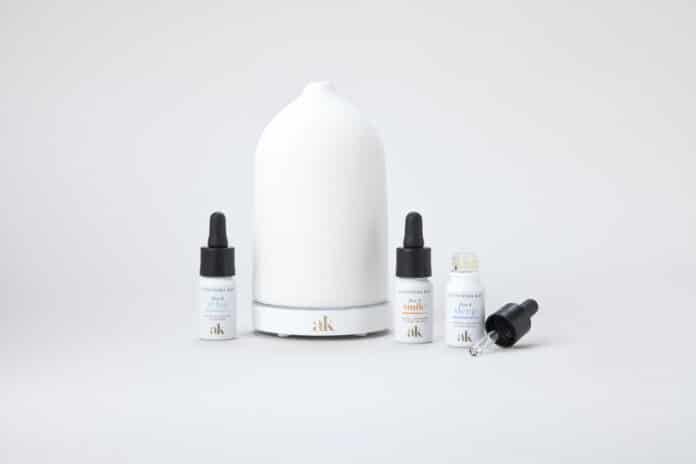 Bite-size pieces of news from Natural Products News
The Alexandra Kay Time to Breathe ceramic diffuser emits a fine mist using heatless ultrasonic vibrations to preserve the therapeutic properties of the essential oils. It features a gently glowing LED light and automatic safety switch-off setting.
Sainsbury's recently launched 'Lunch' concept has welcomed its first vegan offering in the form of RAMONA's Mediterranean vegan and gluten-free houmous, falafel and dips.
Free From Functional & Health Ingredients is returning to Amsterdam from 23-24 November 2021 with a host of food and drink suppliers, specializing in free-from products.
With a soothing fragrance of lavender, comfrey and rosemary, the relaxing new Green & Spring Relax Bath & Body Oil eases mental and muscular tension, helps sleep and promotes skin regeneration.
Rude Health's Chocolate Crunch Granola is an oat-based blend of eight all-natural, whole ingredients including cocoa powder, roasted almonds and coconut chips. Packed in a 100% recyclable box, it is vegan and kosher certified.
Greenfrog Botanic has started working with Greenr to reduce its carbon footprint by calculating its average carbon emission for each product made and investing ten times more carbon capture than was emitted in the production process.
Coldpress is introducing three of its fortified smoothies – ­ Pink Lady & Valencian Orange, Strawberry Banana, Mango Passion Fruit and Coconut Pineapple Banana – into Asda's Health Bay which is being trialled in 170 stores.
Verdino Green Foods UK has launched with a plant-based range including 'meaty' pizza, with a variety of toppings, as well as burgers, sausages, veggie balls, mince and ćevapčići.
Nush Foods has expanded the distribution of its Natural Spreadable Ch*ese and Strawberry Yog with Waitrose and Sainsbury's in anticipation of surging consumer demand for plant-based products in 2022.
Howdah's new Ancient Grain line of snacks will debut with Tandoor Chilli Ancient Grain Chips (130g bags): crisp, ribbed ribbons made with ancient grain flours, aromatic cumin, chilli and tandoor spices.
Launching for the first time this Christmas, Divine is introducing Smooth Dark Chocolate Orange Thins alongside its existing Ginger and Mint Thins​. Vegan friendly, they are positioned as the perfect after-dinner treat or stocking filler.
Oat milk chocolate brand H!P (Happiness in Plants) has secured its first grocery listings with Ocado and Booths. It will also be featured on Getir, which will stock the brand's new seasonal limited edition Gingerbread Bar as well as its four bars.
The Health Food Manufacturers' Association (HFMA) has announced the expansion of its team with Theresa Cutts joining as marketing consultant and James Connell as regulatory advisor for CLEAR CHECK.
Faith In Nature has partnered with social change and reforestation charity TreeSisters so that consumers can plant a tree every time they shop online at Faithinnature.co.uk.
Wiley's Finest UK's fundraising campaign for British charity School in a Bag has proved so popular it is continuing until 31 December. So far, by donating 20% of all sales of its children's products, the brand has purchased 120 SchoolBags.
Vegan confectionary brand, Sweet Lounge, has launched its Fruity Bears, Fizzy Strawberry Hearts and Fizzy Blue Raspberry Bottles gummies into north of England supermarket chain BOOTHS.
Sensory Retreats Divine Glow Self-Heating Face Mask is a gold-foiled cloth mask that heats up when unwrapped and placed over the face, encouraging increased blood flow and circulation and helping to promote a healthier, natural glow.
Follow Your Heart has partnered with plant-based London restaurant Wulf & Lamb to launch a limited-edition brunch menu special to mark World Vegan Month: the smashed avocado on toast, with scrambled ackee will incorporate the brand's Dairy-Free Greek Style Crumbles.