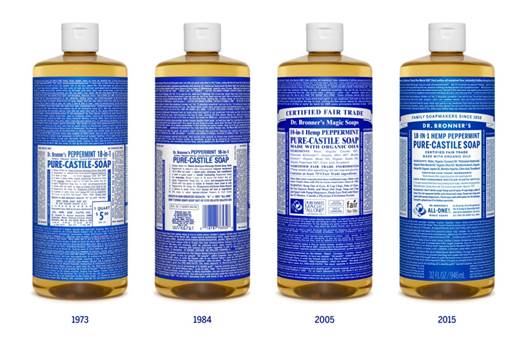 Leading natural soap brand Dr Bronner's has launched what it is calling an 'Old & Improved' redesign of the company's iconic label.
Inspired by the original labels on the first soaps created by Dr E H Bronner in 1948, the latest design celebrates the heritage of the brand, while reflecting the modern ethos and style of the current Bronner family generation.
The original content of Dr. E.H. Bronner's 'Moral ABC' remains on the Castile Liquid Soap label, highlighting how the company implements its mission through fair trade, ensuring organic integrity and acting as advocates for social and environmental justice across a range of issues.
Dr Bronner CEO David Bronner, comments: "Our new product labels honour the legacies of our grandfather and founder, my father Jim Bronner and my uncle Ralph, who have each helped shape this company into what it is today. Each label contains this special pledge that represents a distillation of my grandfather's philosophy that adorns our labels, while summarizing our mission and purpose as a company: In all that we do, let us be generous, fair and loving to Spaceship Earth and all its inhabitants. For we're ALL-ONE OR NONE! ALL-ONE!
"For this current refresh of our labels", says Michael Bronner, President of Dr. Bronner's, "we have gone to our past to define our future. With a label as densely-worded as our own, we have now given proper balance to all the information and improved the readability of our grandfather's message for optimal bathroom reading."
Speaking to Natural Products News this week, director of sales, Mike Stacy, said: "The re-design is pretty subtle. Dr Bronner diehards will notice it straight away, but a lot of people probably won't. It unashamedly breaks every design rule and the guiding principle that less is more. There are 3,000 words on every bottle!"
"The re-design unashamedly breaks every design rule and the whole principle of less is more. There are 3,000 words on every bottle!"
Stacy revealed to NPN other developments that will soon be impacting the UK market. The first new products to hit UK shores will be the revamped organic shikakai had and body soap. This is now re-badged as 4-in-1 sugar Organic Pump Soap (in five variants). "It's a much more easily understood description – and it directs consumers to understand that its specifically a product for the shower, including being a very nice shampoo. It's also a thicker consistency than the castille soap, less concentrated. It's done really well for us in the States – in fact, sales have doubled."
Also recently launched in America, and heading for the UK next year, is a new range of organic toothpaste. "It's the only organic product out there and it's really capturing the imagination. I've got 20,000 stores who want it."
But the fastest growing category for Dr Bronner currently is another US market success story, shaving creams. "Sales have grown 55% this year. The five-product strong range is proving to be a real winner."