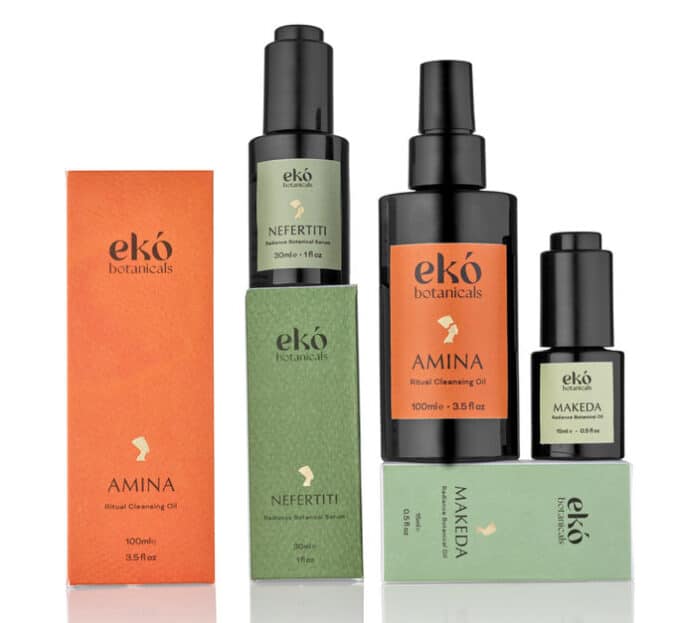 Ekó Botanicals has launched in the UK with a collection of clean, multitasking, sustainable skincare solutions for maturing skin.
Each product is designed to work synergistically on a range of skin concerns and prevent signs of premature ageing, fine lines and wrinkles, hyperpigmentation, dehydration, enlarged pores and acne.
Rooted in traditional African and British skincare practices and botanical wisdom, the products combine ancient skincare rituals with modern, natural skincare science, says the brand, highlighting that each product is named after an African warrior Queen whose ancient beauty practices have inspired 'a new modern skincare ritual that is nourishing, mind-calming and respectful to the planet'.
The initial three products are:
Amina Ritual Cleansing Oil, designed to gently remove dirt, make-up, sun cream and impurities without stripping skin or irritating eyes. Packed with nourishing plant seed oils rich in antioxidants, it leaves skin feeling soft, clean and revitalized. Naturally scented with lemongrass, rose geranium and petitgrain, ingredients include green tea, peach kernel seed, lemongrass and castor oils
Scented with rose geranium, petitgrain and bergamot natural plant oils, Nefertiti Radiance Botanical Serum is a nutrient-rich blend of over 30 botanical extracts and plant oils to accelerate skin renewal, increase hydration, minimize fine lines, manage hyperpigmentation, reduce enlarged pores, stimulate collagen production and deliver a healthy complexion. Ingredients include aloe vera, green tea oil, red, blue and green algae, hyaluronic acid, lactic acid and white willow bark
Makeda Radiance Botanical Oil is a multitasking formula for all skin types made with more than 22 plant oils yo provide deep hydration, plumpness and radiance. Nutrients from papaya, tamanu, moringa, kalahari melon, neroli, borage, green tea and seaweed boost skin texture and collagen formation to reveal youthful glowing skin. Scented naturally with neroli and rose geranium, it leaves skin radiant, soft, plump and glowing.
The formulas are created using wild-harvested oils and plant actives with natural preservatives and all ingredients are organic where possible and directly sourced from sustainable African and British growers.