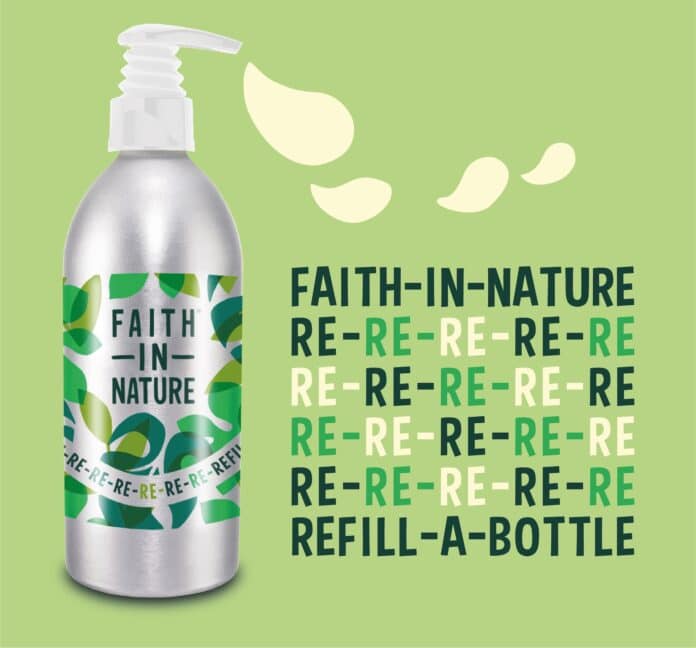 Bite-size pieces of news from Natural Products News
Faith in Nature has introduced its new Refill-A-Bottle – a stylish 450ml aluminium beauty bottle which helps to save 264g plastic every year (12 bottles per person).
Booja-Booja has created four new truffle flavours: Chocolate Orange, Chocolate Salted Caramel, Deeply Chocolate and Honeycomb Caramel (voted Best New Vegan Food Product at Natural & Organic Products Europe).
Rhythm 108's latest creations are its 100g Vegan Roasted Almond Butter bar – Swiss m*lk chocolate filled with a smooth, nutty almond filling designed to melt in the mouth, and its Swiss Vegan Hazelnut Chocolate Chip Biscuit Share Bag.
Boots has renamed its 'feminine hygiene' website and app page to 'period products'; it is also planning to update its in-store signage later this year.
Axiology has discontinued its popular lipsticks which were made from recycled plastic, making the brand 100% plastic-free. It will now focus on its plastic-free, zero-waste balmies.
Skin Proud Wonder Clay cleanser doubles as a mask for a more intense treatment. Clarifying pink clay and tea tree oil helps reduce excess oils, cleanse and reduce the appearance of pores, and neem leaf extract helps to balance the skin.
HAPPi's Plain M!lk, Salted Caramel and White oat milk chocolate has hit the shelves of 811 Tesco stores nationwide, becoming the first oat milk chocolate to be stocked by a major retailer.
As Deliciously Ella celebrates its tenth anniversary, the plant-based food and wellness platform has announced that it is expanding to offer its ranges in Europe and the US.
Fazer Xylitol factory has started operations in Lahti, Finland with a new state-of-the-art factory showcasing a patented process that transforms upcycled oat hulls into sustainable xylitol.
Plant-powered chocolate brand, Buttermilk came up trumps at the 2022 FreeFrom Food Awards, with its Caramel Nougat Bar winning double Gold in both Best Confectionary and Innovation.
Health & Her has launched its first TV advert for its Perimenopause Multi-Nutrient Support which premiered on 2 May during the second menopause documentary by Davina McCall for Channel 4.
Wild Beauty from Rhug Estate has launched its inaugural podcast: The Sounds of Wild Beauty – moments for meditation, focus and finding peace in a fast-paced world, designed to have a positive impact on wellbeing.
Blanco Niño has been awarded Gold in the Savoury Snacking category at the FreeFrom Food Awards 2022 with its Ancient Grain Blue Corn Tortilla Chips with Toasted Amaranth.
New beauty brand The Elements has launched with its CLEAR SKIN collection of skincare targeting congestion, breakouts, redness, blemishes, stress and irritations using activated charcoal, salicylic acid, niacinamide and azelaic acid.
Greenfrog Botanic has announced that its entire range of hand, body and haircare products are now certified vegan by the Vegan Society.
Aromatherapy lifestyle brand Scentered has added two new options to its Relaxation Sets – De-Stress and Love – both containing two aromatherapy balms and a microwavable lavender wheat bag.