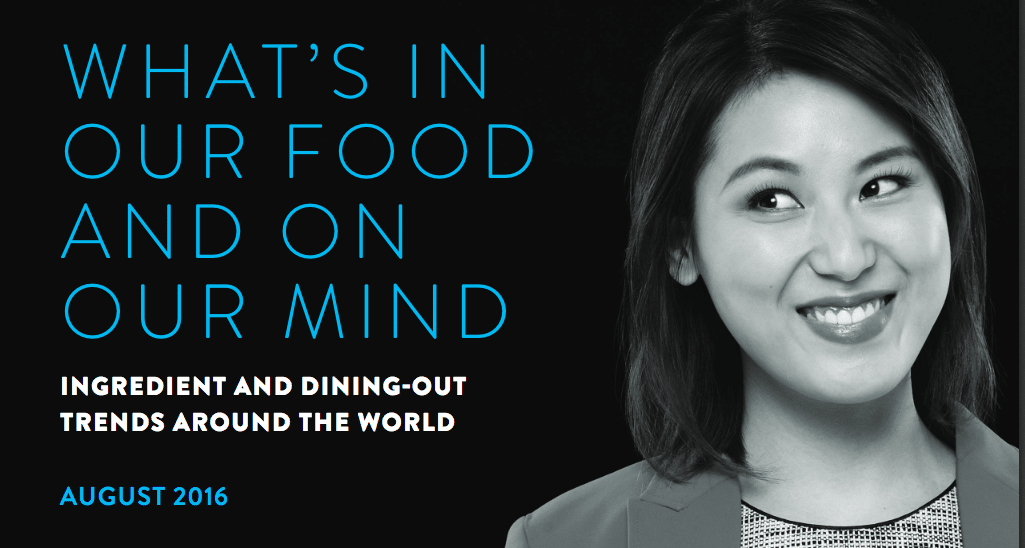 Nielsen has published a new report – What's in our food and on our mind – based on the results of its Global Health and Ingredient-Sentiment Survey which polled over 30,000 online respondents in 63 countries to find out about their food preferences and consumption habits.
The report flags up four macro-environmental trends it says are contributing to an increased focus on health and wellness: an ageing global population; rising rates of chronic disease; a rise in self-care, treatment and prevention; and increasingly educated and connected consumers.
Food sensitivities are also influencing food preferences, says the report, with 36% of respondents saying they have an allergy or intolerance to one or more foods. Nielsen retail sales data suggests that the avoidance of certain food ingredients is shaping some consumers' purchasing habits; in the UK, volume sales of dairy-free products were up 21.9%, and sales of gluten- and wheat-free options rose 30.3% and 6.1%, respectively, over the 52 weeks to 11 June 2016.
64% also said they follow a diet that limits or prohibits consumption of some foods or ingredients. Indeed, retail figures show that consumers are reducing their intake of high-fat, sugary or salt-laden foods, but also that there remains a place for indulgences, particularly for more healthy treats.
Nielsen found that consumers are adopting a back-to-basics mind-set, wanting fewer processed foods and instead focusing on simple ingredients. More than half of those surveyed said they avoid artificial ingredients, hormones or antibiotics, GMOs and BPA, and 68% strongly or somewhat agreed that they're willing to pay more for food/drink that doesn't contain undesirable ingredients.
Among those who say they avoid specific ingredients, around 80% said they do so as they think they are harmful to their own or their family's health. The percentages who give this reason are similar across categories: artificial colours, flavours, preservatives or sweeteners (84%, 84%, 84% and 78%, respectively); BPA (82%); GMOs (81%); antibiotics (81%); and MSG (79%).
"Informed and savvy consumers are demanding more from the foods they eat, and some are prioritizing ingredients over brands," said Andrew Mandzy, director of strategic health and wellness insights, Nielsen. "To many consumers, simple is beautiful, and foods with a short list of recognizable ingredients resonate strongly. Savvy manufacturers are responding to this trend by modifying product portfolios by simplifying food ingredient lists and creating natural and organic alternatives to existing offerings. Meanwhile, retailers are also prioritizing healthful foods and better-for-you brands in the centre of the store, and emphasizing fresh and perishable foods around the perimeter in order to drive growth."
The report states that there is a clear opportunity to better serve consumers' dietary needs, with 45% of respondents with a food sensitivity or special diet requirements, believing their needs are being fully met by current product offerings.
"Consumers want to eat more healthfully, but they can't do it alone," said Mandzy. "They need help from food manufacturers to offer products that are formulated with good-for-you ingredients. They need help from retailers to stock shelves with right-priced healthful assortment. And they need help from the medical community to provide proper guidance on what and how much to eat in order to maintain a healthy lifestyle."
The What's in our food and on our mind report can be read here.