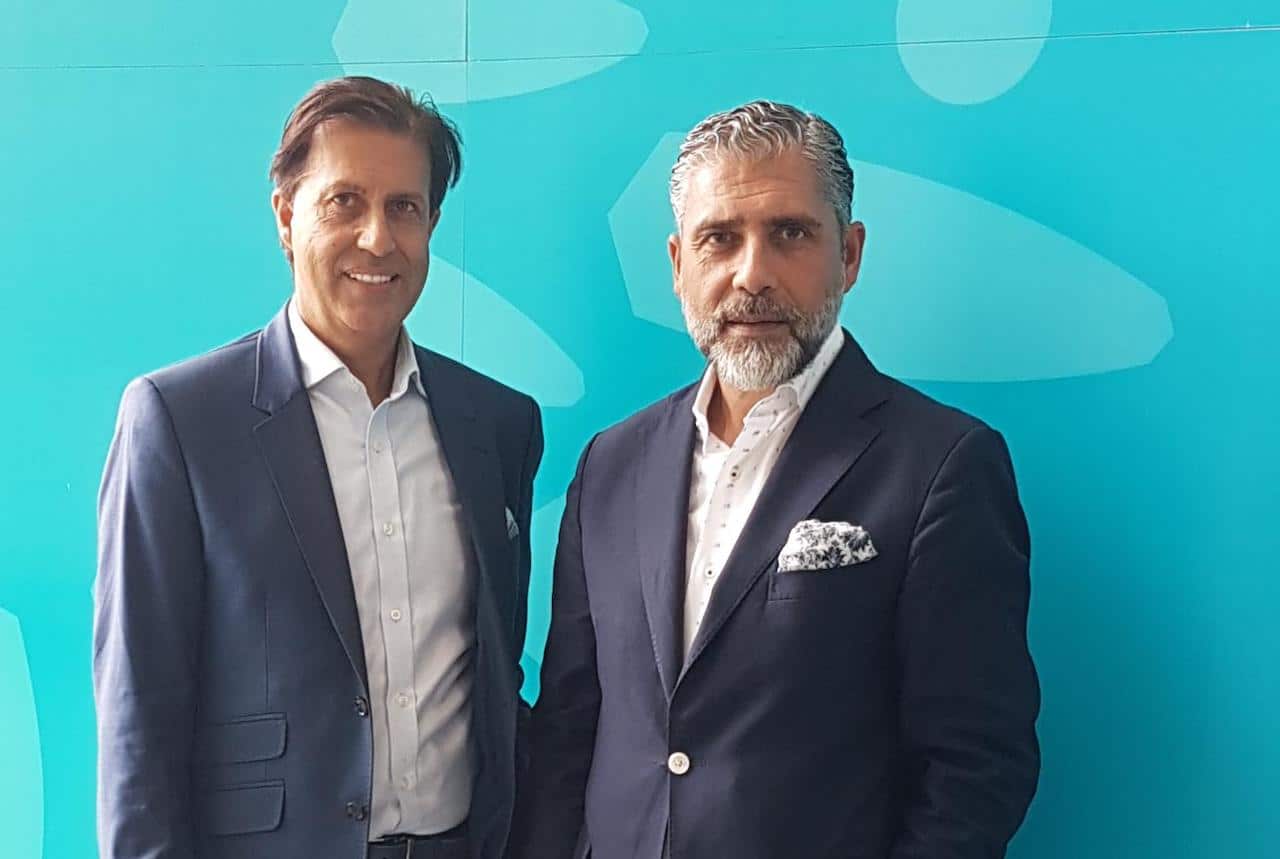 After spotting industry brothers and business partners Alexander and Kim Barani in the Who's Who in Natural Beauty 2018, a North African correspondent for The Huffington Post has featured Kinetic Natural Products Distributor in an article for Huffpost Maghreb, published in French. Here, Alexander Barani explains how the news and opinion site captured Kinetic's true spirit, and gives Rosie Greenaway an overview of the changes ahead.
HuffPost's autumn interview with the pioneering brothers helped spread their core message, explains Kinetic co-founder Alexander Barani, who says the coverage 'really got across' their mission to educate retailers about stocking 'revolutionary' products. In Barani's words, it covered 'the journey but also the message,' encompassing the distributor's history, its eco credentials and its early adoption of superfoods and omega-3 – now recognized as dietary trends which have not only driven growth in the UK health and supplements sector, but stood their ground in a competitive market.
You have to keep your products under the eyes of a consumer
Barani says he and his brother do what they do 'out of passion and love for nature', ingrained in them since their childhood in Tunisia, and this natural enthusiasm for purity is evident when they speak about their brands. While the brothers agree that innovation and NPD are  'key to driving any brand and industry', society's 'obsession with new has gone too far'. "You have to keep your products under the eyes of a consumer … We are in a more challenging time [when] retailers will start to be cautious and be more interested in consolidating existing brands, concentrating on hero products and companies that are giving support and incentives."
The Barani brothers have won many accolades during the past 25 years, and they retain Kinetic's position as a major force in the distribution of organic beauty, superfood and nutritional supplements in the UK. Describing the company as 'a one-stop ethical shop for retailers', Barani is confident about the distributor's future, and remains committed to providing monthly promotional material for retailers who are experiencing high street blues. "We are very aware of the difficulties retailers are feeling with online."
So how are Kinetic's brands developing and what lies ahead for this dynamic duo's natural portfolio?
Antipodes  
Barani reports a 'phenomenal' reception of Antipodes' products and strong growth of this 'cult brand' in both the UK and Asia, where the New Zealand skincare line is gaining a loyal following among city-based consumers who yearn for a stronger connection to nature. With a strategy in place for Ireland, good coverage across Eastern Europe and Scandinavia, and distribution now secured in French boutique retailers Mademoiselle Bio and Printemps, Kinetic is 'repeating the success story' of Antipodes' initial UK debut across different markets. "The base has really been expanded from the UK," says Barani, who reports 'a buoyant year with double digit growth' and says there is NPD on the horizon for Antipodes – a science-based anti-pollution serum targeting 'city skin', which the industry can expect an introduction to at Natural & Organic Products Europe (NPE) in April 2019.
We are very aware of the difficulties retailers are feeling with online
Jason
Barani explains that in addition to partnering with Care International to help 'lift girls out of poverty', Jason is also focusing on male grooming. "We're tapping more into the men's ranges," he says, adding that the brand is now making strides in oral care too, with the addition of its coconut toothpastes. Barani says Jason products continue to be 'wholesome' and 'seriously therapeutic' and describes them as an accessible, affordable 'head-to-toe' range for the whole family, housed in recyclable, biodegradable packaging which the brand has long been a pioneer of.
Alba Botanica
In a major UK launch (scheduled for February) Kinetic is bringing to market Alba Botanica AcneDote Pimple Patches and Clearing Gel Peel, which have seen 'big success' in the US. Also coming from Alba Botanic is a range of reef-safe SPF sprays – contributing to the sun care sector which Barani says is 'going from strength to strength', thanks in part to the prolonged summer enjoyed across Europe in 2018. Describing the visually vibrant brand as 'young' and 'very in touch with the earth', he says Alba Botanica's 'veggie products' will appeal to those championing the 'girl power' message.
Garden of Life
My Organics from Garden of Life – 'the mother of vitamins, the inspiration of all the younger brands' – which launched in the UK in 2017 has seen commercial success with its probiotics and MyKind Organics range, selling out quickly of both its Women's Once Daily Multi and Prenatal Multi. Actress and health advocate Alicia Silverstone partnered with Garden of Life to create the MyKind Organics range, and continues to 'endorse and champion' the non-GMO verified supplements. "Garden of Life has been an amazing journey for us," says Barani, although he admits that 'working with the best of the best has its challenges.
Kinetic is glad to be part of the mushroom revolution
Nature's Answer
Barani applauds Nature's Answer for the 'ethics, knowledge and state of the art traceability' behind its alcohol-free liquid herbal extracts. "Herbs are going up and up," he says. "It shows that there is money in herbs." Reporting a 22% growth between 2017-2018, Barani attributes this progression to oil of oregano and liquid vitamin D3 – "They're what have made a success of Nature's Answer."
Om Organic Mushroom Nutrition
Commenting on Om's 'good start to the year', Barani says Chaga and Lion's Mane remain the top sellers, with new mushrooms due to be showcased at NPE. Mushrooms, he says, represent 'a category that is growing'. "Kinetic is glad to be part of the mushroom revolution."
Neocell
Another booming area of functional supplements lies within collagen. Kinetic has been working with Neocell, distributing non-GMO, scientifically-tested collagen: Type 1 and type 3 for skin, hair, nails and muscles; Type 2 for joints and cartilage. In a bid to continue adapting to a changing market in which people are increasingly turning away from products derived from land animals, Kinetic plans to open the collagen market up to more consumers in 2019 with a range of marine collagen.