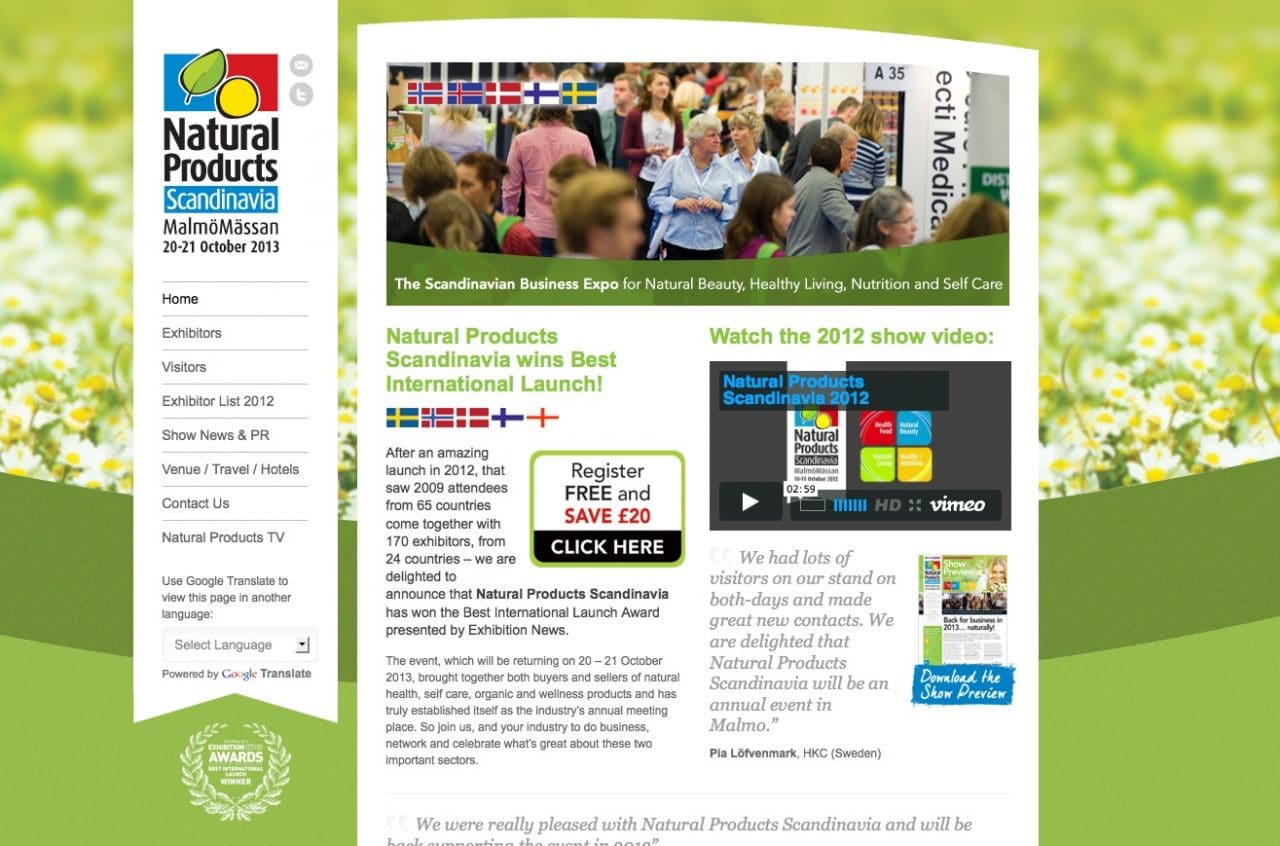 Natural Products Scandinavia – the first dedicated natural and organic trade show for the Nordic region – is on target to double in size in its second year.
The show – judged Best International Launch at this year's Exhibition News Awards – will be held again in Malmo, Sweden (20-21 October 2013), just 15 minutes from Copenhagen airport.
Around 300 exhibitors will be at this year's event, which is expected to attract around 4,000 trade exhibitors from across Scandinavia and beyond.
This year sees the launch of the co-located Nordic Food Fair, which creates a major new regional showcase for organic food and drink. The brand new food event has the backing of leading Scandinavian organic organisations like KRAV and also the UK's leading organic certifier the Soil Association, which has its own pavilion.
A Kitchen Theatre featuring top natural and organic chefs from the region will provide some theatre on the show floor while the exhibitions main eating area – the Central Café – will be expanded for 2013 and offer a superb menu of organic lunches, snacks and drinks.
Natural Products Scandinavia meanwhile is where retail buyers will find the very latest development in supplements and remedies, nutritional health, natural and beauty – a Natural Beauty Pamper Zone is new for 2013 – and natural living.
The Selfcare Theatre on the main showfloor will feature big name speakers talking on some of the hottest topics of the day for Scandinavian natural and organic professionals – from latest market research findings to consumer behavior, legislation to retail trends.
There will be an even stronger presence at the Malmo event this year from UK-based businesses. The Scandinavia region is producing good growth for natural and organic brands and is seen as an ideal place for UK businesses to break into the export market. Company's already signed up include Bee-Health, Bentley Organic, Clearspring, Dr Organic, Essential Trading, Faith In Nature, Kinetic, Higher Living, Pukka Herbs and The Health Store.
• For information about exhibiting at Natural Products Scandinavia call Zoe Jackson-Cooper on 01273 645141 or email [email protected]