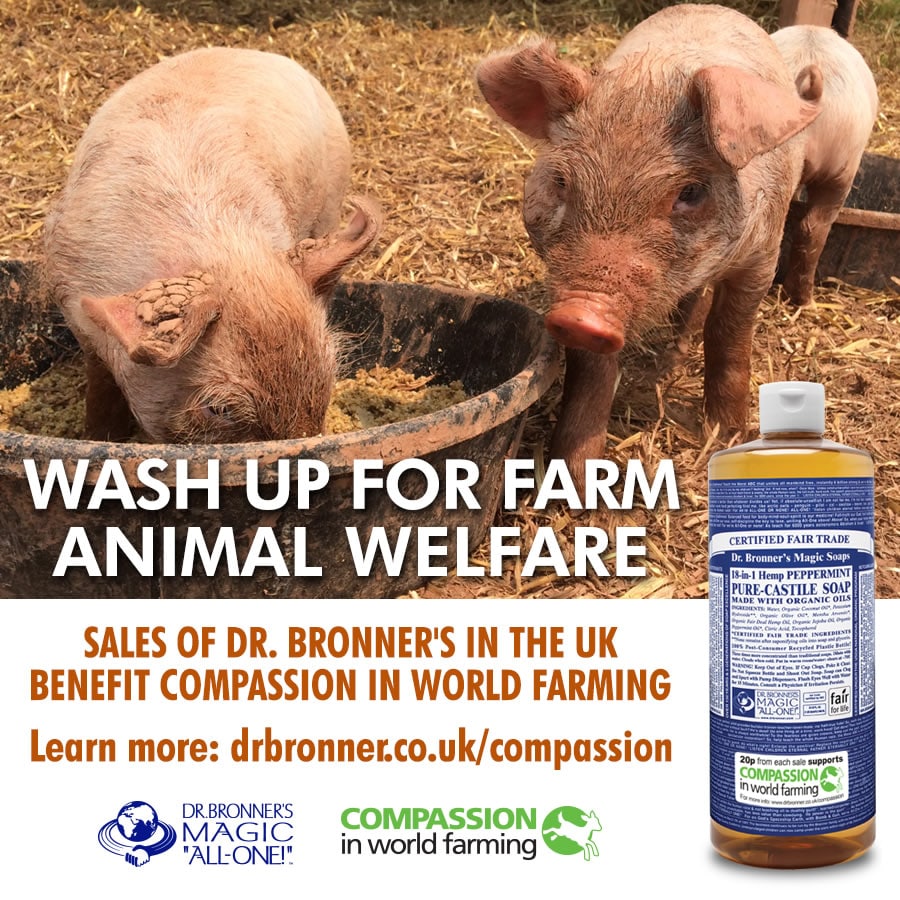 Dr. Bronner's recently wrapped up a very successful campaign supporting the animal welfare charity Compassion in World Farming (Compassion) through sales of its organic soaps.
From October 20
14 until in June 2015, the company donated 20p from every bottle of Dr. Bronner's 473ml and 946ml bottles of liquid soap sold in the UK to Compassion. After selling a combined total of 127,560 bottles, Dr. Bronner's raised an impressive £25,512 for the charity.
The campaign was conducted by Dr. Bronner's head office the US in conjunction with the brand's UK distributor, Kinetic, and was supported by a national press and social media campaign.
"We are thrilled at the success of this campaign and would like to thank our UK distributor Kinetic and all our retailers and customers who supported it," said Mike Bronner, VP of Dr. Bronner's. We are always looking for ways to help make the planet a better place and we are extremely happy that we are able to support such a great organization as Compassion in World Farming. The money raised will go to Compassion to support their work to improve quality of life and conditions for farm animals by working toward broad policy change that benefits human health, the environment, and animals."
Philip Lymbery, CEO of Compassion in World Farming, commented: "We would like to send a huge thank you to Dr. Bronner's for supporting our campaign. We highly value their brand and they are truly an inspiration; if more companies worked the way they did the world would be in a much better place."
"Many of our customers are very passionate about pursuing a more ethical way of living, so anything we can do to help them achieve that by offering products and action that fits with their beliefs is very well received, which is obviously good for the Dr Bronner's name, good for us as retailers of the range, and of course in this case good for the cause for improvements to animal welfare," commented Pip Phillips, marketing manager at Real Foods Edinburgh.