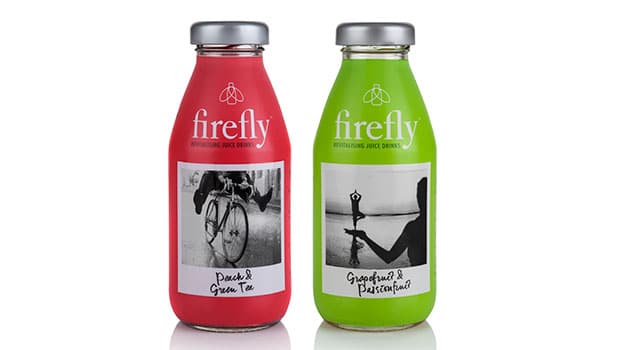 Firefly Revitalising Juice Drinks has relaunched with a refreshed pack design, an on-the-go range and improved recipes.
The new packaging features brighter colours, botanical drawings and a brand new Firefly logo. A botanical stamp has also been put on the bottle lids to emphasize the fact that the drinks are 'boosted with botanical blends'. The Firefly packaging will retain the inspiring photos submitted by fans of the brand.
As well as the new look, a 400ml PET range will join the 330ml glass bottles, replacing the 500ml range with the aim of attracting the grab-and-go market, and the brand's recipes have also been improved.
Firefly's drinks blend natural botanical extracts with fruit juices using all-natural formulations and no added sugar.
"Firefly is perfectly placed to take advantage of the trend for natural, healthy and premium soft drinks, and we've worked on the positioning of the brand to ensure it appeals to that market," said Jon Evans, marketing director, Purity Soft Drinks, which purchased the brand in 2014. "We think the brand has a huge amount of potential and the relaunched drinks look and taste great, so we're excited to see how they're received by consumers and retailers alike."
The brand was recently voted a CoolBrand 2015-16 – the fifth time it has won this award.
Firefly is also launching a new website which will be supported by social media, POS materials and a consumer PR campaign.