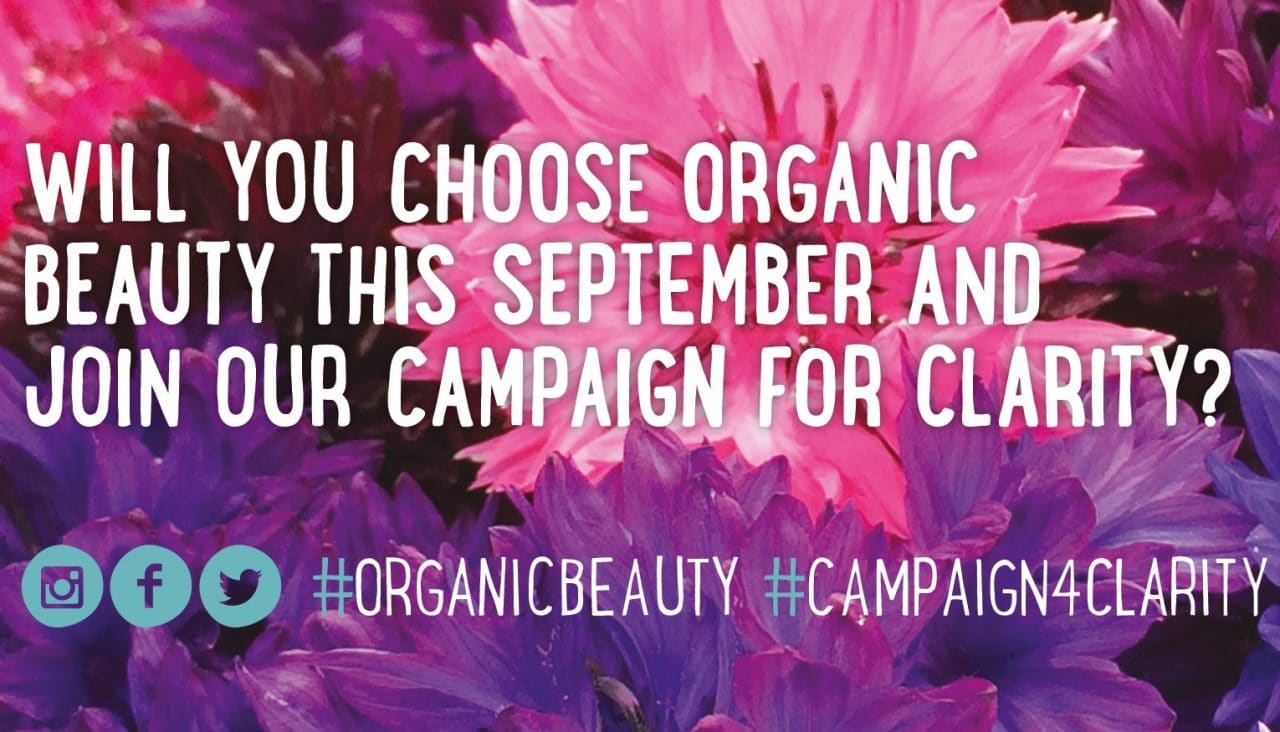 This year's Organic Beauty Week is kicking off on 14 September, so ensure you make the most of the campaign to drive both awareness and sales.
This year's theme is based around the Soil Association's Campaign for Clarity, and the Soil Association is encouraging all organic beauty retailers, brands and producers to get involved during this event as well as the wider Organic September campaign.
In addition to point of sale (POS) materials that can be used in store to drive awareness of the campaign, the SA will be sharing a digital tool kit with the key messages, suggested tweets and all the campaign assets to ensure the message is amplified consistently. This central online hub will be the main point for offers, competitions, blogs and interviews and will be underpinned by a targeted media campaign.
There are loads of ways to get involved:
Take part in the #organicbeauty #campaign4clarity thunderclap and help spread the organic word even further
Get your event or promotion listed on the Soil Association website – follow this link
Use and share the digital assets – encourage your customers to 'Organic their September'
Use the POS materials in your store to drive awareness of the campaign
Share your stories on the site – tell the stories behind organic and your products
Promote Organic Beauty Week to your customers to engage and share their organic story
Take part in the 30 days of organic small changes – there will be a number of opportunities to share the tips and reach new customers by promoting your products
Offer competitions, recipes and offers to consumers as part of Organic Beauty Week or our overall Organic September campaign
Offer prizes to be used as part of the user generated social media competitions
Create your own Organic Beauty Week content and sharing it using #organicbeauty and #campaign4clarity
Take part in the press events and support the press packs
You can download everything you need – the digital toolkit, POS materials and the Campaign for Clarity assets – here. Please email [email protected] to register for login information.
To kick off Organic Beauty Week, the Soil Association is holding an event, in partnership with Whole Foods Market, featuring The Hemsley Sisters.
Taking place on 8 September from 7pm-9pm at Whole Foods Market, Kensington High Street, the event will see Jasmine and Melissa talk about their life in food, their philosophy and relationship with organic food and beauty.
There will also be a Q&A session, a book signing of The Art of Eating Well, and goody bags packed with organic brands.
Tickets for the evening can be purchased here.