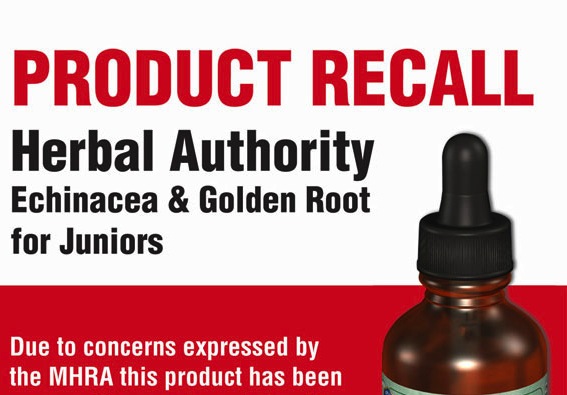 A herbal remedy sold by Holland & Barrett is the latest to be taken off shelves following action by the Medicines and Healthcare products Regulatory Agency (MHRA).
The MHRA says it has taken action "because the product is unlicensed, is labelled incorrectly and the claimed herbal ingredients present are incorrectly described". The Agency has asked the retailer to stop marketing Herbal Authority: Echinacea & Golden Root for Juniors.
The Agency says there are concerns that ths product may not be suitable for use in children and adolescents and "may cause unwanted side effects".
It adds that pictures on the product packaging do not match the labelling description and "appears to show Goldenseal root (Hydrastis canadensis) and not Golden root (Rhodiola rosea)". It says the botanical name on the product Berberis aquifolium is also incorrect.
Richard Woodfield MHRA head of herbal policy said: "Parents need to remember that just because a product is labelled as natural does not mean it is safe. "When buying herbal products you should look for those that have a traditional herbal registration which can be identified by a THR number on their label. This ensures that the product is safe and avoids consumers putting their health in jeopardy.
The MHRA has advised consumers to stop using the product and return it to Holland & Barrett.
The MHRA is says it is currently investigating a number of complaints about herbal products being marketed without the necessary authorisation. Since the April 2011 the Agency's Borderline Section has issued Final Determinations – on products it judges to be medicines – on five unlicensed herbal products (typically marketed as food supplements), requiring them to be withdrawn from sale immediately.
The MHRA says it takes the view that "the erroneous labelling of a herbal medicinal product as a food or dietary supplement is unacceptable and may mislead consumers. Such mislabelling does not alter the correct legal classification".