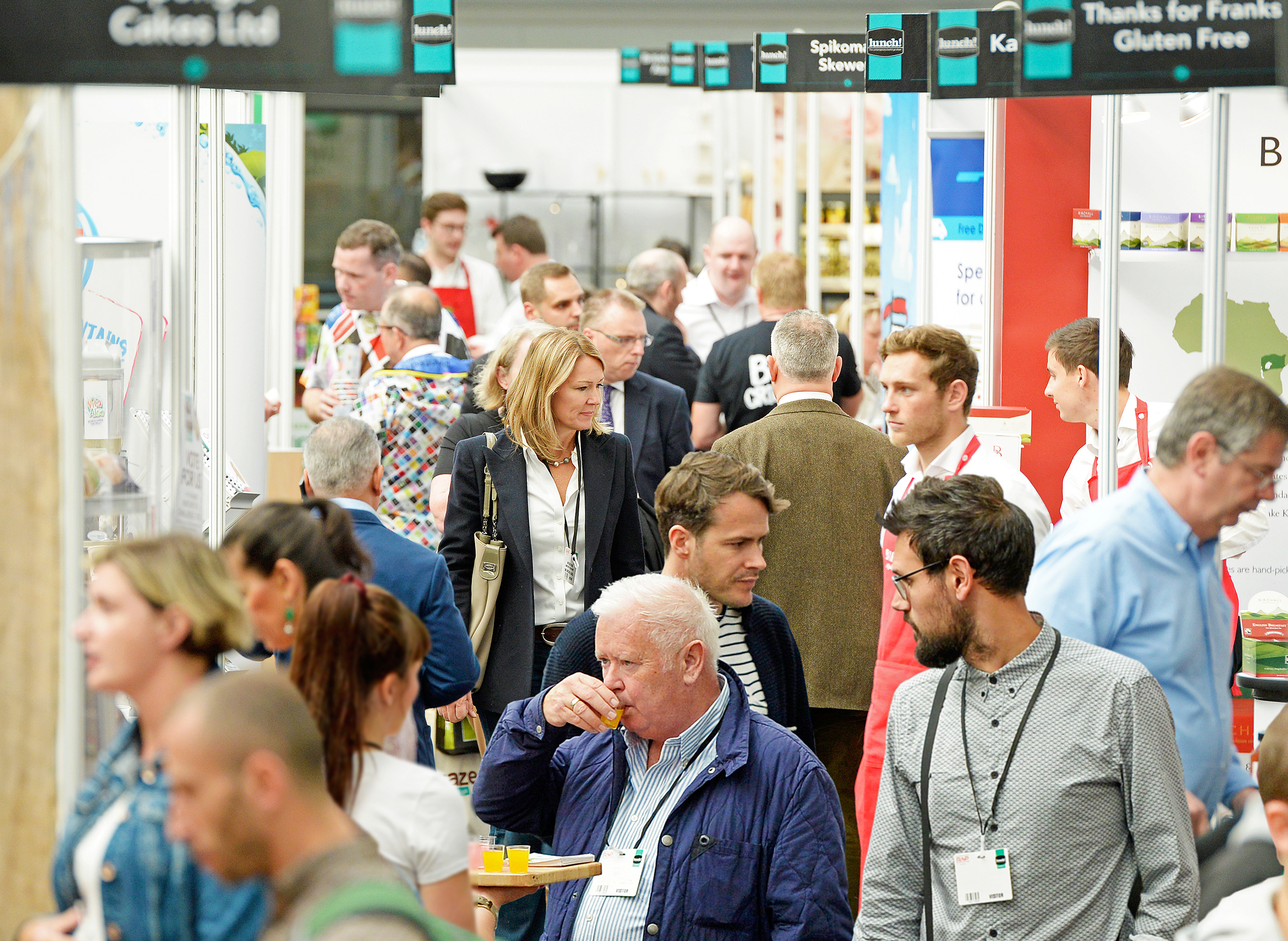 The UK's leading food-to-go trade show returns on 21 September for a two day show marking its 10th anniversary, and this year the exhibitor line-up features more natural products than ever before.
Establishing a new home at ExCel London, lunch! 2017 will feature a record 335 exhibitors, all promoting their latest New Product Development (NPD) for the eating out-of-home market. With convenience having been identified as a 'mega trend' by MCA Insight, the food-to-go market has seen growth of 40% in the past decade, making this year's show the biggest to date.
"Consumers are increasingly demanding better quality, more interesting and wider choices, and will not accept cheap and boring," says regular lunch! speaker Simon Stenning, executive director at MBC. That growing appetite for superior food-to-go is being satisfied by the inclusion of a record number of natural products being exhibited, from speciality producers and emerging start-ups to some of the industry's best known brands.
Featuring amongst the exhibitors are:
iraw Healthy Habits (stand SU-24) is previewing its new range of organic, vegan, raw food snacks, desserts and meals on-the-go. Its Best Friends Raw Strawberry and Banana Bread is gluten, dairy, soy and GM free, and is made with activated buckwheat. Also sampling: raw quiche, children's crackers, and apple pie, which are all expected to roll out in the next couple of months.
Aqua Esse (stand G88) is launching its new range of botanical waters in 330ml bottles. Fennel + Mint and Damask Rose Petal are both part of the pure activated, naturally alkaline spring water range, which contains no sugar, no artificial flavours or colours – just the essentials.
Ape Snacks (stand E88) is sweetening their collection of coconut snacks with the launch of new Crunchy Coconut Bites Chocolate. The bites have the added health benefits of coconut's anti-microbial and anti-viral properties.
Holy Moly Dips (stand E45) is launching its B2B offering at lunch!. The London start-up's new range includes all-natural avocado dips, including two guacamoles, and the UK's first pure 'smashed' avocado. All of Holy Moly's dips are vegan, free from gluten, dairy, and preservatives.
Jimmy's UK B.V (stand D61) is showcasing Pure Popcorn, a new healthy popcorn, which contains less sugar, salt and fat than regular popcorn. 100% natural, it is allergens free, high in fibre and contains no artificial aromatic substances, colourings or flavourings. Available in Subtly Sea Salted, Sublimely Sweet, and Subtly Sweet & Salty.
Snact (stand B36) is showcasing its new range of sustainable banana bars in Apple & Cinnamon Kick, Beetroot & Cacao Blast, and Carrot & Spice Boost. Each bar saves one banana from going to waste, and is packed with fruit, veg, oats, and superfoods. It also comes with home compostable packaging.
MatchaNow (stand L75) is a health drink with 2.5g organic matcha, stored dry in patented cap technology. Simply twist'n'shake to release into the water, for a clean burst of energy while on-the-go.
Revolicious (stand E89) has created a trio of nutrient-packed, plant-based, smoothie bowls for the food-to-go market. Inspired by Instagram's love affair with decorated smoothie bowls, each bowl comes with a handy enclosed spoon and a topper of coconut flakes, goji berries, and pumpkin seeds.
MOJU (stand L29) is showcasing its recently launched Booster Shot, in antioxidant-rich acerola. The Boosters focus on the growing trend for functional plant-based products, and are the UK's first cold-pressed and HPP shot range. The full range also includes award-winning Ginger-Booster and Turmeric-Booster.
Rombouts Coffee (stand B51) is promoting its new Organic Expresso coffee beans. Sourced from farms in Laos, Honduras and Congo, it blends 100% Arabica, organic and Fairtrade beans. Expect a well-rounded cup with a rich aftertaste and notes of dark chocolate, nuts and stone fruit. It also has the depth to work well in cappuccinos, lattes, flat whites and other milk drinks.
True Nopal Cactus Water (stand B45) is showcasing the UK's first cactus water. Made with the purée of the prickly pear fruit, which grows on the nopal cactus, true nopal has a fruity taste with no added sugar and half the calories of coconut water.
A full list of exhibitors can be found here.
To register for a free trade ticket in advance, please visit www.lunchshow.co.uk.