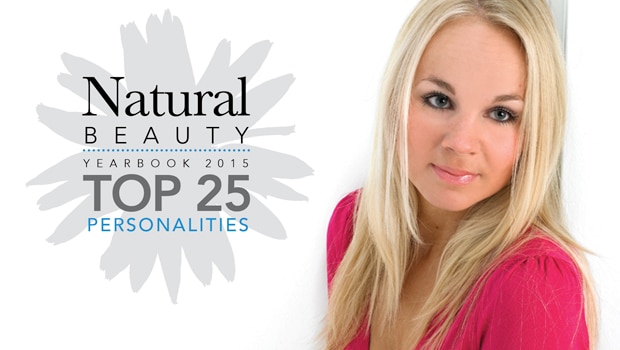 Kirstie Sherriff, co-founder of Pinks Boutique, has taken the coveted number one position in the annual poll to discover who's who in Natural Beauty.
The announcement was made at a reception in London yesterday evening where leading figures from the natural and organic beauty world gathered for the launch of the 2015 edition of the Natural Beauty Yearbook. Yearbook editor Julia Zaltzman announced the Natural Beauty top five before unveiling the latest edition. Sonia White, managing director of Amarya and LoveLula, was voted number two, Kinetic co-founders Alexandra and Kim Barani were at number three, beauty PR Rebecca Goodyear was at number four and Janey Lee Grace – a previous two-time winner – was voted in at number five.
Accepting her award, Kirstie Sherriff said: "It's a very exciting night for Pinks Boutique at Wholefoods and a genuine lovely surprise to win. I had always had a belief that the number one slot would have to be quietly revealed beforehand to make sure the winner was there – but apparently not! Hence my unprepared acceptance speech!
"I have slowly climbed my way up the Who's Who from my first placement at number 17 four or five years ago so it is such an honour to have reached the top.  The Who's Who is year on year becoming a genuinely sought-after award, you can see and tell the brands are becoming more and more serious about it, and Diversified should be proud of all the hard work they have put in. The Round Table discussion this September was another great step in the right direction for the industry and we look forward to more. Thank you once again."
Natural Products publisher, Dominic Roberjot, said: "Julia came up with the initial idea of the Natural Beauty Yearbook just over eight years ago.  We are therefore delighted to welcome her back as editor this year.  Her initial vision for the Yearbook was one that educated, informed and entertained the entire industry and I believe we have produced a guide that really delivers on her initial vision."
The reception was sponsored by organic beauty brand Melvita and took place at Whole Foods Market's Fulham Broadway store. The full Top 25 Who's In Natural Beauty 2015 – as voted for by the industry – is:
Kirstie Sherriff, co-founder, Pinks Boutique
Sonia White, managing director of Amarya and LoveLula
Alexander and Kim Barani, co-founder, Kinetic Natural Products
Rebecca Goodyear, Rebecca Goodyear PR
Janey Lee Grace, journalist and author
Sarah Brown, owner, Pai Organic Skincare
Simon Golding, owner, Australis
Elijah Choo, founder, Bodhi and Birch
Claire Vero, founder, Aurelia Probiotic Skincare
Tracey Robinson, founder, Vert PR
Jayn Sterland, commercial director, Weleda
Graeme Hume, owner, Pravera
Rivka Rose, founder, Faith in Nature
Dr Pauline Hili, founder, Nourish
Tracy Taylor, product development manager, Herrco
Fiona Klonarides, founder, The Beauty Shortlist
Imelda Burke, owner, Content Beauty
Margo Marrone, co-founder, The Organic Pharmacy
Joanna Jensen, founder, Child's Farm
Dr Mariano Spiezia, Inlight skincare formulator
Simon Ford, brand manager, Melvita UK
Abi Weeds, founder Odylique (previously called Essential Care)
Victoria Brock, founder, SoukSouk
Wendy Stirling, founder, Botanicals
Emma Coleman, founder, Inner-Soul Organics
Have your say in the next Who's Who.  Click here to nominate.