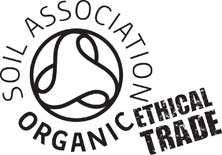 Yeo Valley, the UK's biggest organic brand, has signed up to the Soil Association's Ethical Trade scheme.
This means that all the milk used for Yeo Valley products – yoghurt, butter, cheese and milk – is now certified to Soil Association Ethical Trade standards. Following a major rebrand, their new packaging – which includes the Ethical Trade logo – went on sale this week.
The Soil Association Ethical Trade symbol can be found on organic products which have met, and been independently certified to, high ethical standards across the whole supply chain from field to finished product. The standards cover trading relationships, employment conditions and social and cultural contributions. The standards were launched in 2008 following long standing calls to create a 'fair trading' scheme for organic farmers, in both the UK and abroad. Yeo Valley is the third company to sign up to the scheme, joining Doves Farm and Calon Wen milk cooperative.
Sarah Compson, Soil Association Ethical Trade project manager, said: "One of the Soil Association's driving aims is to ensure that good food is available to everyone in society. For us good food is not just organically grown, minimally processed, fresh and seasonal, but it is also produced fairly – fairness being one of the four principles of organic agriculture as outlined by the International Federation of Organic Agriculture Movements."
Tim Mead, Yeo Valley  managing director, said:
"We're proud to display the Soil Associations Ethical Trade logo as we've always strived to do the right thing and this logo shows consumers that we're recognised for doing just that.  While 95% of gaining the certification was simply demonstrating how we have worked for years, meeting the standards led to us refining the way we do some things.  As far as we're concerned, meeting the standards endorses our objective of doing the right thing and, crucially, helps us tell our customers why they should choose our products."