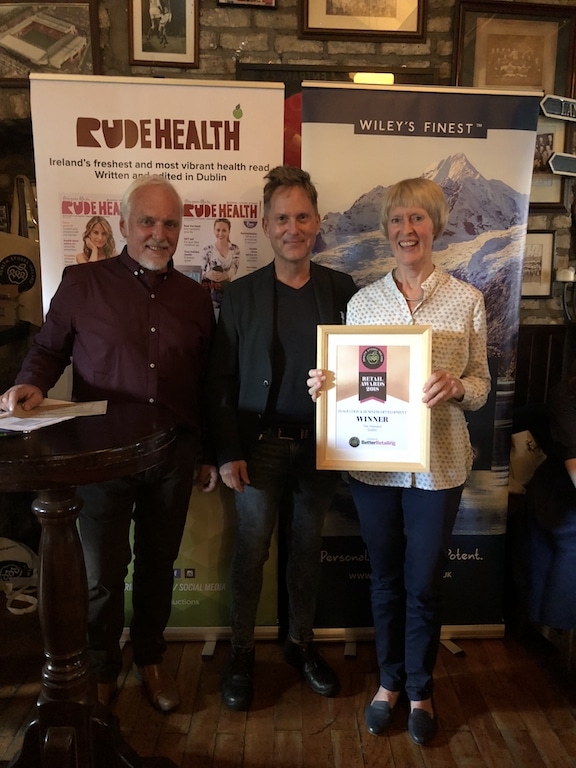 Last weekend Vitality Expo hosted the Irish Health Food Industry Awards – coordinated by event organizer Health Stores Ireland and co-sponsored by Wiley's Finest and Better Retailing Magazine.
The awards, which recognize the achievements of independent health retailers, were presented during a special event by key industry figures including radio presenter Jemma Kehoe, Patrick Holford, Dr Marilyn Glenville and Dr Rob Verkerk (ANH International).
The top five health stores were named as: The Hopsack in Dublin (Innovation & Business Development); Natural Health Store, Wexford (Community Engagement); Evergreen, Galway (Training & Education); Organico, Bantry (Environmental Initiatives); and Only Natural, Wexford (Digital Marketing).
Simple Simons in Donegal, Quay Co-Op in Cork, Healing Harvest in Kinvara and The Aloe Tree in Ennistymon all won Special Environmental Initiative Recognitions, while the Pat Curran Award for Excellence in Service (voted for by the readers of Rude Health magazine) was presented by editor Lucy Taylor to Angie Myles of Golden Health Store, Longford.
The highest achievers in Health Food Institute training and education were also recognized. The Andrew Cape Memorial Award for the highest achiever in the Diploma course was handed to Melanie Philips of Blasta Wholefoods, Dungarvan, while the Del Eagle Award for the Certificate course was presented to Amanda Davis of Evergreen, Galway.
Irish consumers are enthused by a genuine smile and extremely knowledgeable and caring staff, and the country's health stores lead the way in these respects
A special industry recognition award was presented to Independent Irish Health Foods to mark ten years' service to independent retail, and a special plaque to celebrate the life of former Health Stores Ireland administrator, the late Del Eagle, was presented to her family on behalf of her friends all across the health food sector.
Earlier, industry product awards were awarded to A. Vogel Echinaforce Throat Spray (Best Supplement), Bragg Apple Cider Vinegar (Best Food Product) and Weleda Skin Food (Best Bodycare).
Announcing the winners, Better Retailing Magazine editor Alistair Forrest, said: "Irish consumers are enthused by a genuine smile and extremely knowledgeable and caring staff, and the country's health stores lead the way in these respects."
Main image: L-R Alistair Forrest and Rob Verkerk with winner Erica Murray (The Hopsack)