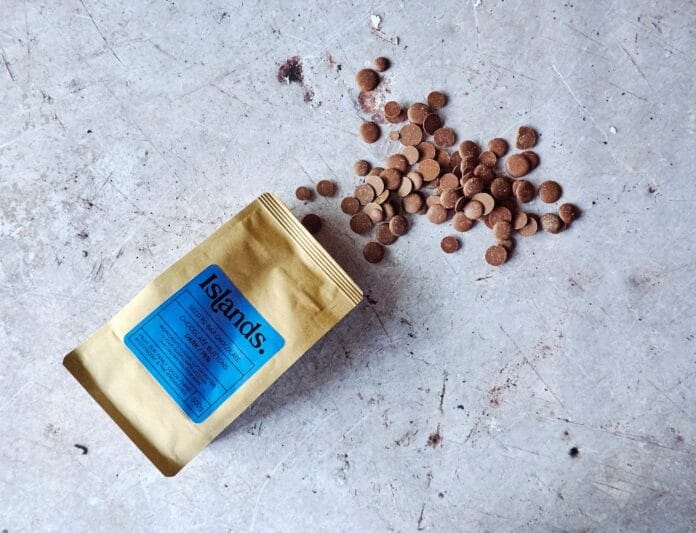 Seed to bar artisan chocolate company Islands Chocolate has launched a five-strong range of chocolate Buttons made with Caribbean cacao.
To date, Islands Chocolate products have only been available via its website and in iconic and Michelin Star restaurants – including Chiltern Firehouse and Gleneagles – and the launch is part of its strategy to secure national retail partners.
Islands Chocolate buttons can be consumed straight from the bag but are also designed for home-cooking, which has surged as a trend post-COVID.
Available in 300g bags, the Buttons are available in five varieties:
55% Milk Premium – dark milk chocolate with hints of caramel and fruit and a higher percentage of cocoa than most other milk chocolate products
65% Dark Premium – a 'fruity explosion' packed full of flavour, with subtle citrus notes and banana undertones
75% Dark Premium – providing a balance between fruit and nut, this can provide 'a moment of indulgence' or used to cook with
85% Dark Premium – described as a well-balanced dark chocolate with very little bitterness, this chocolate is used in numerous Michelin star kitchens and has been praised for its subtle notes of citrus and earthiness
100% Dark Premium – this intense chocolate is perfect for those who like their coffee black. As well as a complex eating chocolate, it can be used in sweet and savoury dishes.
"The Islands Chocolate's Buttons range will meet burgeoning consumer demand for high quality and innovative home-cooking products and will support the business in expanding its distribution with retail partners in 2020 and beyond," says the brand's Wilf Marriott.
"The Islands Chocolate Buttons are ideal to enjoy straight from the bag but are also the perfect ingredient for cooking and are ideal to keep at home for culinary creations."
Islands Chocolate says it goes far beyond the bean-to-bar ethos with every step, from planting the cacao seed through to making the chocolate, within the company's control and fully traceable to guarantee reliable quality and ethical practices.