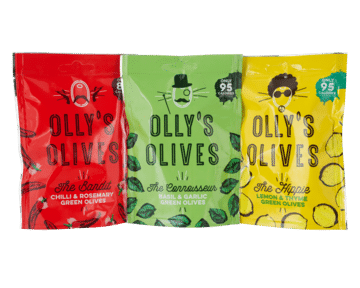 Start-up brand Olly's Olives has launched its core range of olive pouches to Sainsbury's.
Bio-Synergy has rebranded its sports nutrition range – which is specifically formulated for women – to reflect is use of 100% natural ingredients.
Cherry Plum is the latest flavour from Remedy Kombucha, pairing cherries with the native Australian kakadu plum.
Crazy Jack sponsored the Northamptonshire Trampoline and Gymnastics Academy in its bid to win at the British Championships in September, when the team won a tally of medals from Bronze to Gold.
Baby & child toiletries brand Childs Farm  has won the prestigious IGD Award for Small Business of the Year.
UK online recipe box service Mindful Chef has appointed former Marks & Spencer head of food online and strategy, Tim Lee, as CEO.
New from Sanatio Naturalis come two Ultrasonic Aroma-Diffusers for improved air clarity and skin hydration.
John Stapleton has joined The Primal Pantry as non-executive chairman and a director of the board.
Twinz chopsticks are made from 100% aerospace grade titanium, making them bacteria and corrosion resistant and completely non-toxic. They are environmentally sustainable, super strong, fully recyclable and come in a convenient carrying case for life on the go.
New from sustainable skincare company Beauty Kitchen is its Limited Edition Berry British Sustainable Beauty Oil.
Organic chickpea puff brand HIPPEAS has selected its leading SKU Sweet & Smokin' as the initial flavour for its first ever multipack format, containing five snack packs.
BetterYou Iron Oral Spray won Best New Product at the Natural Health Trade Summit Product Awards 2018, while the brand's DLuxInfant Vitamin D Oral Spray got silver in the Best Baby/Toddler Supplement category at the Boots Maternity and Infant Family Awards in Ireland.
Linda McCartney's has launched a trio of vegetarian pizzas featuring toppings made with the brand's meat substitutes: Chicken & Pesto; Spicy Beef & Jalapeno; and Arrabiata Chicken, Chorizo & Chilli.
Rubies in the Rubble has landed a listing for its Aquafaba Mayo in Sainsbury's stores.
Good Hemp has created a new chilled hemp drink to its range, available in Unsweetened and Original varieties and packaged in clear 750ml recyclable bottles.
Plenish has launched a new gluten-free Organic Oat Milk, which is unsweetened and claims 70% less sugar than its competitors.
The AQUA Carpatica Kids' range has won Silver in the Best Baby/Toddler Drink category at the National Parenting Product Awards 2018 in Ireland.
Vivera has introduced its 100% plant-based burger, the Veggie Quarter Pounder, to a selection of Sainsbury's supermarkets.