Jonny Wilkinson-founded No.1 Living has added to its selection of bottled kombuchas with new Kombucha Health Shots and sparkling Water Kefirs.
The No.1 Living Kombucha Health Shots are designed to offer a quick, invigorating health boost with a kombucha base, two billion active live cultures and prebiotic fibre to support good gut health. They are enhanced with vitamins and minerals chosen to support normal gut, immune and brain health, and come in two varieties:
Gut & Immune Kombucha Health Shot with Ginger, Grapefruit & Lemon provides 100% NRV vitamin C from natural acerola and 500% NRV vitamin D3 from the addition of algae
Gut & Brain Kombucha Health Shot with Elderberry, Blueberry & Açai contains 100% NRV iodine through the inclusion of Scottish seaweed, to support cognitive health, as well as 100% NRV of vitamins B3, B6, B7 & B12 to help invigorate, energize and support psychological health.
The shots are 100% natural, low in sugar, vegan and presented in sustainable mini glass bottles with recycled plastic labels.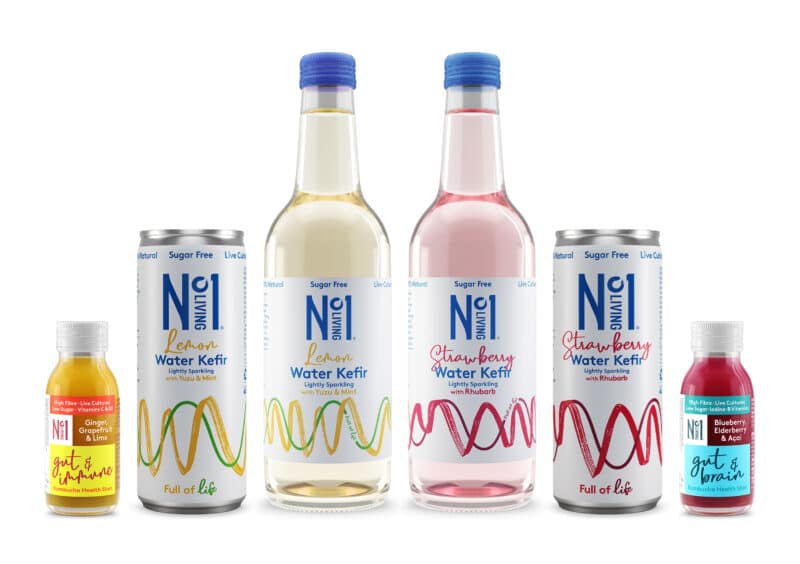 Commenting on the launch, CEO Tim Lennox, says: "We're excited that No.1 Living is the first brand that has addressed the needs of the nation by creating an extremely easy drink format that enables consumers to address their health needs – which are heightened during the current pandemic – a kombucha-based shot with the addition of live cultures, fibre, vitamins and minerals that are proven to improve gut, immune and brain health. Simply the most advanced shots on the market right now anywhere in the world."
The Water Kefir is a lightly sparkling fermented drink with added live cultures which has been introduced as a dairy-free alternative to milk-based kefir and a caffeine-free alternative to kombucha. Available in Strawberry Water Kefir with Rhubarb and Lemon Water Kefir with Yuzu & Mint, the recipe combines water kefir with lemon juice and apple cider vinegar. The kefirs are 100% natural, sugar-free and come in at only 4kcals per 100ml. They are packaged in sustainable glass bottles.
"We have kept our kefir water deliciously simple. Like our kombucha, it is made using a symbiotic community of bacteria and yeast (SCOBY) in the form of kefir grains – translucent crystals of bacteria and yeasts that ferment the sugar, converting it into a range of organic acids, vitamins and enzymes," explains the brand's resident nutritionist Philippa Wallis. "Unlike our kombucha, our kefir water is caffeine-free, and therefore a suitable and refreshing drink for all the family."