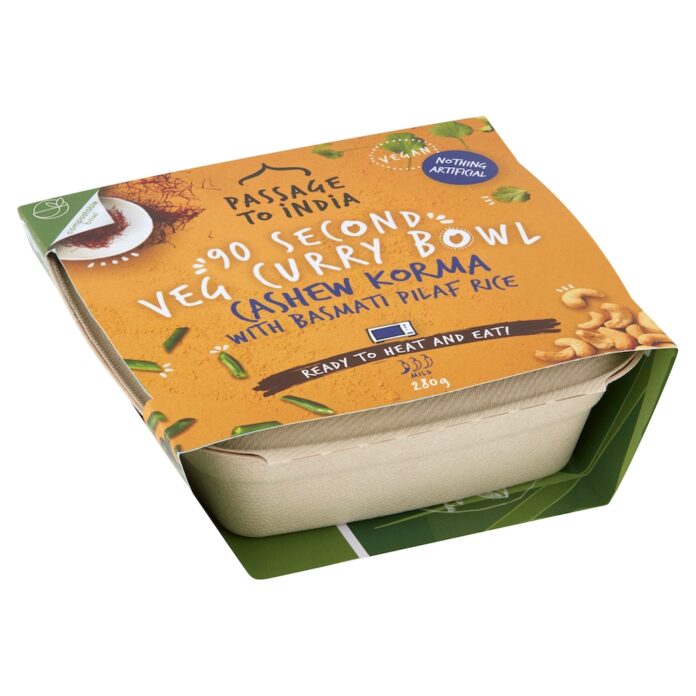 Australian brand Passage Foods' latest UK launch is Passage to India 90 Second Veg Curry Bowls designed to give meat-reducers a quick and easy product with a longer shelf-life.
The authentic, natural vegan curry bowls (with compostable packaging) are available in Cashew Korma, Goan Spiced Coconut, Tadka Lentil Dal and Butter Masala. All are served with basmati pilaf rice and come with either a crunchy fried onion topping or sweet mango chutney.
The meal-for-one bowls have been developed alongside speciality chefs using quality ingredients and flavours from each region of origin and aim to meet the needs of time-poor homeworkers, busy families and the increasing demand for vegan foods.
"When developing our new Passage to India 90 Second Veg Curry Bowl's we wanted to make sure that as well as being quick to make, tasty and healthy, they don't contribute to the worlds growing plastic consumption crisis," says export manager Glen Collyer. "We have made this product as recyclable as possible with the compostable Bagasse bowl and cardboard sleeve.
"Much like our Passage Foods simmer sauces, all recipes have been developed using local chefs from the region of origin as well as the unique flavours which give the bowl its authentic taste."
The Passage to India 90 Second Veg Curry Bowls were first released in Australia in summer 2020 and won the country's largest independent consumer survey, the Product of the Year Award for 2021.