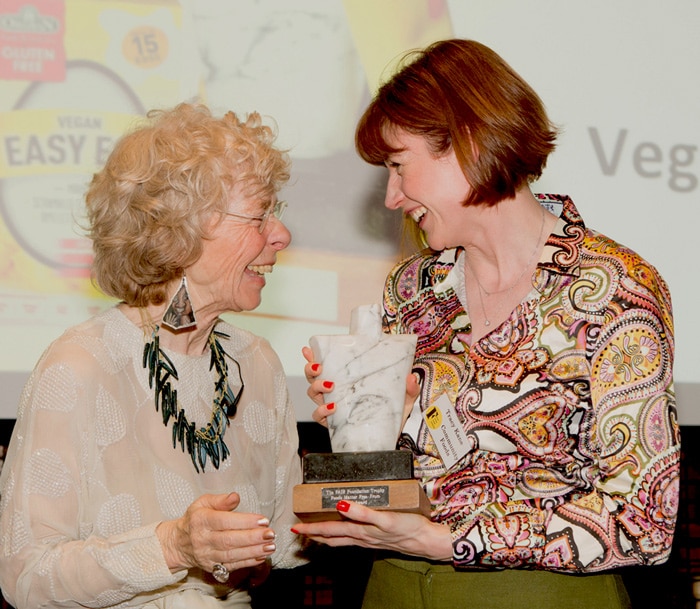 It's that time of year again, when the winners of the Freefrom Food Awards are announced, and this year's top accolade – the FAIR trophy for Best FreeFrom Food – was presented to Orgran for its Vegan Easy Egg.
Orgran was one of over 30 winners who received their certificates at the FreeFrom Food Awards annual networking party held at at the Royal College of Physicians on 17 April.
Other Gold winners included:
No Top 14: Gosh! Sweetcorn & Quinoa Bites with a hint of Harissa & Paprika Breakfast
Food: Nush Almond Milk Yoghurt Blueberry
Store Cupboard: The Real Yorkshire Pudding Co Gluten Free Yorkshire Puddings
Food To Go: Jake's Boost Tiger Boost snack pot
Superfoods and Sport Supplements: Choc Chick Choc Go Cacao Nibbles
Savoury Snacks and Crackers: Nairn's Rosemary & Seasalt Flatbread
Children's Food: Green Sisters Veggie'Licious Samosas
Desserts and Puddings: Booja Booja Chocolate Salted Caramel
"We wondered whether we had hit the high point last year with our 10th anniversary," said Michelle Berriedale-Johnson, director of the awards, "but not at all. Fantastic entries this year – a wider range of products – so many gluten-free beers that we had to schedule multiple judging sessions! And not only excellent products, but so many of them free of multiple allergens. Again this year our No Top 14 allergens category had one of the largest entries. FreeFrom is most definitely still moving onward and upward in every way.'
For a list of all the winners, visit www.freefromfoodawards.co.uk.
Pictured: Tracy Kane of Orgran collecting the FAIR trophy for their Vegan Easy Egg, winner of the 2018 FreeFrom Food Awards from awards director, Michelle Berriedale-Johnson