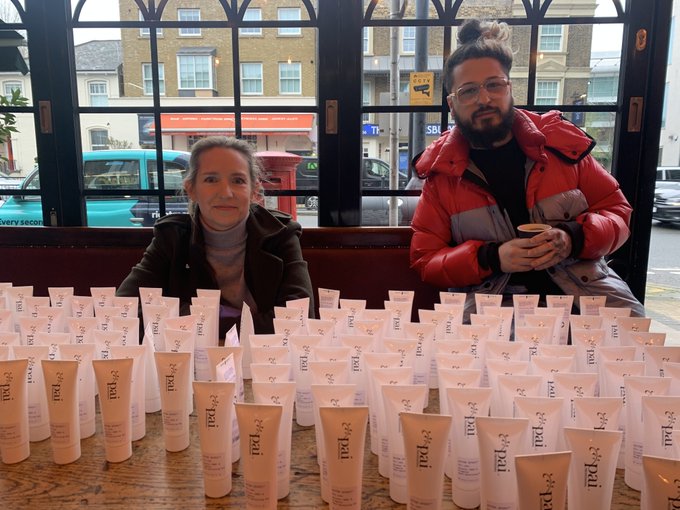 Natural brands are stepping up to the plate when it comes to helping out the incredible NHS staff and other frontline workers who are putting their physical and mental wellbeing on the line during the coronavirus pandemic.
After producing its first batch of Acton Spirit Hand Sanitizer, beauty brand Pai Skincare is distributing the product to local businesses, schools and communities around it's home area of Acton. In addition, for every tube purchased by consumers, the brand is giving another one away to a school, nursery or beauty bank charity.
Eco-friendly menstrual product brand ohne is offering to deliver free organic tampons to NHS wards around the UK to support staff. Anyone who works on an NHS ward and knows workers struggling to access period products can contact ohne directly and the company will send essential period supplies. It is also offering a half-price three-month subscription for anyone else who's struggling to access period products either due to financial difficulties or self-isolation.
Period products are monthly essentials, so we are supporting the tireless efforts of NHS and social care, by donating tampons, as they don't have time to get to a shop to get hold of them
Another brand giving out free organic tampons to NHS healthcare workers to remove the burden of buying tampons is the climate-positive femcare company DAME. Workers who contact DAME from an NHS email will receive a tampon delivery voucher.
"As a small and start up business, we have been knocked hard by the COVID-19 crisis but are extremely grateful to still be standing, and be working with our tight-knit team and suppliers," says DAME co-founder Celia Pool. "In this moment of crisis, we are trying to do our (small) bit to help. Period products are monthly essentials, so we are supporting the tireless efforts of NHS and social care, by donating tampons, as they don't have time to get to a shop to get hold of them."
Brands are also supporting Bristol-based Sow & Arrow's Health Hero Hamper giveaway to thank frontline workers with immunity-boosting health and food products. Wiley's Finest has donated its fish oils to the appeal. "The importance of supporting the community at this time is paramount," says Wiley's Finest sales director Savio Joanes. "We will do whatever we can to help. Our range of sustainably caught fish oils will help any frontline worker keep their immune system, mental wellbeing and energy all boosted."
"The one common sentiment that the global coronavirus pandemic has created is gratitude," says Pauline Cox, who started the initiative. "The outpouring of thanks to our fantastic frontline workers is palpable. We ask members of the public to nominate someone in their community to receive this wonderful hamper and offer the reasons why. From this we will not only thank those people who deserve a thank you but also help spread stories of joy and positivity."