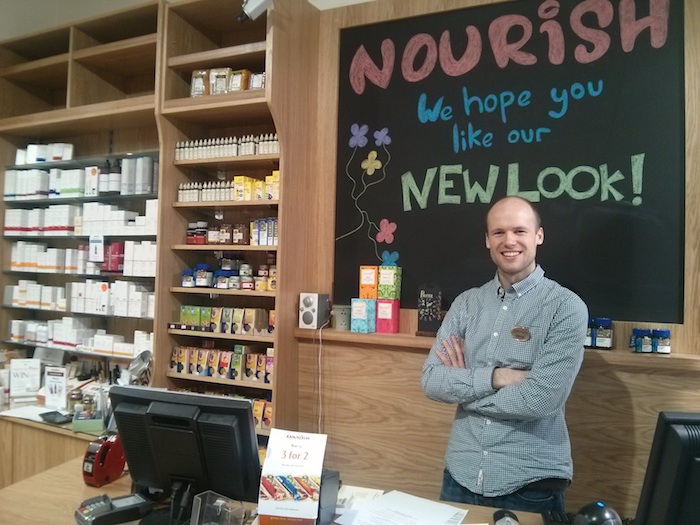 The independently-run Nourish group of health and beauty stores has unveiled a new look for its Wicklow Street store located just off Grafton Street, the main shopping street in Dublin.
Talking about the refurbishment, Michael Nee, online sales and marketing manager, explains how it came about: "The oldest of our stores is in the GPO Arcade and it was in need of a new look – it was just a little bit drab. Basically the refit looked really, really good – we got new shelves put in which increased the amount of products we could put on the floor, and the effect was so good we decided to do it to two other shops even though they weren't as in need of a refit – and they look fantastic."
The GPO Arcade and Liffy Street stores were both refitted last autumn, followed by the recent upgrade of the Wicklow Street store. "The whole shop was refitted so we have a new floor, there are new lights, new shelving, so there is a lot more space on the shop floor," says Nee. "We've got a new till and behind it is a big blackboard where we can write up offers in chalk, so it's really visually appealing."
Nee says that due to the refit, the store, which is about 673 square feet, has gained about 22 square feet of floor space, as well as around 12 one-metre shelves.
Nourish was founded in Dublin in 1986 by Derek Kelly. "We probably are the largest of the chains of Irish-owned health stores in Dublin," says Nee. "Derek Kelly, the founder, is from Dublin and it's a family business – Odhran who is his son runs the Wicklow shop, so it's very much a local business."
Founded in 1986 as a "humble wholefoods shop" in the city, the group now has an online offering through which it sells to the rest of the country.