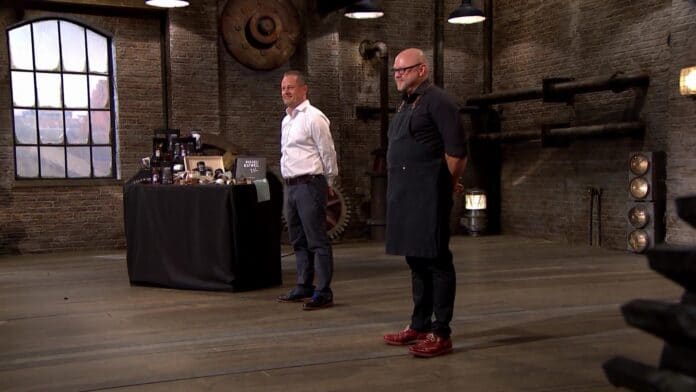 Fresh chocolate brand Russell & Atwell has received investment from two multimillionaires after founders Steve Russell and Giles Atwell presented a pitch on the BBC's Dragons' Den earlier this month.
The pair were initially looking for £90k for 9% of the business, but the first offer came from Dragon Steve Bartlett who was prepared to give £45,000 for 15%, suggesting a team-up with one or more other Dragons. This prompted an offer from each of the panel, with Peter Jones singling out Bartlett as an ideal partner with whom to share the investment. However, Russell and Atwell stood their ground, stating: "We're too far apart; we don't want to work for you, we've had 30 years of corporate careers, we want to work for ourselves."
Atwell revealed he would be prepared to give away 15% of the business, and again each of the Dragons made offers. Eventually, Russell and Atwell agreed a deal with Bartlett and Jones, offering them 20% of the business between them for the full £90k investment.
Commenting on the deal, Jones says: "I'm a bit of a chocoholic and I've seen a lot of chocolate businesses come through the Den, but nothing tasted like Russell & Atwell – it seems so obvious that 'fresh tastes best', but to experience their chocolates fresh from the fridge was in a different league – I had to invest."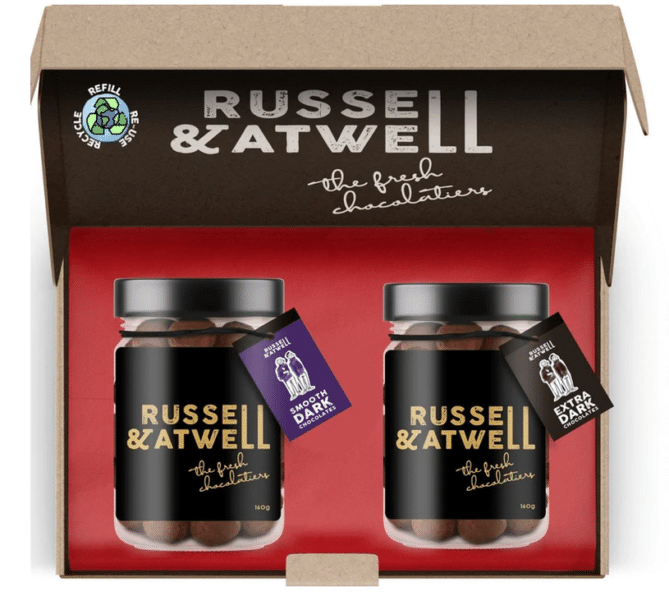 Adds Steven Bartlett: "Chocolate is my ultimate guilty pleasure and salted caramel is my all-time favourite flavour, so the Russell & Atwell Fresh Salted Caramel chocolates really sealed the deal for me. The product is already incredible and has a strong USP, so I knew with a little guidance and marketing we could really make it explode."
Launched in 2020, as an e-commerce business, the brand hand prepares fresh chilled chocolates from its Birmingham kitchen made with sustainable ingredients including responsibly sourced cocoa, fresh organic British cream, butter and wildflower honey. The five varieties are: Creamy Milk, Scrumptious Salted Caramel, Cracking Creamy Hazelnut, Smooth Dark and Extra Rich Dark.
Russell & Atwell's parent group Upside Down Chocolate Ltd has also it has appointed Nick Bunker (previously president of Kraft/Cadbury UK, CEO of KP Snacks and MD of Pladis) as non-executive chairman.