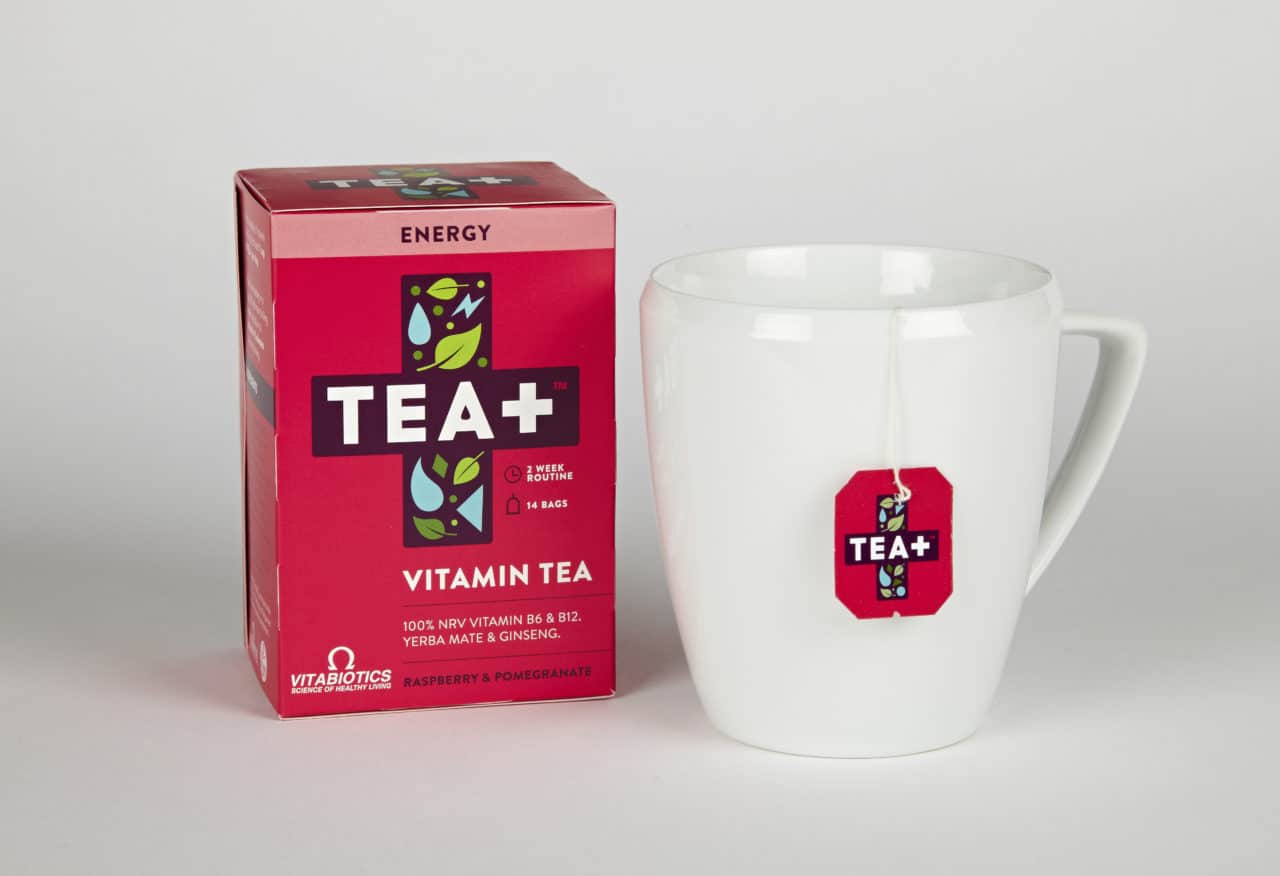 Vitamin tea company TEA+ has unveiled a new look following founder James Dawson's appearance on BBC's Dragons Den earlier this year during which he gained backing from Tej Lalvani, CEO of Vitabiotics.
Now reformulated and launched as part of the Vitabiotics portfolio, the four-strong range is split by function, and comprises Defence, Vitamin D, Cleanse and Energy. Each tea contains a mix of green tea, functional herbal ingredients, natural fruit flavours, providing up to 100% RDA of vitamins and minerals such as vitamins B6, B12, C and D, folic acid and selenium. Each box contains 14 teabags.
Available in natural mango and pineapple flavour, TEA+ Vitamin D blends lemongrass, green tea and 100% RDA of vitamin D, which helps maintain normal bones and teeth and aids in normal muscle function.
TEA+ Defence is a combination of echinacea and ginseng with 100% RDA of vitamin C. Designed to help support the immune system, it has natural orange and blueberry flavouring.
TEA+ Cleanse is a blend of milk thistle, dandelion root and ginger root with selenium, vitamin C and B complex, including biotin. Designed to help cleanse the body to aid in a natural detox and help protect against free radicals, the tea is naturally flavoured with apple and blackcurrant.
Created to help with an active lifestyle, natural raspberry and pomegranate flavoured TEA+ Energy combines yerba mate, vitamin C and ginseng with 100% RDA of eight B vitamins, including vitamin B6 and B12 which contribute to the reduction of tiredness and fatigue.
Explaining the decision to rebrand, Dawson says: "It's a huge opportunity for us. We set out to evolve the healthy hot drink space by introducing the world of supplements to the category for the first time. This partnership gives us the ability to leverage the expertise and trusted brand name of Vitabiotics and will take the range to a whole new level."
Tej Lalvani adds: "Vitamin infused tea is something we have been considering for a long time at Vitabiotics, so when James presented the product range in the Den, I was immediately interested in becoming a partner. So far I'm really impressed with what the business has to offer and I'm very excited about TEA+ becoming a long-term partner of Vitabiotics."