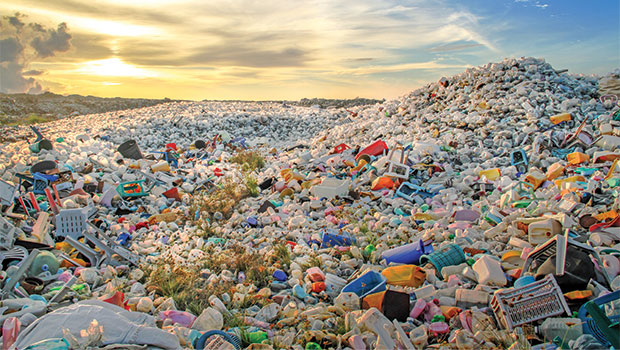 As the world finally wakes up to the disastrous effects of plastic on our environment, Rosie Greenaway examines the measures being taken to limit future impact and reverse the damage, speaking to the retailers who are saying no to packaging. These zero waste pioneers are highlighting the political sway of consumer purchasing power, challenging the industry to lead from the front line and radically re-think its attitude towards plastic
Unless you've had your head buried in the littered sands of the world's beaches, you'll be aware that public conversation about plastic's devastating impact on the planet has recently intensified. Who could forget wildlife photographer Justin Hofman's haunting image of the seahorse gripping the cotton bud? A sad moment captured became a defining symbol of the problem. 
The harsh truth is, plastic is everywhere. With the barrage of warnings about the dangers of microplastics to humans and wildlife, it's a problem we can't afford to ignore. No longer the domain of staunch environmentalists, this issue has reached such a critical point that plastic conversations have finally rippled their way into all corners of Britain, from the office water cooler to the upper echelons of Parliament. 
Whether you welcome the Government's 25 Year Environment Plan or sit on the side of scepticism, the general consensus is that tangible action must be taken – and fast – at every level: policy, industry and consumer. For change to occur, and for damage to be reversed, we need a complete societal overhaul in how we create, sell and dispose of packaging.   
Waste not, want not 
Earlier this year, Theresa May proposed plastic-free aisles in supermarkets, but a group of forward-thinking independents have a more radical solution: zero waste retail. From north to south, online and offline, stores with a zero waste ethos are cropping up everywhere, saying no to plastic and taking a stand against pointless packaging. Driven by energetic retailers with loud voices, these stores are teaching shoppers a new way of life, highlighting how zero waste can be struggle-free.  
For Graham Sharp and Lizzie Leman, co-founders of Glasgow's Zero Waste Market (ZWM), the mission began with personal lifestyle choices which they felt compelled to share. "It came out of our frustrations with single-use plastics in our daily lives. I was quietly confident that there would be a good reaction to it in Glasgow," says Sharp. 
Once launched in markets, Sharps says 'it steamrolled from there', and they now sell online too. "People ask us to source stuff they're struggling to find. The plan is to move into foods and refills – like a food assembly, click-and-collect service – and eventually have our own premises."
Sharp believes that what helps people get over 'the fear factor of shopping in a different way' is easy access to retailers who have ditched packaging. "I think if it's not a convenient location, not near people's houses, that's one big barrier. But there's also a barrier if you have to … go to numerous places." 
Yet for fellow zero waste pioneer Laura Boyes, founder of London's Hetu, customers travel considerable distances if their own neighbourhoods are lacking. "We get people travelling from far and wide. A lot of customers say  'I really can't wait for one to open in my local town' because they're dedicated to the cause … but it's far for people; some people travel for an hour here and then back again. Luckily more shops are opening."
The Blue Planet effect
Through running workshops, ZWM is educating Glaswegians about their options. "It's about being achievable and raising awareness so people know where plastic bottles end up. If you're buying a bottle every day and you reduce it to once every three months … that's a huge difference over your lifetime." 
Sharp has noticed a growth in awareness, particularly in the wake of a certain popular documentary. "Blue Planet: it's in people's consciousness," he says, adding that 'politicians talk about it every two minutes'. But this retailer isn't encouraged by the 25 Year Plan. "I don't know if many people are. It's funny to hear Michael Gove talk about how he's seen Blue Planet … it's like they've never had any environmental issues put on their desks before. Maybe I'm a bit cynical about the Government. I think they wouldn't bother if voters didn't have an interest. It's a very unambitious target from Westminster. The most important thing is to get into people's consciousness and raise awareness that way. The quickest way to get to politicians is through voters; that's what pushes governments to make these decisions and regulate."
Voting with your pocket
Boyes agrees, calling the recent efforts from political leaders 'laughable'. "It's all fluff. Focusing on straws and plastic bags is just … a way to keep the public quiet. I know the reality is they have a lot to deal with, but until something catastrophic happens … [the Government] isn't going to wake up," she predicts. "The term of a government is such a short period of time to make change. All they're doing is faffing around, internally arguing with each other. 
"What I say to people is, you can go to the polls … but if you vote with your pocket, that's where you can actually effect change. If you keep buying cans of cola and plastic labels, you're saying: 'Please keep making this'. I think once you start putting policies and legislation in place it shouldn't impact the general public. It has to be done at corporation level; companies have to think about it a bit more."
Boyes says that while there is 'a lot of discussion around zero waste being a middle-class, affluent thing', wealth is not a prerequisite to shopping without plastic. "I was brought up in a naturally zero-waste home because my parents didn't have much money. People live zero waste and plastic-free without having to label
it. But I do think if you have the money … you should make the right decisions so it can become more mainstream for everyone."
Refuse. Reduce. Reuse. Recycle
Society owes a lot to Gary Anderson, the 23-year-old student who, back in 1970, designed the globally recognized symbol for recycling. Those three green arrows have spread a powerful message over the past five decades, but now experts say a new wave of thinking is called for – and it's a mindset which places recycling last in a list of environmental priorities. As Sharp points out, recycling might be a hot topic in the mainstream but it's not the ultimate goal. "While recycling is obviously great, it's not the first step; it's the second last one before waste. It would be good to get into the public consciousness the 'refuse' step … having the confidence to say no. Taking their own water bottles, bringing their own shopping bags, refusing plastic at the fruit and veg shop." 
Boyes, who is an active member of her community, believes much of the onus lies with local councils to improve recycling facilities. "The councils are not doing enough when it comes to food recycling. That's a big gripe with our customers. I've actually contemplated moving to a borough that does food recycling, but I need to stay and fight for this borough." 
A promising U-turn
Every year an estimated eight metric tonnes of plastic enters our waters. By 2025, scientists predict this will have tripled. Encouragingly, society is slowly attempting to undo the damage of 20th century consumerism, from charity-led beach clean-ups to packaging innovation. In October, The Ocean Cleanup Foundation's 2,000ft-long floating U-shaped pipe – nicknamed Wilson – began tackling the Great Pacific Garbage Patch: an area of floating debris twice the size of Texas. The system is a world first, with a deep net which traps rubbish in order for it to be recycled into new products. If it works, it could bring unparalleled improvements to the health of the ocean, its inhabitants and the purity of our food chain. 
But Boyes finishes on a sobering reality: plastic is forever. "It never goes away. There was that saying that every piece of plastic that was ever created still exists. Technically it doesn't, because we're incinerating … but it's still going into the atmosphere. It's still around in molecules, and we haven't even scratched the surface of how bad that's going to be. We don't know what that's doing to us."
New home compostable packaging for Alara
ALara Wholefoods Ltd.
Tel: 020 7387 9303
E-mail:  [email protected]
www.alara.co.uk
Alara created the first recipe for muesli without added sugar in 1975 and evolved to be the first cereal company in the world to be certified Organic, and the first food company in the UK with Zero Waste in 2008.  This year, Alara rebranded their products introducing home compostable packaging and improving their recipes as part of their commitment to creating delicious and sustainable foods. They are the first cereals manufacture to pack their products using a plant based film (inside a fully recyclable box) which is completely home compostable and non-toxic to the environment. Try delicious and sustainable Alara today.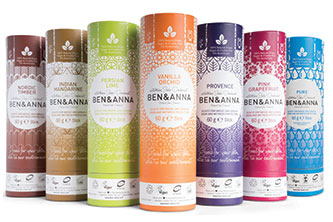 Pravera Limited
Tel: 01557 870203
E-mail:  [email protected]
www.benandanna.uk
The Ben & Anna Natural Soda Deodorants contain a unique blend of natural ingredients to keep you dry and smelling fresh. Bicarbonate Soda is known for its anti-bacterial properties and works to help keep you whiff-free, whilst arrowroot narrows the pores and helps keep the skin dry. Together they form a safe yet effective formulation which can compete with any high street brand, all whilst still being free from aluminium and any other potentially harmful chemicals. Originally released in plastic packaging and now available in handy recyclable paper tubes to help reduce your plastic waste.  Available in 7 amazing scents, including Pure with no added fragrance.
Natural Shampoo Bar – Lavender & Geranium
Friendly Soap Ltd
Tel: 0170 6818 666
E-mail:  [email protected]
www.friendlysoap.co.uk
Every Bit Of Plastic ever made, still exists, somewhere. All our packaging and postage is 100% recycled, recyclable and plastic-free. Our nourishing Shampoo Bar is made with Castor Oil to create a deeply conditioning, creamy lather that cleans and cares for your locks and scalp. A long-lasting, compact bar with the relaxing essential oils of Lavender and Rose Geranium. 95g
Carrinet Veggio Reusable Fruit and Veg Bags – Pack of 5
2tech Ltd
Tel: 01483 245 111
E-mail: [email protected]
www.carrinet.co.uk
Carrinet Veggio is a set of 5 reusable drawstring net bags in designed to replace plastic veg bags in supermarkets and grocers. They are machine washable, quick to dry, allow your fresh produce to breath and stay fresher for longer. Veggio is made of food grade, high quality, 100% recyclable polyester, and includes a side label where you easily can attach scanning price tags. You can rinse groceries through the bag when you get home. Veggio is machine washable at 40 degrees, and stress-tested to 10kgs!  Also suitable as a laundry bag and great for fridge organisation! This set contains 5 different sizes.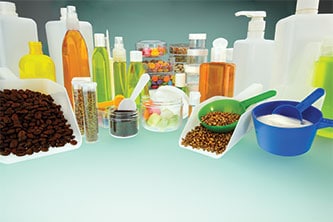 Measom Freer & Co Ltd
Tel: 0116 2881588
E-mail:  [email protected]
www.measomfreer.co.uk
Measom Freer is proud to announce it has achieved the BSI ISO 14001:2015 Certificate in Environmental Management.  We believe we have a moral duty to protect the natural environment and are committed to minimising our global impact as a business by improving resource efficiency, reducing waste and reducing costs.  We ensure that our stock products including bottles, caps and jars are sustainable by sourcing materials such as polythene that can be readily recycled, PPR (post production regrind) is also used in all stock products.  We believe that customers should also be offered the choice of using eco materials, like Bio-based Copolyester and rHDPE (a PCR Post-Consumer Recycled HDPE) and can offer these on a made to order basis for our products.
OrganiCup
OrganiCup
Tel: +45 2371 8040
E-mail: [email protected]
www.organicup.com
OrganiCup is a reusable menstrual cup that is healthier for the body and the planet. OrganiCup is reusable for years, saving the environment for a huge amount of waste per user from disposable pads/tampons. Not only is the cup itself a much greener alternative, OrganiCup also has a very distinct packaging made of recycled carton. The user guide is printed directly on the inside of the packaging to prevent additional waste and the storage bag for the cup is made of unbleached, organic cotton. OrganiCup is registered with The Vegan Society and is the only menstrual cup that is AllergyCertified.