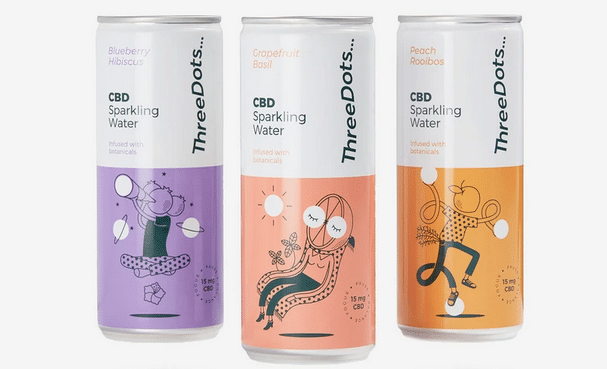 CBD drinks brand ThreeDots has announced the purchase of 24% of the company in founder shares by athlete-led media organization 4CAST.
The ThreeDots range of sparkling waters comprises a trio of flavours – Grapefruit Basil, Peach Rooibos, Blueberry Hibiscus – formulated to offer a healthy way to reduce stress and promote performance using functional ingredients including 15mg of CBD, immune-boosting ashwagandha, ginseng for energy and lemon balm for focus.
The 4CAST founders – Stuart Broad, Ben Stokes, Jofra Archer and Mike Turns – consumed the drinks during lockdown to increase focus during their e-sports gaming sessions and aid relaxation once they'd finished playing. They will now take on an active role as co-owners, driving the product line forwards to new customers and international markets.
"I'm delighted to have the 4CAST team as partners, in particular Stuart, Ben, Jofra and Mike," says ThreeDots founder Sean McLintock. "They have shared our belief and commitment as a company to promoting healthy alternatives and raising mental health awareness. Their continued support and expertise will help us promote ThreeDots to a wider audience as well as showcase CBD as a natural lifestyle product for professionals in all walks of life."
Adds Stokes: "All of us here at 4CAST are very excited to be working alongside the team at ThreeDots. The vision they have with the product is certainly something we are very happy to put our company's name alongside. Not only do we understand the positive effect CBD has on us as athletes but also in our day to day lives."
"Having personally experienced the benefits of CBD after gaming sessions and finding myself more relaxed in general, I've made ThreeDots a part of my daily routine," says Turns. "I have really noticed the impact on my everyday life and I'm very excited to take these products to a wider audience together with Ben, Jofra and Stuart."