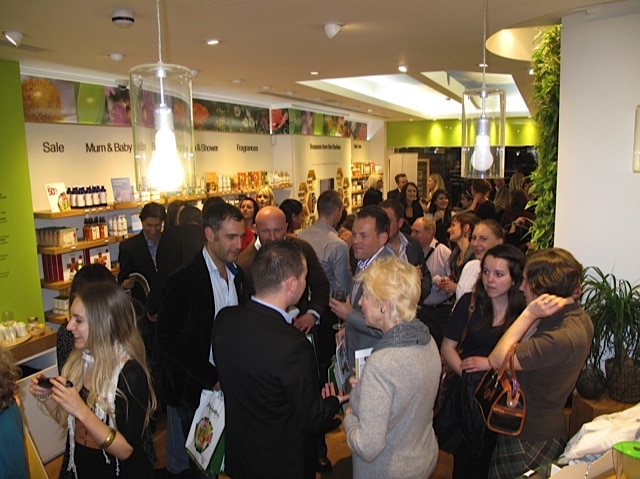 If you were one of the lucky people who made it out to Melvita's Covent Garden store for our launch party you'll already know that the Who's who in natural beauty 2012 list has been unveiled.
The annual hot list, which lies at the heart of the Natural Beauty Yearbook, is voted for by the industry and provides a snapshot of this thriving market.
"I'm happy to say that we received more votes than ever before this year from people who are truly passionate about the brands and personalities they have nominated," said Yearbook editor, Matt Chittock.
For 2012, Simon Duffy and Rhodri Ferrier from Bulldog scooped the top spot.
"It's brilliant news for us and we massively appreciate the profile opportunity this gives to Bulldog. We're all delighted. Thanks so much," Duffy told the assembled crowd.
The full Who's who in natural beauty 2012 list is:
1. Simon Duffy & Rhodri Ferrier, Bulldog, co-founders
2. Eve Taylor, Eve Taylor Aromatherapy, director
3. Carol and Paul Richards, Herbfarmacy, co-directors
4. Janey Lee Grace, Broadcaster, author and speaker
5. Kirstie Allen, Pinks Boutique, co-founder
6. Jo Fairley & Sarah Stacey, Beauty journalists
7. Alexander and Kim Barani, Kinetic, co-founders
8. Simon Ford, Melvita UK, brand manager
9. Ines Hermida, Whole Foods Market, beauty buyer
10. Imelda Burke, Content beauty boutique, owner
11. Sarah Silvester, Laidbare, owner
12. Laura Rudoe, Evolve, owner
13. Sarah Brown, Pai Organic Skincare, owner
14. Abi & Margaret Weeds, Essential Care, co-founders
15. Tracey Robinson, Founder, Vert PR
16. Nic White, Alva and ONE Beauty, founder
17. Michael Lightowlers, Dr Organic, marketing director
18. Skye Connelly, The Green Grocery, founder
19. Dr Mariano Spiezia, Inlight Organic Skincare, founder
20. Andrew Dixon, Burt's Bees, manager
And if you didn't make it – here's some pics of what you missed…