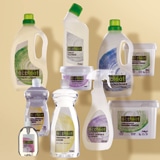 Suma Wholefoods, Lacy Way, Lowfields Business Park, Elland HX5 9DB
Tel: 01422 313848 • Fax: 01422 313869
E-mail: [email protected]
www.sumawholesale.coop
A unique range of environmentally friendly household cleaning products that are non-toxic and safe for use around the home. The Ecoleaf range of cleaning products are derived from plant extracts and are based on biodegradable and non-hazardous ingredients. Normal cleaning products are derived from petroleum-based resources and may contain harsh chemicals such as phosphates, caustics and other chemicals that can be hazardous to the user and the environment. Our ingredients are all derived from plant materials, all our products are safe for the environment. All the extracted plant ingredients are from sustainable sources. Ecoleaf — for a clean conscience.