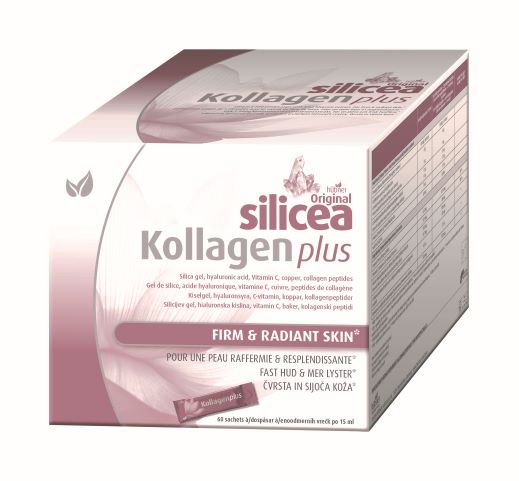 Collagen has now become one of the most popular google search terms in 2021, but collagen is only part of the story if you are looking for the ultimate beauty supplement.
Silicea Kollagen Plus combines the highest quality Verisol collagen with a whopping 150mg of Haplex hyaluronic acid and Silicea's famous Silica gel all of which have been subject to clinical studies covering, skin elasticity, wrinkles, hair & nail growth and skin moisture levels.
One of the challenges for any liquid supplement is creating a product which is palatable while avoiding the use of sweeteners, artificial flavouring or preservatives. Kollagen plus has by only flavouring and sweetening the product with mango and apple pulp, creating the best tasting product on the market.
Available in 15 day and 30-day packs containing 30 and 60 two a day sachet, the format makes customer compliance as simple as possible with ultimate portability and no requirement for refrigeration.
As part of a massive sampling campaign The Health Store will be sending out sample's packs of Kollagen Plus to all its customers in July and this will be backed up with national press advertising and a heavyweight social media campaign. Furter samples and point of sale material with be available from your WFBM representative, Natural Trade Brokers and Modern Herbals.
For further information, samples or point of sale contact WFBM on 01782 528611 or speak with your representative.
World Foods Brand Management
Tel: 01782 528611
email: [email protected]
www.wfbm.co.uk