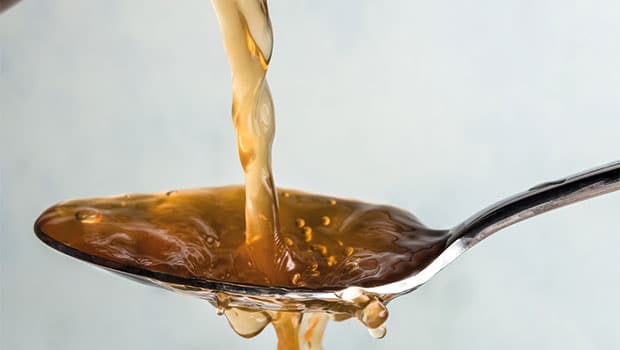 The market for apple cider vinegar products has exploded in recent years. Jo Caird finds out why
What if, instead of eating the forbidden fruit, Eve had taken two tablespoons of apple cider vinegar (ACV) diluted in Garden of Eden spring water? Would it still have led to the fall of mankind? Who knows. Would it have lowered Eve's blood sugar and cured her indigestion? Quite likely, say adherents of one of the most hyped products on the health food and supplement market today. 
The use of vinegar – whether from apples, grapes or other fermented fruit – as a remedy isn't exactly new. Hippocrates, known as the father of Western medicine, wrote of treating wounds with it in the 5th century BC, and through the ages there are examples of its use in folk medicine in societies around the globe. 
Hard scientific evidence into the health benefits of ACV is still lacking but increasing numbers of consumers, brands and natural healthcare practitioners swear by it. They claim it aids digestion, helps to control blood sugar level spikes and, by creating a feeling of satedness, can be beneficial for those seeking to lose weight.  
Hardly surprising therefore that the UK has seen a massive growth in the market for ACV in recent years. The American producer Bragg began importing its Organic Raw Apple Cider Vinegar to the UK in 2013, selling around 95,000 units that first year. By 2018 they were shifting 1.57 million units here. 
Dana Glaiel Houareau, business development manager at Omnivita, Bragg's UK and European distributor, puts this rise down to a number of factors, including the increasing incidence of type two diabetes, a greater awareness of the importance of fermented foods to gut health and what she calls 'the organic revolution'. 
Handy all-rounder
In addition, she says, the zero waste movement has seen 'more people looking for a multitasking natural product that is in tune with nature and doesn't harm the environment'. ACV – which can serve as a cooking ingredient, supplement, hair rinse and cleaning product – is the ideal all-in-one, she suggests.  
Many people enjoy the taste of ACV, whether in salad dressings or diluted in water as a tangy tonic. But it's not for everyone, explains Sarah Looms, category manager for VHMS at Holland & Barrett (H&B).
"Liquids have traditionally been the most popular format for apple cider vinegar, as they provide an unfiltered, natural format. However, tablets, gummies and effervescents have grown in popularity over the past five years, driven by customers wanting a convenient, tasty (or tasteless) format."
There are dozens of different ACV products on H&B's website but it's the gummies and effervescents that have seen the fastest growth, says Looms. Not only do the latest cider vinegar products offer all the nutritional benefits of liquid vinegar, with its cloudy probiotic substance 'The Mother', they can also be formulated to contain additional micronutrients, from vitamins and minerals to other probiotics and antioxidants, thus saving customers the hassle of taking multiple separate supplements. 
"We like to see ACV as one of nature's greatest gifts to us"
There are combinations to suit all needs. H&B's own-label ACV tablets are available in a range of different micronutrient formulations. Goli Nutrition, meanwhile, which claims to have been the first brand to market cider vinegar in gummy form, includes beetroot, pomegranate and vitamins B12 and B9 in its mix. 
British company Dietapplements, which specializes in 'clean-label, free-from dietary supplements', launched its ACV complex capsules in June. For founder Hala Ali, finding the right formula was as much to do with which ingredients to leave out as which to put in. 
"It just doesn't make sense or sit well with me to consume supplements full of unnecessary additives," she says. "We only add pure, active ingredients to our products, including, of course, the apple cider vinegar formula." As well as ACV, you'll find turmeric, ginger, black pepper and cayenne pepper, plus blueberries, bilberries and probiotics. 
Easy option
Among those brands preferring to keep it simple with their formulations is New Nordic, whose Apple Cider Gummies won Best Health Product in the Beauty Shortlist Awards this year. The sugar-free gummies – over 100,000 tubs of which have been sold in the UK so far this year – are a 'deliciously convenient alternative to taking apple cider vinegar', says awards founder Fiona Klonarides. "We loved the natural flavour – and equally importantly, pectin is the gelling agent here, so they're gelatin-free and vegan-friendly, like an ultra-healthy gummy bear."
Nutritionist Mark Killick is watching the growth of the ACV alternatives market with interest, but favours the traditional approach himself. He prescribes unfiltered liquid vinegar to clients suffering acid reflux and other related digestive complaints. 
A couple of tablespoons in some water around 20 minutes before a meal, he says, helps the digestive process along by 'promoting the expectance of the meal coming, so that the acids start to flow, the enzymes start to be produced'. Diabetic clients also benefit from taking ACV this way, he says: "It tends to stabilize the sugars much better than if they hadn't had it in the first place." 
With more consumers discovering the benefits of ACV for themselves and more brands innovating with formulations and delivery modes, it seems like the only way is up for the ACV market. 
"We see customers asking for ACV products for everything from digestive health to joint care, and influencers have even started to use the product as a natural skin toner," says Looms. "We like to see ACV as one of nature's greatest gifts to us."
Clearspring Organic Apple Cider Vinegars
Clearspring
Tel: 020 8749 1781
E-mail:  [email protected]
www.clearspring.co.uk
Add an extra zing to your Organic September sales with Clearspring's fantastic range of Organic Italian Apple Cider Vinegars. Clearspring's range includes their best-selling Original Organic Apple Cider Vinegar and 4 delicious flavours, including a unique Matcha & Lemon, Raspberry, Peach and zingy Ginger Turmeric & Black Pepper! The range is all raw, unfiltered, unpasteurised and can be used in tonics, dressings and to cook with, or to create a wide array of mouth-watering meals. They can even be added as a secret ingredient to your favourite cocktail recipes!
Dietapplements' antioxidation & weight loss complex
Dietapplements
E-mail:  [email protected]
www.dietapplements.com
Formulated by Shona Wilkinson, leading UK nutritionist, Dietapplements' antioxidation & weight loss complex is packed with ethically-sourced botanicals. Experience the rejuvenating, revitalising effects of apple cider vinegar with added superfood benefits. We've added nature's gifts: Turmeric, Ginger, Cayenne, Black Pepper for maximum absorption, complemented with Probiotics & Prebiotics for gut health. We've even crushed 25 Blueberries & 20 Bilberries for you 🙂 It's a clean-label, all-natural solution for optimal digestion & healthy weight. This generous amount of turmeric is rare. Recharge your metabolism with high strength, world-class Apple Cider Vinegar from Suffolk, the epitome of English Apple Cider Vinegar artistry.
Apple Cider™
New Nordic Ltd
Tel: 0800 389 1255
E-mail: [email protected]
www.newnordic.co.uk
Apple Cider Vinegar – Breakdown of Fats and Health Fluid Balance. The easy and convenient way to take apple cider vinegar
Apple Cider™ is the tablet you need when you live life to the full. The unique bioactive herbal and nutrient combination contained in each tablet contributes to a normal efficient digestion and break down of fats. The tablet, which is manufactured in Sweden, contains highly concentrated apple cider vinegar powder in combination with globe artichoke and dandelion extracts plus choline "liver-vitamin". The globe artichoke contributes to a normal break down and digestion of fats in the intestines and choline contributes to normal fat metabolism and the maintenance of a normal liver function.
Suma Organic Apple Cider Vinegar
Suma Wholefoods
Tel: 01422 313840
E-mail:  [email protected]
www.suma.coop
Our apple cider vinegar is made in Italy from the juice of organic apples. It's raw, unpasteurised, unfiltered, and with the 'mother' – a natural sediment which contains beneficial bacteria, trace material, pectin and enzymes. These can contribute to healthy flora in the human gut, and aid digestion. A long fermentation process makes our vinegar rich in antimicrobial anti-oxidants, with anti-inflammatory properties.
It can be taken neat (1 or 2 tablespoons a day), or mixed with water and a sweetener such as agave syrup. It also pairs well with our concentrated apple juice and can be used in salad dressings.
Tree of Life Raw Organic Apple Cider Vinegar
Tree of Life
Tel:  01782 567100
E-mail:  [email protected]
www.treeoflife.co.uk
Tree of Life Apple Cider Vinegar is made from the finest, organically grown, cold-pressed Spanish apples. Raw and unfiltered to protect the valuable enzymes and fruity flavour, our cider vinegar contains the 'mother' which consists of living nutrients and friendly bacteria. The 'mother' is what makes Raw Cider Vinegar so beneficial and has been used for centuries for its amazing health properties. Available in fully recyclable packaging and offering fantastic value, half the price of the leading brand: 500ml £2.29 RRP and
1 litre £3.79 RRP.