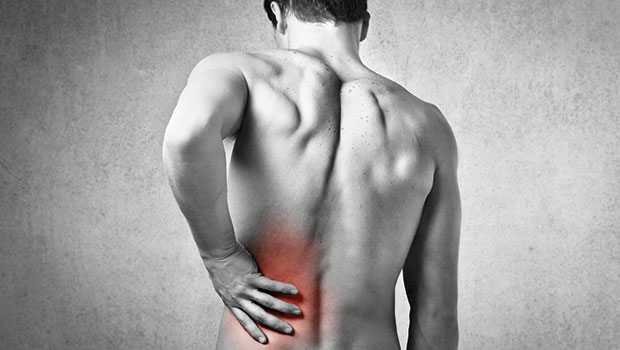 Bone up on joint health with Matt Chittock for all the latest and traditional approaches to keeping customers standing tall
Are you sitting uncomfortably? Then you're not alone. Today in the UK we're all sitting down way too much – and the truth is that it's killing us. 
Statistics cited in healthcare brand Mentholatum's research reveal that sedentary lifestyles kill 70,000 people each year. And if you don't die from lying pole-axed on the couch while checking your phone, then the associated back pain can still feel like murder. 
What we're facing could be classed as a national epidemic. The aforementioned stats show that four out of five people (84%) say that they've had back pain at some point in their lives, while two out of five (39%) experience back problems at least once a week.
Taking STEPS
So, what can be done? Well outside of going on like the nation's mother and telling us all to "sit up straight!", it's really all about making simple changes.  
Wendy George, brand manger at Mentholatum, has a plan. To build awareness (and drive sales of the brand's Deep Heat products) Mentholatum has developed the Mind Your Back campaign. "It's a national campaign that educates people on how to manage their back pain by following five simple STEPS," explains George.
These include moves like simple stretching, therapy and exercise. You can discover some specific tips to pass on to your pain-beleaguered customers at www.mindyourbackuk.com.
"Backs are made to move," advises George. "So, try walking, cycling or swimming. Even with our busy schedules, it's important to keep our backs healthy and strong. Find gentle exercises you enjoy and build them up gradually – you only have one back, so look after it!"
Strong words. But then bone and joint issues are a painful problem, as independent health store owners will testify. Take Tracey Brady at Glaswegian Health Shop. She says that exploring customers' pain profile can give her a clearer idea of which natural solutions to focus on.
Diverse approaches
"The first thing to do is work out what kind of pain they're in, and then go from there," she says. "You can't just go straight in with the glucosamine; lots of people use it, but it's definitely not the right thing for everyone to start with."
In part, this potentially diverse approach is necessary because of the diversity of the customers coming in seeking relief from pain.
Of course, joint and bone health is often most associated with the older demographic (OK, Boomer?). Yet, active lifestyles mean that relatively young customers are after some joint health support too, as Brady can attest.
"Overall, these customers tend to be men and women around 50-plus," she confirms. "But we also see many young people come in for bone and joint health too. That's maybe the way they've been sitting in front of a computer all day. And some of the young guys develop pain from heavy lifting at work."
Handily, there's a plethora of well-evidenced products to recommend. Jenny Carson, a nutritional practitioner and technical supervisor at Viridian Nutrition, maintains that calcium is a smart place to start from.
"The number one mineral in bones is calcium," Carson reports. "Calcium is bound to the hydroxyapatite matrix to strengthen and provide structure and density to the bone. An important factor is that calc-ium works synergistically with vitamin K2, vitamin D3 and magnesium. Calcium relies on these nutrients to activate the absorption of [it]
into bone."
This is especially essential for vegan customers who aren't drinking milk – the traditional (though hardly sole) source of calcium.
"An important factor is that calcium works synergistically with vitamin K2, vitamin D3 and magnesium. Calcium relies on these nutrients to activate the absorption of [it] into the bone"
A golden solution
Meanwhile, across the aisle, many retailers like to reach for the turmeric too. That's not surprising since, whether turning up in on-trend turmeric lattes, or in standalone supplements, this golden root has definitely become a big health store hit.
"Turmeric and its bio-actives, the curcuminoids, have been shown to interrupt the inflammatory cascade," comments Carson. "This is evolutionary in addressing chronic inflammation, often characteristic of joint conditions. Similarly, the bioactives of boswellia have shown rapid relief of joint related pain too."
Back in Scotland, Brady reckons that while turmeric is great, it is essential to remember that not everybody can stomach it. "Tumeric's good, but it's not for everyone," she advises. "When we do sell it, I like Lifeplan's products. However, what I really like for customers is rosehip for inflammation [she sells Lambert's]. 
"Rosehip is not some-thing that you see everywhere, but I am a big fan and it can be very effective. I also like it because it comes with a big dose of vitamin C, so people can get a boost with other benefits through the winter when their joints are feeling the cold."
Don't ignore vitamin D either. There seems very little that this vital – but frequently lacking – vitamin won't support, and it can definitely pay dividends with joint health.
"Vitamin D plays an essential role in protecting your bones, both by helping your body absorb calcium and by supporting the muscles needed to avoid falls," says clinical nutritionist!, Suzie Sawyer. "Children need vitamin D to build strong bones, and adults need it to keep their bones strong and healthy, which becomes increasingly important with age." 
Vitabiotics Osteocare Liquid contains this essential nutrient as well as providing a rich source of calcium, carefully balanced with co-factors including mag-nesium and zinc which contribute to the maintenance of normal bones.
Dietary dos and don'ts
Finally, when a customer comes through the health shop door looking stooped over and stressed, they might well need a bit of dietary advice too. So, it's worth suggesting that they ditch the junk food and increase their greens instead.
"Increasingly, conditions such as osteoporosis can be associated with poor dietary intake such as nutrient deficient foods or malabsorption issues," says Carson. 
"Other aspects [of joint health] include avoiding highly processed and junk foods which can have an inflammatory-driving effect through the use of processed oils, salt, sugar and additives as ingredients."
That's second nature to Brady. She uses questions about diet as a starting point for moving the conversation on into gut health and beyond, providing a truly holistic approach.
"Cutting back on citrus, alcohol and processed foods can have benefits for joint health," she says. "Customers often have gut issues too, so I often look at probiotics as another approach."
Topical news
Independent retailers realize that joint and bone health isn't just about what goes in your body – what you put on it is just as crucial. 
The shelves of most pharmacies groan with medicated topical products, so it makes sense that the natural health industry is busy innovating to get in on the topical trend too.
For example, if you were at Eco Life Scandinavia last year you might have seen Renarthro on the show floor. Its hero product for the category is Ice-Gel, which can be used to relieve joint pain as well as strained muscles and tendons, rheumatoid arthritis and osteoarthritis and tennis elbow. It features eye-catching ingredients including frankincense and myrrh for a suitably exotic and innovative feel that definitely sets it apart from the mainstream. 
Elsewhere, natural balms have always been a win for health stores, whatever they're used for. Donna Taponero makes Ginger Balm for joint pain, osteoarthritis and inflammation, and Meadowsweet Balm for muscle, joint and arthritis pain and 'growing pains'.
Finally, tech can provide a smart way forward for people worried about their joints. Kaia is an app which promotes joint wellness by suggesting simple steps to get users moving. The people behind it are hoping that UK employers will harness the app to help employees' backs.
"The core problem is our modern, sedentary working life," says Stephan Huber, chief medical officer at Kaia Health. "We're encouraging UK employers to adopt a holistic approach to tackling back pain in and out of the workplace – this could include increased access to exercise and relaxation like the Kaia app offers."
Glucosamine gains
When talking about bone and joint health there's one supplement it's impossible to ignore: glucosamine. 
Glucosamine is an evidence-backed approach that's been a core component of the natural medicine cabinet for some time now. And it's all down to its anti-inflammatory properties, as Carson explains.
"Crucial to good joint health is adequate cartilage, and inflammation that is not long-term," she says. "Long-term inflammation, known as chronic and thinning cartilage, is a major factor in poor joint health. Glucosamine is a glycosaminoglycan that has been shown to interrupt inflammation, offer analgesic effects and slow the degradation
of cartilage." 
Sounds great. One word of warning though: it's not a quick fix. Carson advises that in clinical trials most patients saw results in six to 12 months into supplementation. So, while customers are waiting for this
to work, it can pay to offer other routes into the problem – such as Methylsulfonylmethane (MSM).
"Interestingly, MSM, a sulphur-based compound, is known to be effective in joint mobility. It is thought to draw essential fluids into the compartment that surrounds the joint to enhance mobility," explains Carson.
Viridian combines some of these properties in its Joint Health Complex, which features turmeric, glucosamine, manganese and more to offer a synergistic solution.
FSC Super Cal/Mag
FSC
Tel: 0800 083 0356
E-mail:  [email protected]
www.fscsupplements.com
Calcium may help to maintain health bones and teeth. Magnesium helps energy production at cell level, for growth, repair and formation of bones and cells. As with all FSC supplements, Super Cal/Mag is made in the UK with the finest ingredients and based on widely recognised scientific evidence of their health qualities.
Suitable for Vegetarians and recommended to take one tablet daily with with food. Available in 30 and 90 tablet glass bottles. 
Osteozin
HealthAid Ltd
Tel: 020 8426 3400
E-mail: [email protected]
www.HealthAid.co.uk
Optimal Bone Formula – Osteozin provides Calcium, Magnesium, Zinc and Boron to support optimum bone health with the added benefits of Vitamins D3 and K2, essential for the maintenance of healthy blood calcium levels and its efficient utilization by the body.  Osteozin is specially formulated using a synergistic blend of active ingredients to ensure maximum assimilation and efficacy. Calcium plays an important role in the development and maintenance of strong healthy bones and teeth. Magnesium is necessary for the metabolism of calcium which contributes to supporting normal muscular function.  Osteozin retails at £14.49 for 90 tablets. Contact HealthAid Ltd on 0208 426 3400 for purchase and stockist information or visit www.healthaid.co.uk
AQUA Carpatica Sparkling Natural Mineral Water
AQUA Carpatica
Tel: 07597 667 484
E-mail:  [email protected]
www.aquacarpatica.co.uk
How do you get your recommended daily amount of calcium and magnesium? We have a natural, all in one solution for you: AQUA Carpatica Natural Sparkling Mineral Water. 1L provides 26% of the NHS's recommended daily amount of magnesium for adults per litre and almost 40% of the daily amount of Calcium. And it's all natural: over 200 metres under the earth, a blanket of metamorphic rock protects the water as it mixes with carbon dioxide (CO2) through a 40-year natural mineralisation and carbonisation process, giving our water its unique effervescence and exceptionally pure mineral content.  AQUA Carpatica range is available in more than 1000 independent stores in the UK, including Harrods, Whole Foods Market, As Nature Intended, Revital, Simply Fresh etc.
Nature's Answer Plant-Based Cal-Mag Liquid
Kinetic Natural Products Distributor
Tel: 08450 725 825
E-mail: [email protected]
www.kinetic4health.co.uk
Nature's Answer Plant-Based Cal-Mag Liquid features Aquamins red algae & sea water marine magnesium and multi-mineral complex which supplies 500mg calcium and 250mg magnesium per serving, and 72 other trace minerals. Sustainably harvested in the cool, clean and pristine Iceland Arctic waters. This liquid supplement has a delicious natural vanilla cream flavour and is a good option for those who find capsules or tablets difficult to swallow. Vegetarian, vegan, and gluten-free. Supported by a significant and growing body of scientific publications, Aquamins' unique matrix of trace minerals works synergistically together to give a powerful boost to calcium and magnesium's bioactivity.
Helios Injury
HELIOS HOMEOPATHY LTD
Tel: 01892 537254
E-mail: [email protected]elios.co.uk
www.helios.co.uk
Helios Injury contains three homeopathic remedies Arnica, Rhus tox and Ruta grav. This combination has a long history of traditional use to relieve pain whether from trauma, associated with minor injuries, bruises, strains and sprains, or pain from arthritic/rheumatic conditions. Injury forms part of an award winning range of combination remedies from Helios covering Childhood teething, fevers and earache, Hay Fever, Sleep and Stress Relief
Neocell Collagen 2 Joint Complex
Kinetic Natural Products Distributor
Tel: 08450 725 825
E-mail:  [email protected]
www.kinetic4health.co.uk
NeoCell Collagen 2 Joint Complex provides Collagen Type II and essential nutrients to support and maintain healthy joint function. Type II Collagen is the key structural protein in cartilage tissue, making up 60% of it,  is crucial for healthy and fluid joint movement, and deteriorates as we age. NeoCell Collagen 2 is a complete joint supplement that contains glucosamine, chondroitin, and hyaluronic acid, which are key components for supporting and maintaining healthy joint function. Provides NeoCell Type II collagen – 4800mg/serving, for best results take 4-6 capsules daily, and take on an empty stomach for maximum absorption. 1 bottle is 2-3 months supply. 
Lamberts Healthcare Ltd
Tel: 01892 554313
E-mail:  [email protected]
www.lambertshealthcare.co.uk
Lamberts® Osteoguard® ADVANCE
Calcium & Magnesium Plus Vitamins D3 & K2
Our bone health formula provides a full 250mg of magnesium and 500mg of calcium per two tablets.  The magnesium is in the form of a unique blend of three different magnesium compounds – citrate, hydroxide and carbonate, plus the calcium as both carbonate and citrate.
Vitamin K2 (Menaquinone, MK-7, form) is included at 90µg per daily dose and is naturally derived from chickpea protein, and is free of cis-isomers.   We have also added a full 10µg of vitamin D3 since there is now emerging evidence from studies regarding the synergistic effects of vitamin K2 and vitamin D3 in bone health.
OsteoSupport
NHP
Tel: 01892 507598
E-mail:  [email protected]
Osteo Support from the Natural Health Practice is a special combination to help maintain good bone health. Specific nutrients are important for maintaining good bone health, Osteo Support contains calcium, magnesium, zinc, boron and vitamin D3. Calcium is needed for the maintenance of normal bones and teeth. Magnesium contributes to the maintenance of normal bones and teeth. Zinc contributes to the maintenance of normal bones, vitamin D contributes to normal absorption of calcium and boron, a trace mineral, is included which is important for bone health. Digestive enzymes are also included to help improve digestion and absorption of nutrient. Vegetarian and Vegan Society registered, Kosher approved and Halal approved.   For more information call 01892 507598 or [email protected] 
Pukka Organic Turmeric Active Herbal Supplement
Pukka Herbs
Tel: 0117 964 0944
E-mail:  [email protected]
www.pukkaherbs.com
Pukka's Turmeric Active Herbal Supplement brings relief for acute and chronic joint and muscle inflammation and pain.  This unique blend of 100% organic active botanicals provides long-term protection and strength to the cartilage, muscles and bones, without the sometimes damaging effects of NSAIDs.  Formulated with ginger and boswellia, Turmeric Active encourages the healthy flow of blood to the joints, ensuring active nutrients easily reach the intended destination for pain relief.
Wonder Legs
New Nordic Ltd
Tel: 0800 389 1255
E-mail:  [email protected]
www.newnordic.co.uk
Wonder Legs™ is the tablet you need to help maintain a normal vein and blood vessel function to help avoid the feeling of tired legs. The unique bioactive nutrient combination contained in each tablet helps avoid the feeling of tired legs after prolonged standing or sitting. The tablet contains a herbal combination of French maritime pine bark, red vine leaf extract, and black pepper, plus vitamin C. All help to support and maintain normal venous function and normal collagen formation for the function of blood vessels.
Glucosamine Support
HOLFORDirect
Tel: : 0370 3341575
E-mail:  [email protected]
www.holfordirect.com 
Patrick Holford Glucosamine Support combines Glucosamine, Methylsulphonylmethane (MSM), Hops, Curcumin and Quercetin to help maintain healthy joints.  Curcumin is particularly important and helps to reduce inflammation by inhibiting cyclooxygenase-2 (COX-2), prostaglandins (PGE2) and leukotrienes in many cell types.   Curcumin also helps to reduce sore damaged joints.  MSM is rich in organic sulphur, an important 'building block' for healthy bones and joints.  Glucosamine contributes to cartilage formation and joint lubrication.  Quercetin and Hops both have anti-inflammatory qualities that can help eliminate pain.
[email protected]
www.holfordirect.com
Vitamin D3 and K2 Sublingual Spray™
Wholesale Health Ltd
Tel: 01606 889 905
E-mail:  [email protected]
www.wholesalehealthltd.co.uk
The original vegan vitamin D3 and K2 sublingual spray from Good Health Naturally combines 1000iu of Vitamin D3 with 100mcg of MenaQ7 Vitamin K2 MK7 in a sublingual spray for optimal absorption. Vitamin D3 is super-important for strong bones and essential for protection against osteoporosis. For maximum benefit, D3 is best taken with K2, as together these essential vitamins help in the uptake and reabsorption of calcium into the bones. Without the addition of K2, the body struggles to direct calcium to the bones which can leave calcium deposits in arteries, joints, and organs.