Rosie Greenaway shares a checklist of products which health stores could offer to active lifestyle enthusiasts
Ever heard of sports leggings which can 'cure' the spread of COVID? Nor had the Australian Competition and Consumer Commission (ACCC) until it discovered that active lifestyle brand Lorna Jane was marketing a substance called 'LJ Shield' which its clothing line had been sprayed with. 
The consumer watchdog understandably came down hard on the label, launching court action in December for making false and misleading claims just as the Aussie state of Victoria was entering a second lockdown. 
Defending its marketing choices, Lorna Jane claimed: "We are not saying LJ Shield will stop you coming into contact with bacteria, we are saying LJ Shield is an added protection like hand sanitizer but for the clothes you wear."
Questionable clothing sprays aside, there is evidence to suggest that remaining in rude health can at least reduce the chances of severe illness if coronavirus is contracted. With campaigns like HealthyDoesIt raising the profile of health stores, never has there been a better time to become a 'one-stop shop' for active lifestyle must-haves and
create bundles to sell year-round – particularly as we head into spring. 
Here we round up some suggestions which will have fitness fans skipping off happily to their next 'sweat and stretch' session. 
Clothing and accessories
• When rolled, yoga mats take up little space in store, and come in handy for a range of activities. The Eco Travel Yoga Mat by Organic Apoteke is made from sustainably sourced cork and rubber, is biodegradable, odour-resistant, antimicrobial and has a 'wet-grip' surface
• Negating the need for disposables, the Sports Cap from Elephant Box is designed for a snug fit in the brand's Single Wall Water Bottle, allowing users to sip one-handed while running or cycling thanks to its lift-up/push-down lid
• For post-workout mat maintenance, Pure Skin Lab's Organic Rosemary Yoga Mat Cleaner helps do away with sweat residue, ensuring surfaces stay fresh for future use and contributing to the mat's long-term maintenance 
• From sports bras and briefs to leggings and loungewear, eco activewear brand Boody's sales grew 100% in lockdown as its breathable organic bamboo fabrics kept people comfortable during home workouts – and that important post-exercise rest.
Beauty and personal care
• Pukka Herbs Turmeric Active is often associated with tea and supplements, but it also comes as a massage oil to support joints and relax muscles after movement
• BeOnMe Anti-Friction Cream uses organic oils, chamomile, shea butter and zinc oxide to protect against chafing while ensuring skin stays hydrated and soothed during cycling, running and horseback riding
• Winner of the Natural Lifestyle Awards Best Sports product in 2019, Helios Injury from Helios Homeopathy combines arnica, Rhus tox and Rutagrav for the 'symptomatic relief of pains and minor trauma' from bruises and sprains
• BetterYou Magnesium Bath Flakes, for foot soaks or full baths, contribute to post-workout recovery by soothing muscles, allowing the skin to absorb magnesium and promoting better sleep
• Launched by Nutricare through crowdfunding, STRAP is the world's first 100% compostable sports strap made with bamboo fibre. The athletic tape is zero waste and vegan, breathable and irritant-free
• Terre Verdi helps sports enthusiasts alleviate arthritic discomfort and joint pain with its Yoga & Sports Body Oil, a multitasking organic product which increases circulation, warms muscles and stimulates the mind with an uplifting scent
• For perspiring faces, Sweaty Faace can be applied as a primer or a mask; argan oil lightly moisturizes without clogging pores, while grapefruit calms inflammation. 
Food and drink
• CLIF Bar kicked off the New Year by turning its Builders Protein bar into
a post-workout recovery shake to 'give muscles what they need'
• Avrox EI8HT Energy 'upgrades your water' with oxygen delivery technology; add water, shake to activate microbubbles, and drink 
• CNP Plant is a range of sports nutrition products designed with functionality in mind – it features protein powders, collagen boosters, essential amino acids, pre-workout formulas and ready-to-eat slices 
• Protein Rebel offers 'planet-first' alternatives to whey-based shakes; its Reload option contains crickets and plant-based high-protein powder for building muscle when the workout ends.
The eco warriors of fashion activewear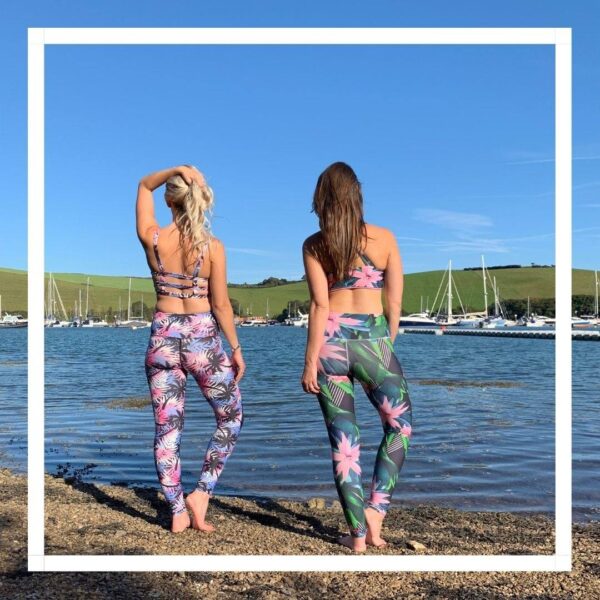 Meet Planet Warrior, the Devon-based sisters who turn plastic bottles into lightweight fitness apparel while supporting the Just One Tree initiative. The activewear sets – comprising leggings, sports bras, tops and jumpers, and extending to caps, bottles and tree-rubber yoga mats – was born out of Josie and Juliette Crabtree's love of the ocean and their hate of waste. Each co-ord set saves 50 plastic bottles from polluting the sea. Their eco-friendly approach extends to packaging too, with no plastic used for tags or labels, and only ribbon made from wood pulp. 
 With 'slow fashion' in mind, just two designs are released per year. The 'super soft' fabric and bold prints (currently available in palm trees, tropical flowers, starry skies and orchids) position the line perfectly for the 'activewear anywhere' trend. "People tend to live in them. We notice people going for coffee [or] wearing the sports bra as a bikini top. They work really well with general clothes … even with comfy winter boots, bright leggings and a big coat," say the sisters.
Peppermint & Eucalyptus Shampoo Bar
Friendly Soap
www.friendlysoap.co.uk
An invigorating natural shampoo bar that's good for your scalp, hair and skin, it even doubles up as an invigorating body bar! Perfect for showering after exercise. 
Eucalyptus is well known to be a natural disinfectant that even unblocks your nose. As for the argan, it's a wonderful natural conditioner, leaving your lustrous locks stronger, healthier and a doddle to style and manage.
Each Peppermint & Eucalyptus shampoo bar is handmade with Argan Oil, Castor Oil, Coconut Oil, Olive Oil, Peppermint & Eucalyptus essential oils. 
Friendly products are vegan and packed in plastic free, recycled boxes.
Garden of Life Raw Organic Fit Protein Powder
Kinetic Natural Products Distributor
Tel: 08450 725 825
E-mail:  [email protected]
www.kinetic4health.co.uk
Garden Of Life Raw Organic Fit offers 28g of complete plant protein with 13 organic sprouted grains, seeds and legumes plus 3 billion CFU of live bacteria, 13 digestive enzymes, and clinically studied ingredients, including Svetol® Green Coffee Bean Extract, Raw Food Created Chromium and Organic Cinnamon. All Garden Of Life's plant proteins are produced at low temperatures, preserving their complete amino acid integrity.  Certified by Informed Choice, all Garden Of Life proteins are tested and trusted as a clean supplement for competitive sport. USDA/Ecocert Organic, non-GMO Project Verified, gluten-, dairy-, soy- free and vegan.
Fair Squared Period Cup
Pravera Ltd
01557 870203
E-mail:  [email protected]
www.fair-squared.co.uk
The silicone free period cup from Fair Squared is the environmentally friendly sanitary product for those with an active lifestyle. Made from 100% Fairtrade and FSC certified natural rubber, the vegan and natural period cup gives protection for up to 12 hours and is an excellent alternative to single use sanitary pads and tampons. It can be used for several years and is available in four sizes and two colours. The period cup also comes with an organic cotton and fair-trade bag for easy storage in between your period, making it easier to carry around too. No plastic, no silicone. 
Trade prices £11.40 / RRP £17.95
Boody UK
Boodywear UK Ltd
Tel: 01702 589990
E-mail:  [email protected]
www.boody.co.uk
The Boody collection of Basic, Active, Baby and Lounge is made using the ecologically conscious material, bamboo viscose. A sustainable wardrobe must have, the Boody collections feature year round, timeless colours and designs, combined with the unparalleled benefits of bamboo, meaning Boody garments are highly breathable, gentle to the skin and kind to the planet. The signature Boody fabric has a seam free stretch, maintains its shape, and won't irritate the skin. Available in a range of essential colours, including black, white, grey, as well as varying shades of nude for adult, to soft pastels and neutral shades for baby – Boody has a colour and style to suit everybody.
Boody is the sustainable clothing brand on a journey to create a more superior essential that redefines the essence of comfort, style and health. With a passion for the environment and the people who live in it, Boody is committed to producing top-quality products that focus on sustainable materials and ethical practises. 
BOODY IS SUSTAINABLE
Committed to doing better for the planet, Boody sustainable credentials make it the perfect choice for anyone building a timeless eco-friendly wardrobe. Boody bamboo carries the ECOCERT organic certification, is certified cruelty-free and comes from ethical supply chains. 
• Organically grown
• Fast-growing and self-regenerating
• Improves air quality & require less water (vs non-organic cotton)
• Less waste via a closed-loop system
BOODY IS HEALTHY
All garments are made with the Boody signature 80-100% Viscose made from organic bamboo, with a touch of Nylon and Elastin, and are produced adhering to the highest standards for both the planet and workers. Fabric benefits include:
• Silky-soft
• Hypoallergenic
• Thermoregulating
• Breathable & moisture-wicking
BOODY IN-STORE
Available as a 2-sided or 4-sided revolving display stand, a luxury display stand and a counter top unit, Boody retail displays are space saving and offer flexible planograms.
Ben & Anna Natural Soda Deodorant
Pravera Ltd
Tel: 01557 870203
E-mail: [email protected]
www.benandanna.uk
The natural deodorant that works for you and the environment! Ben & Anna Natural Soda Deodorants effectively tackle perspiration and neutralise odour to keep you feeling fresh all day long and the eco-friendly plastic free packaging is made from FSC certified recyclable paper. Made with 100% natural ingredients, these multi award winning deodorants are suitable for vegans and free from aluminium, alcohol, parabens, synthetic aromas and of course no animal testing, plus every sale supports ocean cleaning. With a choice of 7 soda deodorants and 3 soda free for sensitive skin, there is a scent to suit everyone. 
Weleda Arnica Collection
Weleda UK LTD
Tel: 01159 448200
E-mail:  [email protected]
www.weleda.co.uk
Arnica is a highly prized natural anti-inflammatory, understandably popular with sports professionals and amateurs alike. Ease aches and pains with Weleda's famous medicinal Arnica Massage Balm, made with organic arnica – for relief of backache, rheumatic and muscular pain, stiffness, cramp, bruising, sprains and minor sports injuries. This vintage health hero inspired an entire arnica collection, which today includes a soothing Arnica Muscle Soak, Arnica Cooling Gel, non-medicinal Arnica Massage Oil for everyday fitness, Arnica Bumps & Bruises Skin Salve or Spray, and Arnica 6X Tablets – a whole range of products in different forms for a variety of fitness and first aid needs.
Organic certified Yoga mat cleaner
Pure Skin Lab
Tel: 07710 195 588
E-mail:  [email protected]
www.pureskinlab.com
Our organically certified yoga mat cleaner helps with the care and cleaning of non-slip yoga mats. The combination of powerful organic active ingredients such as rapeseed, essential oils and natural care substances, disinfects the mat – therefore giving germs, bad odours, bacteria or sweat residues no chance. In addition, it removes all kinds of dirt. It is Vegan too! Comes in 2 sizes. Pure Skin Lab sells lots of different health and wellbeing brands and different products, please visit our website to see our full range.  
ActiveLife™
Wholesale Health Ltd
Tel: 01606 889905
E-mail:  [email protected]
www.wholesalehealthltd.co.uk
ActiveLife™ is the ultimate daily support for good health. This full-spectrum multi-vitamin/mineral complex contains 130 essential vitamins, minerals and trace minerals, providing an ideal nutritional supplement base suitable for the whole family. Each vegetable capsule delivers a perfect balance of vital nutrients for everyday support and vitality, including Vitamins A, B, C, D, E & K, Iodine, Selenium, Lutein, Zeaxanthin and 5-MTHF Folate – perfect for those who cannot absorb synthetic folic acid. Capsules can be opened and mixed in with yogurt/smoothies. One bottle lasts up to 6 months for children and 30-60 days for adults. Now available in an environmentally friendly biodegradable refill pouch!
Profusion Organic Protein Blends
Profusion Organic
Tel: 0208 547 2775
E-mail:  [email protected]
www.profusionorganic.co.uk
Profusion Organic brings nature's power into your life, to make plant-based sports nutrition simple. Power up your performance with Profusion's new Organic Protein Blends. Made from a blend of rice, pea and hemp protein, the vegan blends are available in two varieties: Ultimate Unsweetened and Peanut Cacao and provide all 9 essential amino acids, providing a complete source of plant-based protein. Free of soy, gluten and dairy, you'll find nothing artificial in these protein powders, just natural goodness, perfect for an active lifestyle.