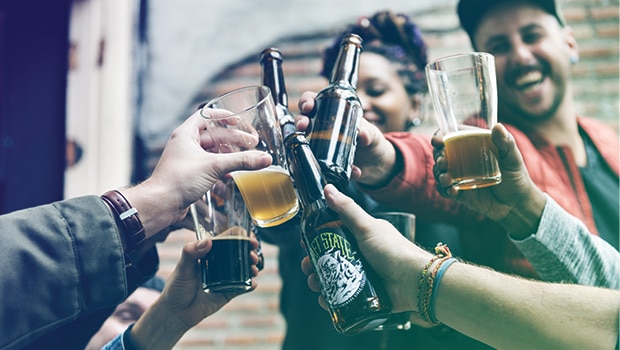 Rosie Greenaway raises her glass to an ample organic, vegan, free-from and Fairtrade alcohol offer, and learns how mainstream trends are finding their way into this booming category
It's five o'clock somewhere, as the saying goes, and while the NHS reports a decline in alcohol consumption, this certainly isn't reflected in health food stores' sales; in fact, the future of booze looks bright. "It's the fastest growing sector in independent health food retailers," says Gordon Robertson, buying manager at Better Food, Bristol. 
While consumer behaviour indicates Generation Z's focus on wellbeing steers them towards smoothies more than Sauvignon, when they do imbibe they do so with an increasingly healthy hat on, paying attention to what's in the bottle and what's not. This conscious avoidance of herbicides and animal by-products demonstrates a demand for free-from booze which indies are in a strong position to fulfil.
Shaken, not stirred
For Brits keen to shake up their drinking habits, there's a wealth of organic, biodynamic, vegan, vegetarian, craft, gluten-free and low-alcohol options in the innovation pipeline, and at Better Food it is young professionals doing most of the buying. "Our Wapping Wharf store sells the most alcohol and has quite a young customer base. By volume, beer is by far the most popular – craft ale is massive in Bristol. We are widely regarded as having one of the best selections of local craft ale. Wine would be our most lucrative organic range," says Robertson. The store is active on the sampling front, which may account for its strong sales. "We do beer sampling regularly through the summer. Wine we tend to do closer to Christmas," he adds. 
This type of community engagement is encouraged by Martin Hiscox, buyer at CLF Distribution, who spoke at Natural & Organic Products Europe about how the 'niche' category of organic alcohol is moving very quickly. Hiscox says independents are in a prime position to 'inform and educate' and he's adamant they can compete against the multiples by stocking 'good quality, value-for-money wines that meet and exceed the expectations of the consumer'. 
"It's not a lot to learn, it's really quite simple, and being able to deploy that information at the point of sale will encourage people to try a wine that is maybe one or two pounds more. It's something supermarkets and websites don't really do. You can talk to the consumer, really get to know them and understand their needs." 
One step further
From experience, Hiscox says it's very easy to up-sell. "Once they've gone up they may never come back; they get so much more for their money." Robertson, however, observes an element of prestige around public perception of organic wine – so can customers grasp the difference? "I ask myself this question regularly. I think the minority of consumers understand the meaning of organic. There is a long way to go to. Most people know about pesticides not being used in organic farming but don't understand the implications on wildlife and soil that conventional farming has." 
If organic takes some understanding, the uninitiated among us might need to take extra notes when it comes to biodynamic. If you're still scratching your head, Vintage Roots' general manager Steve Lewis is here to explain: "Biodynamic goes a further step from organic. It's more of a holistic approach to farming, viticulture and winemaking. The growing season is split into 365 days as opposed to four seasons, using various homeopathic preparations on the vineyard. To be biodynamic they have to be certified organic to start with. It's the next step; it means they're also taking into account lunar cycles, root days, leaf days and fruit days. It's quite complicated for consumers to understand; sometimes people don't 100% believe in it … but I think the proof's in the pudding. Yields are lower but … the quality is generally higher; you can still make a bad quality biodynamic or organic wine, but long-term if you're using those methods, quality should improve. You've got a lot of famous estates now converting to biodynamic. It's certainly becoming more common."
Rosé cheeks
At Better Food, rosé represents a 'tiny proportion' of sales, which Robertson attributes to limited choices. "It is the one variety, in my opinion, that is lacking in great tasting wines without going up a few tiers in price," he reports. But for Vintage Roots, it's a different picture. "Rosé was booming," recalls Lewis. "We've had some phenomenal growth over the last five years. In the last year or two it has slowed down a little bit, although the amazing weather has had a good impact."
Another sub-category providing drinkers with a rosy-cheeked glow are vegetarian and vegan wines, which in days gone by had a somewhat sketchy reputation. Lewis is more optimistic about their present-day popularity: "I think that's completely changed. In all our literature, we're putting in which wines are vegetarian- or vegan-suitable. I think the vegan movement has increased a lot over the last couple of years." Robertson states that this has never been a problem for the retailer: "From Better Food's point of view vegetarian/vegan wine has always sold well – [it had] a bad image in wider circles perhaps due to a confusion with sulphite-free wine, which, if not stored well … can go off quite quickly."
Honey Spencer, wine guru and sommelier for Abel & Cole, believes information is key to finding a good drop. Considering the '200-plus chemicals' which can be added, Spencer says consumers want to be empowered with knowledge. "There is this real desire for knowledge; they want to know what they're putting in their bodies. There's a lot of work being done … to force [labelling] bodies to be more transparent about what goes into the wine." 
Organic vino, she warns, may taste a little bit different. "If we drink cabernet sauvignon, that flavour isn't from the grapes or soil, it's actually a blackcurrant flavouring that's added. Once you remove that, you get some flavour elements that are a bit of a departure from what people understand as wine flavours." But a brief chat in store is all that's required to prepare the customer's palate. "Tell your consumers [about the] rustic, earthy flavours in the wines." And if they enquire about grape-related headaches? "I've done so much research into this; speaking from personal experience, I only drink organic wine and I haven't had a headache in about four years!"
From grapes to hops
If the bar queue in Stroud Brewery's beer tent at GO! Organic Festival was anything to go by, interest in pesticide-free pints is peaking, helping the brewery to 'champion organic beer, get that message across and grow the market'. "We wanted to champion all UK organic brewers, it wasn't about ourselves exclusively," says Greg Pilley, MD. To educate festival-goers, he ran workshops and tastings, but made no promises about the after effects. "No claims around hangovers! If you drink enough you'll still manage one of those! It's a difficult story to get across; we can't claim that the beers taste any better [but] if you are going to consume something it's probably better to consume it pesticide-free." 
For Stroud – a B Corp whose packaged products are all vegan – the decision to convert to 100% organic production was a natural move. "We've always felt it was a compromise only being half organic. It's a point of difference; it fits with our ethos," Pilley says, adding that carbon footprint, too, is becoming a key shopper consideration when deciding between beers. 
"Why wouldn't you choose the one with a lower impact if otherwise everything was equal? People are starting to make those choices."
Product Listings
CATAPULT CAT
Catapult Cat Ltd, Finland
Tel: +358 50 548 0906
E-mail:  [email protected]
www.catapultcat.com
Catapult Cat – HEALTHIER ALCOHOL CONSUMPTION  Catapult Cat is a food supplement product that prevents alcohol drinkers from becoming hungover by neutralising the cause of the hangover. Catapult Cat was invented in Finland and is based on the Finnish scientific university research. All alcoholic beverages contain acetaldehyde which is a highly toxic substance. Based on the Finnish scientific research, hangovers are a severe symptom of intoxication caused by acetaldehyde. Catapult Cat neutralises the acetaldehyde already whilst having alcohol. With Catapult Cat, alcohol drinkers don't suffer from the symptoms of a hangover. For orders, please contact CLF Distribution Ltd
Fatty's Organic Gin
The Dulwich Spirits Company
Tel: 07763 744 349
E-mail:  [email protected]
www.FattysOrganicSpirits.com
A classic London Dry Gin, with an unashamedly refreshing outlook; Fatty's Organic Gin is 100% organic and Soil Association certified. An international award winning, micro batch gin, it is juniper forward and enjoyably herbaceous, with clear dill and citrus influence, inspired by the heritage of Fatty's home town in Dulwich – Dulwich meaning 'the meadow where dill grows'.  Not only is Fatty's organic, but the bottles meet the organic standards too; sprayed with organic ink and screen printed at low temperatures, which is much kinder on the environment, waxed dipped by hand to seal, giving each bottle the personal touch. Instagram: @FattysOrganicSpirits
Ginfusion – Bespoke Gin Botanicals
Ginfusion Ltd.
Tel: 07901 672 025
E-mail:  [email protected]; [email protected]
www.ginfusion.org 
Gin lovers can now recreate the exotic garnishes that they taste at bars and gin festivals with their own set of botanicals, attractively packaged to make a handsome addition to their drinks cabinet. Ginfusion brings together 15 different ingredients crafted into four flavour types, supplied in ready-to-serve pouches. Just choose a flavour from Citrus, Spiced, Tropical or Rose, add it to the gin, mix with ice and tonic if desired then enjoy as the aromatics infuse into the drink. Ginfusion is proving popular amongst gin drinkers as well as a pairing with other spirits and tonic alone.
Organic, vegan beers from the Pennines
Suma Wholefoods
Tel: 01422 313 840
E-mail:  [email protected]
www.suma.coop/wholesale
You probably associate Suma with tinned beans, coconut oil and pasta, but do you know we have a range of organic Yorkshire ales too? There's something for everyone in the range of six ales; bitter, blonde, stout , wheat beer,  ginger ale and a malty moorland ale. With evocative names like Mytholm Mist and Elphin Brook, these traditional ales offer a true taste of rugged Yorkshire! 
We're proud of our range of organic beers and rightly so – six very different ales made locally by a master brewer, just a hop, skip and a jump from Suma HQ. The range is both organic and suitable for vegans.
Vinceremos Organic Wines and Spirits
Vinceremos Organic Wines
Tel:  0113 244 0002
E-mail: [email protected]
www.vinceremos.co.uk
Vinceremos are the UK's longest-established organic drinks specialists, with a fantastic range of fully certified organic wines, beers and ciders, spirits and liqueurs. We are a small, friendly and very responsive company and within our comprehensive list we include Biodynamic, Fairtrade, and No Sulphur Added 'Natural' wines. Our range is almost entirely Vegan- friendly with the exceptions being Vegetarian. We supply shops, restaurants, wholesalers, food manufacturers and even trade customers who just buy for their own consumption! We have over 30 years' experience in offering advice so that our customers have the best selection of wines for their business.  
Festive Organic Wine & Drinks Offers
Vintage Roots Ltd.
Tel: 0118 932 6566
E-mail:  [email protected]
vintageroots.co.uk 
The 'Vintage Roots' Festive wine and Drinks Offer List is now available. Great deals on organic Fizz, from Prosecco to Champagne, on winter whites and reds starting at £4.99. 'No sulphur added' wines are a speciality, and we've listed organic beers, cider and alcohol free too, along with some sensational spirits, liqueurs and Port. Everything you would expect from the UK's leading organic and biodynamic wine specialist. We cover the whole of the UK, so if you are a restaurant, shop, deli or an enthusiastic wine lover – do get in touch to receive these Festive Offers today.