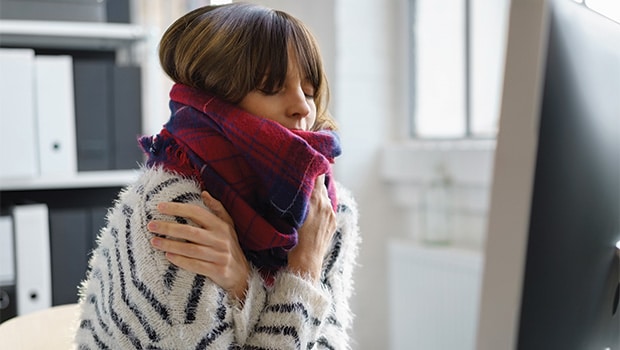 Kate Miller explains why a good work ethic merely increases the spread of germs in the workplace, and looks at which natural remedies are ruling the roost this winter
Basking in the glory of a record-breaking summer, it can be easy to forget that there were moments last winter when we were breaking records of an altogether different kind. In January of 2018, newspapers (backed by Government statistics) reported that three times as many people were dying of flu than in the previous year.
According to the Government's annual flu report for winter 2017-2018, the UK experienced a high number of peak admissions of influenza to hospitals last year, with higher rates than the past six seasons. 
As well as the high incidence of flu, outbreaks of respiratory illness were also up on previous years – particularly in closed settings such as care homes, schools and hospitals. In the period between the latter part of 2017 and early 2018 there were 2,095 acute respiratory illness outbreaks in closed settings (compared to 1,114 in 2016 to 2017).
Soldiering on
When faced with a cough or cold, the instinct for many of us is to keep calm and pack the tissues. A report published in May by the Chartered Institute of Personnel and Development found that 86% of the 1,000 organizations surveyed said employees came into work when they were ill (dubbed 'presenteeism'), up from only 26% in 2010. However, far from being a good thing for business, this can-do attitude only extends the misery to others.
But what is bad for business may be good for retailers. Mintel's Cough, Cold, Flu and Allergy Remedies Report 2017 states that the viral spread from 'presenteeism' increases demand for products as workers look for 'crutches' to help them through current illness and battle off future ailments.
According to Jenny Logan, former retailer and technical training manager at Natures Aid, it's those pesky kids going back to school that are the catalysts for our autumn ills. "The close contact, warm classrooms and new germs all come together
to create the perfect breed-ing ground for winter bugs, which are then carried home to mum and dad, who then take them into the office. And so it begins." 
She recommends that customers start on an immune support product and stay on it throughout winter: "As a former retailer, at this time of year I was always looking for ways to promote the idea of using a specific immune support multi-nutrient, with ingredients like beta glucans, as a daily supplement to help people stay clear of as many winter infections as possible."
Double trouble
"Later in the season it's about promoting echinacea and elder to help fight infection – drawing the distinction between symptom relief, and effective relief from infections," says Logan. "Serrapeptase is an ideal product to promote for issues with sinusitis and mucous, as it works effectively to reduce inflammation and mucous, and clinical trials show us that the majority of our customers will see results within a matter of days."
However, according to Suzie Sawyer, clinical nutritionist of nutritonlifestyle.co.uk, customers tend to be reactive rather than proactive in their approach: "People often only take supplements and remedies when they start to feel poorly." 
Together Health dietician Lola Biggs agrees that it's the first sneeze in the office which triggers the impulse to seek out remedies. She says that the 'usual suspects' vitamin C and zinc are omnipresent throughout the season: "And for good reason! Science strongly backs this duo, especially when taken within 24 hours of the first signs and symptoms of a cold. The action of treatment is thought to be through preventing virus replication and switching on our natural defences.
"Selenium has experienced some … fame recently, as a study showed that selenium deficiency could speed up the progress and potentially worsen the fate of colds and flu."
Logan adds that it's important to make clear to customers that the usual cold and flu products people purchase are about simply providing temporary relief from symptoms, not about shortening the duration of an infection or preventing another. "Using echinacea products alongside will help to reduce the length of an infection and help prevent reinfection afterward."
Honey, listen
Away from the spluttering cold and flu aisles there are more products which consumers will look to for relief in the coming season. For many, the use of honey may not extend beyond a whisky hot toddy, but its health-giving properties have been appreciated since ancient times. 
Stone Age cave paintings depict honey being used for medicinal purposes, and it has traditionally been used in the treatment of everything from eye diseases, bronchial asthma, throat infections and tuberculosis, to hepatitis, worm infestation, piles and wound healing. Not only this, but honey's ingredients are said to have antioxidant, antimicrobial, anti-inflammatory, antiproliferative and antimetastatic effects. 
According to Emily Abbott, founder of Hive and Keeper – which offers more than 40 honeys from artisan beekeepers across the UK – its recent rise in popularity  is only restoring honey to its rightful place "In ancient times honey was a medicine to solve most ailments, then it became a foodstuff, and now I think we can thank manuka for bringing it back up. It's beginning to reclaim its health-giving position today."
These properties have certainly caught mainstream medicine's attention. According to Honey and Health, A Review of Recent Clinical Research published last year by researchers in Iran: "Sufficient evidence exists recommending the use of honey in the management of disease conditions. Evidence confirming the use of honey in all areas of clinical practice is needed. Studies revealed that the medicinal effect of honey may be due to its antibacterial, anti-inflammatory, apoptotic and antioxidant properties."
Doctors' orders
Sawyer says that she has seen a growth in consumer recognition too: "This is driven by some GPs recommending honey drinks to treat colds in a drive to reduce prescriptions for antibiotics, which is a
good thing."
Abbott has also noticed a rise in GP recommendations: "I did a fair … in Ripley and was amazed at how many people were coming up to me saying 'My doctor says I should have honey'."
As well as bringing the health properties of this store cupboard staple to the fore, Abbott believes that the rise in popularity of manuka honey has also helped to make the public aware of the cost of producing honey and appreciate
the fact that they have to pay for quality.
"I would like the halo effect of manuka to pass on to good British raw honey – which is antibacterial too," says Abbott, who adds that testing and known provenance can only be good for the industry, which is currently swamped by cheap imports.
Homeopathy: a decision overruled
The failure of the British Homeopathic Association (BHA) earlier this year to overturn the NHS's decision to stop funding homeopathic medicine caused consternation throughout the natural products industry.
Expressing disappointment on behalf of the BHA, trustee John Morgan, founder of Helios Homeopathy, says the decision has far-reaching implications: "For many years people have given donations and legacies to support homeopathy in the NHS and the trustees were unanimous in the recommendation to initiate the case. 
"We were aware that it would be a very costly exercise, but as a patient-centred charity which has supported homeopathy in the NHS since its conception, it was the right thing to do."
According to Morgan, excluding homeopathy will not save the NHS money and will only push patients back into a medical system which has already failed them. "People want a choice when it comes to their health, and the loss of homeopathy on prescription has meant patients coming directly to us for remedies, many of which can be sold over the counter. I would encourage retailers, if not doing so already, to stock some of the most popular remedies, especially with winter just around the corner."
Recommended remedies: 
• Aconite 30c: for nipping colds in the bud
• Gelsemium 30c: for flu
• Pulsatilla 30c: for colds with thick nasal catarrh
• Bryonia 30c: for dry, painful and hacking coughs
• Belladonna 30c: for sore throats
Hot Chocolate Maca
Alara Wholefoods
Tel: +44 20 7387 9303
E-mail:  [email protected]
www.otesuperfoods.com
With winter approaching, 'Of The Earth Superfoods' Hot Chocolate Maca makes the perfect remedy for those chillier evenings. The mixture of Peruvian cacao powder, banana flakes, lucuma and maca (known as the fountain of youth in its indigenous Peru) makes a deliciously rich, smooth, and creamy hot drink. What's more, OTE superfoods Hot Chocolate Maca is loaded with essential minerals, flavonoids and antioxidants to help you detoxify, beautify and balance throughout the darker winter months. Simply stir 1-2 tablespoons into a mug of warm milk for a deliciously indulgent hot chocolate with no added sugar. 
Immune Intensive
BioCare Ltd
Tel: 0121 433 3727
E-mail:  [email protected]
www.biocare.co.uk
Immune Intensive is a high potency combination of elderberry, sage and beta glucans with vitamin C, vitamin D and Zinc which support a healthy immune system. Combined in a tasty berry base, this powder packs a punch! Zinc and vitamins A, C and D all play a role in supporting the immune system and zinc is also important for a healthy respiratory tract. Magnesium helps reduce tiredness and fatigue. Available in handy sachets that can be mixed with liquids for flexibility. 7 days' supply & suitable for vegetarians.
Urgent-C Max
Vega Vitamins
Tel: 01639 825107
E-mail:  [email protected]
www.vegavitamins.co.uk
Urgent-C Max from Vega Vitamins is a delicious lemon and blackcurrant drink with honey, bee propolis, beta glucans and elderberry, and vitamin C and zinc to support immunity. Urgent-C Max contains freeze-dried fresh lemons and blackcurrants and can be served hot throughout the autumn and winter months, to help warm and soothe when suffering from cold and flu symptoms – or if we simply need to warm-up! Suitable for adults and children aged 4+, the individual sachets can be added to hot or cold water to provide a soothing drink that helps to support immunity.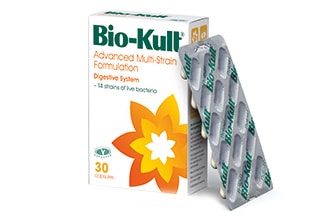 Survive Winter – Bio-Kult Advanced Multi-strain Formulation
Bio-Kult
Tel: 01460  243230
[email protected]
www.bio-kult.com
We are fortunate in the UK to experience four unique seasons. As the season changes, ideally, we should be thinking ahead to adapting our lifestyle, diet and supplements to suit the shorter days and crisper air of the autumn and winter months. Encouraging individuals to prepare their bodies before the winter sets in, should help them to smoothly adapt to the challenges that the new season may hold. 
One of the main health challenges that the winter months brings is the increase in susceptibility to respiratory tract infections. Whilst we cannot eradicate viruses and germs, we can enhance our body's ability to build up a defence against them, shorten the duration of the attack or reduce the symptoms. A study by Leyer et al (2013),* of healthy young children supplemented with probiotics for 6 months concluded they were a safe and effective way to reduce the onset and duration of fever, rhinorrhea and coughs, as well as reducing antibiotic prescriptions and the number of missed school days attributable to illness. A more recent study on adults who were regular cold sufferers, found that a multi strain probiotic taken over a 12 week period was safe and effective for fighting the common cold and influenza-like respiratory infections.* 
Individuals who choose to have the flu vaccine may also benefit from taking probiotics shortly afterwards, a recent review of 26 studies involving 3812 participants has concluded that probiotics increase the vaccines efficacy and duration of protection.*
The key to surviving the challenges of winter illnesses is to prepare the gut early for them. Integral to a gut healing strategy is a high quality daily multi-strain live bacteria supplement, such as Bio-Kult Advanced which contains 14 different strains. This should help to stimulate the immune system,* and improve the function and strength of the body's defences,* prior to the onset of attacking viruses and then continuing to take them daily over the winter period could help to maintain a healthy gut microbiome.
* references available on request
Good Health Naturally – CureC™ Liposomal Vitamin C
Wholesale Health Ltd
Tel: 01606 889905
E-mail:  [email protected]
www.wholesalehealthltd.co.uk
Good Health Naturally CureC™ Liposomal Vitamin C is a high dose nutritional supplement that utilises advanced liposome technology to deliver over 1,000mg of high-quality Vitamin C and 400mg of natural Phosphatidylcholine quickly into the blood stream ensuring maximum bio-availability to help naturally support the normal function immune system, normal psychological function, the reduction of tiredness & fatigue and much more!
 Gluten Free ✓ Non-GMO ✓ Non-SOY ✓ Suitable for vegetarians and vegans. For trade enquiries, please call us on 01606 889905 or visit 
www.wholesalehealthltd.co.uk
Bee Health Propolis
Bee Health Propolis
Tel: 0800 731 6006
E-mail:  [email protected]
www.beehealthpropolis.com
Propolis is a natural substance collected by honey bees from buds and trees containing tree resin, essential oils, vitamins, minerals and phytonutrients.  Propolis offers an array of benefits for many ailments and allergies and is one of nature's richest sources of bioflavonoids for immune support. Bee Health guarantees the bioflavonoids present are naturally occurring flavonoids, with no synthetic substances added. This unique natural product is made in the UK and subject to tests for potency and quality.
Natural soothing relief for winter
Helios Homeopathy Ltd
Tel: 01892 537254
E-mail:  [email protected]
www.helios.co.uk
Winter takes it's toll on our skin but Helios creams offer natural, soothing relief for dry, cracked, chapped and sore skin. Prepared using only the finest natural plant based ingredients, organic wherever possible, Helios creams do not contain lanolin, petroleum derivatives or artificial preservatives, making them gentle enough for the most delicate skin. To find out more about the entire range please contact Helios.
Lamberts® Liquid Imuno-Strength®
Lamberts Healthcare Ltd
Tel: : 01892 554313
E-mail:  [email protected]
www.lambertshealthcare.co.uk
Elderberry, Rosehip and Blackcurrant Concentrates – Imuno-Strength® is a tasty natural blend of elderberry, rosehip and blackcurrant concentrates carefully formulated to retain the nutritive properties of the fruits. These three fruits are all exceptionally rich sources of important compounds called flavonoids, including anthocyanidins that are known antioxidants. To maximise antioxidant defences, plant-derived antioxidants should be incorporated into our regimes. Anthocyanidins are physiologically active in both lipid and aqueous environments in the body, which makes their overall antioxidant properties many times that of vitamin C or vitamin E.  Recommend to those 5 years and upwards whose immune system is under pressure and requires a boost.
Beta Glucans Immune Support +
Natures Aid Ltd
Tel: 01772 686231
E-mail:  [email protected]
www.naturesaid.co.uk 
Natures Aid award-winning Beta-Glucans Immune Support + is an advanced formula, combining the popular ingredient Beta Glucans (1,3/ 1,6) with odour-controlled garlic, elderberry, and vitamin D3. With vitamin A, vitamin C, Zinc, Copper and Selenium which all contribute to the normal function of the immune system. In addition: • Vitamin A supports the normal functioning of the mucous membranes • Zinc and Selenium can help to protect cells from damage caused by oxidative stress • Vitamin C supports normal energy yielding metabolism and reduces tiredness & fatigue. Suitable for vegans.30 Tablets – £9.95   90 Tablets – £24.95
Pukka Organic Elderberry Syrup
Pukka Herbs
Tel: 0117 964 0944
E-mail:  [email protected]
www.pukkaherbs.com
One of nature's richest sources of natural vitamin C, the inky black elderberry is packed full of anti-viral and anti-inflammatory active ingredients. They contain triterpenes and phenols and are high in both essential oils and volatile oils. Their natural tannins, flavonoids and anthocyanins turn this into a wonder berry for winter. Part of Pukka's Immunity range, our Elderberry Syrup packs elderberries in a ratio of 6:1 – meaning you get 6 times the concentration of this incredible berry with every dose. That's 12000mg of fresh berries in every 15ml of syrup.
Beta Glucan Complex Veg Caps
Viridian Nutrition
Tel: 01327 878050
Each Beta Glucan Complex Veg Cap from Viridian Nutrition provides 250mg of beta glucan in the 1,3 / 1,6 form. With 200mg of magnesium ascorbate (buffered vitamin C), 10mg of zinc citrate and 1000iu of Vitamin D3 from lichen. Vitamin C, zinc and vitamin D all contribute to the normal function of the immune system. Vegan friendly. Also featured in Viridian's Cold Season Box. Part of the 200+ range from the ethical vitamin company, Viridian Nutrition, founded on the principles of Purity, Environment and Charity. Dedicated to the continued success of the specialist health food store.  Price – RRP £18.60
Good Health Naturally Olive Leaf Extract with Zinc
Wholesale Health Ltd
Tel: 01606 889905
E-mail: [email protected]
www.wholesalehealthltd.co.uk
This brand-new Olive Leaf Extract with Zinc formula from Good Health Naturally delivers a powerful blend of premium-quality Olive Leaf Extract, Grapefruit Extract and Zinc in a single, easy-to-swallow vegetable capsule to help provide daily support for the normal function of the immune system, the maintenance of normal vision, normal cognitive function and much more! Each container provides a 3-month supply. Suitable for vegetarians and vegans. For trade enquiries, please call us on 01606 889905 or visit www.wholesalehealthltd.co.uk
Colloidal Silver Aloe Vera and Lavender Hydrogel 50ml Pump
Nature's Greatest Secret
Tel: 01892 457360
E-mail:  [email protected]
www.naturesgreatestsecret.co.uk
Introducing an exciting new formulation to our range – We are very proud of our new Colloidal Silver ALOE VERA and Lavender Hydrogel. It contains 92% Amber Colloidal Silver and is blended beautifully with a premium quality 10 x concentrated Aloe Vera Juice that leaves a silky smooth, non-sticky film on the skin that protects the Colloidal Silver on the skin surface to optimise effectiveness.  Also contains premium quality High altitude essential Lavender oil, known to be beneficial to skin.  Use this product for a wide range of bacterial and fungal skin conditions.
Otosan
World foods brand management ltd
Tel: 01782 366080
E-mail: [email protected]
www.wfbm.co.uk
The Otosan range of natural treatments for ear, nose and throat health are a must stock item, especially during the Winter season. Providing strong clear indications and backed by medical device certification. Otosan products can be used by all the family providing gentle natural and effective relief from sore throats, congestion and maintaining optimal ear health. The range includes ear drops and spray, sore throat sachets and syrup and the popular patented ear cones. In addition, the new Balsamic patch helps relieve congestion at night and is suitable for adults and children
Horseradish and Garlic Complex Veg Caps
Viridian Nutrition
Tel: 01327 878050
A potent blend of extracts of Horseradish (Amoraciarustican) and garlic (Allium sativum) with vitamin C and zinc. Each vegan capsule provides 200mg of horseradish extract (equivalent to 1000mg of dry root), 50mg of garlic extract equivalent to 6000mg of fresh bulb and standardised to 4.5% alliin, together with 333mg of buffered vitamin C and 10mg of zinc ascorbate. Part of the 200+ range from the ethical vitamin company, Viridian Nutrition, founded on the principles of Purity, Environment and Charity. Dedicated to the continued success of the specialist health food store. Price – RRP £11.30
Wintervits®
HealthAid Ltd,
Tel: 020 8426 3400
E-mail: [email protected]
www.HealthAid.co.uk
Wintervits®  Immune Booster Age, stress, and poor nutrition can deplete our immune system of its effectiveness. In order to avoid illness, the body needs to be equipped with a whole host of essential micronutrients. Supplements are a great way of safeguarding nutrient intake. Wintervits® a synergistic blend of vital Vitamins, Minerals and Herbal extracts such as: Vitamin C, Zinc, Maitake mushroom, Astragalus, Rutin and Proplis extract; are well-known for their immune boosting properties. Wintervits® also has the added benefit of Quercetin, which contains powerful antioxidant and anti-inflammatory properties that help support a healthy immune system.  Wintervits® retails at £10.49 for 30 tablets. Contact HealthAid Ltd on 020 8426 3400 for purchase and stockist information or visit www.healthaid.co.uk.
Solaray Two-Stage Time Release – 1000mg
Au Naturel UK
Tel: 0800 0851 697
E-mail:  [email protected]
www.Solaray.co.uk 
Containing rosehips and acerola cherry this formulation of the antioxidant Vitamin C has a two stage timed release process. Vitamin C contributes to the normal function of the immune system, collagen formation, contribution to normal energy-yielding metabolism, function of the nervous system, contribution to normal psychological functions, protection of DNA, proteins and lipids from oxidative damage, reduction of tiredness and fatigue and iron absorption.
Garden Of Life – Vitamin D3 Spray
Kinetic Natural Products Distributor
Tel: 08450 725 825
E-mail:  [email protected]
www.kinetic4health.co.uk
The Garden of Life sprays are the only certified organic spray vitamins offering a more bioavailable format that reaches the bloodstream quicker, therefore being more efficiently absorbed into the bloodstream and utilised by the body. Formulations in spray form bypass the digestive tract, and therefore those who have underlying digestive issues or generally poor absorption can benefit from formulations in sprays. They taste great and are very convenient and easily carried so can be taken quickly and conveniently on the go.  For more information or to order visit www.kinetic4health.co.uk or call 08450 725 825.
Natures Answer – Sambucas Black Elder Berries
Kinetic Natural Products Distributor
Tel: 08450 725 825
E-mail:  [email protected]
www.kinetic4health.co.uk
Using a carefully controlled extraction technique, Nature's Answer have capture the holistic balance of each herb meaning the value is passed on to you, the customer. From plant to shelf, you can be assured that you know exactly what's in the product in your hand, and they guarantee it is authentic, safe, effective, holistically balanced, and of course….Nature's Answer.  For more information or to order visit www.kinetic4health.co.uk or call 08450 725 825.